Germany: Introducing Falun Gong in Oldenburg
September 03, 2014 | By a Falun Gong practitioner in Germany
(Minghui.org) Falun Gong practitioners in Bremen and Lower Saxony, Germany, held activities to raise awareness about Falun Gong in Oldenburg on August 23, 2014. The practitioners set up an information booth and demonstrated the meditative exercises.
Very few local residents in Oldenburg who stopped at the booth had heard about Falun Gong or the persecution in China. The banner "The CCP Murders in front of the Eyes of the World," raised concern from passersby who stopped to learn more.
After learning about Falun Gong and the persecution, many people showed great support for practitioners' peaceful resistance, and signed a petition to protest the Chinese Communist Party's (CCP) organ harvesting from living Falun Gong practitioners for profit.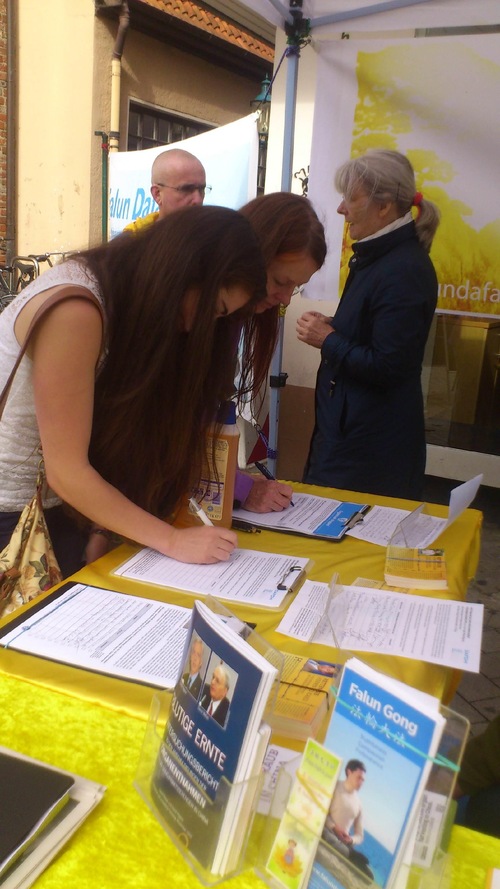 Visitors sign petition to call for an end to forced organ harvesting in China
A young man had read about Falun Gong in the newspaper and heard about the crimes of the CCP. He talked to practitioners for a long time and he encouraged his friends to sign the petition. Before he left he said, "It's great that you've come to introduce Falun Gong to Oldenburg!" A few minutes later, he returned in a hurry, saying, "How could I forget to sign the petition myself?" He found the various petitions at the booth and signed them all.
A father and two sons approached the booth with hesitation. The father didn't know much about Falun Gong or the CCP's crimes of forced organ harvesting. A practitioner further explained the situation and also the details of the CCP's staged self-immolation on Tiananmen Square. The man said, "Thank you so much! I learned a lot! I have to admit I had been deceived by the CCP's propaganda. I finally know what happened." He signed the petitions.
An elderly couple, who only spoke Hebrew, stopped to learn more, as their son translated for them. When a practitioner offered them informational materials in Hebrew, they were very pleased. They asked many questions, including who paid to produce these materials. Learning that practitioners used their own money to produce the materials, they expressed admiration. The family signed the petitions and wished the practitioners good luck.
The activity brought greater awareness to local residents in Oldenburg, who seemed eager to receive the information.