Falun Dafa Activities Bring Further Awareness in the Capital of Australia
September 29, 2014 | By Minghui correspondent Mu Wenqing
(Minghui.org) Falun Dafa practitioners across Australia gathered in Canberra, the nation's capital, for the 2014 Australia Falun Dafa Experience Sharing Conference. They hosted a series of events on September 26 and 27 to raise awareness about Falun Dafa and the persecution in China.
Banners calling for the end of the persecution, in particular the state-sanctioned forced organ harvesting of persecuted Falun Gong practitioners, were visible at major intersections. A photo exhibit was held at the pedestrian zone in the city center. Many people also had access to informational materials about the persecution near their workplaces, be they government agencies or private companies.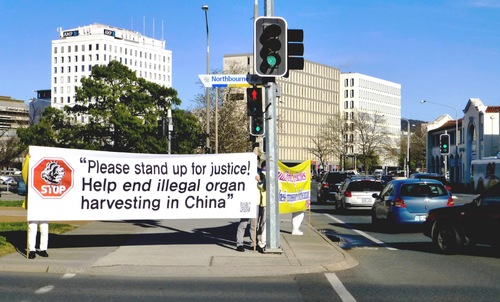 Banners calling for the end of the persecution of Falun Dafa in China are visible at a major intersection at Commonwealth Avenue in Canberra, Australia.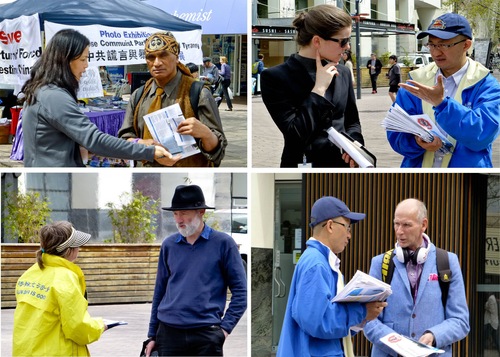 Pedestrians learn about the persecution at the center of Canberra, Australia.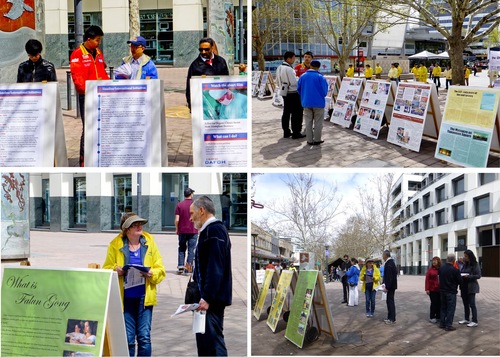 A photo exhibit in Canberra's city center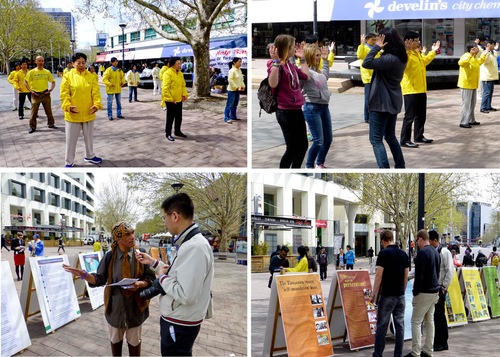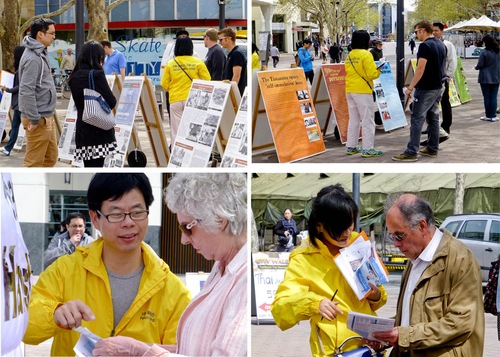 Exercise demonstration and photo display grab the attention of pedestrians
Many people at the pedestrian zone in Canberra stopped to view the photo exhibit, took materials, and signed the petition to call for an end to the persecution in China.
Upon learning of the organ harvesting atrocities, a woman named Katherine said that human rights shouldn't be sidelined for economics. All countries, whether they are rich or poor, should stand up against this deplorable crime, she said.
Another pedestrian encouraged practitioners, "Well done. Please keep up the good work."
Kane, a Christian from mainland China, was no stranger to Chinese Communist Party (CCP) brainwashing and the party's persecution of people with religious beliefs. He asked practitioners about their response to the hostility from some Australian Chinese due to the influence of the CCP propaganda.
Practitioners told him that it took time for every Chinese to learn the truth about the persecution because the CCP has instilled so many lies in the minds of the Chinese people. However, one shouldn't underestimate the power of truth and conscience. Falun Gong practitioners' persistent efforts in the past 15 years are turning the tide, they said.
Currently, nearly 180 million Chinese citizens have joined the movement to renounce the CCP. The practitioners shared that this and other signs indicate that a critical mass of people who know the facts and refuse to cooperate with the persecution, both inside and outside of China, is being reached.