Vancouver Resident: Practitioners' Events Bring Positivity to the City
September 20, 2014 | By Minghui correspondent Zhang Ran
(Minghui.org) Falun Gong practitioners held events near the Vancouver Art Gallery on September 14 to demonstrate the exercises and expose the persecution in China with torture re-enactments, in particular forced organ harvesting.
Many passersby stopped at their events at the city center and signed the petition to support their efforts to end the persecution.
Locals are proud of Vancouver and see Falun Gong practitioners as part of the diversity and beauty of the city.
"I know they [practitioners] are being persecuted in China. I know this for years. I saw them very often. I like their activities and spirituality which makes Vancouver a very open-culture city, one of the best city in the world, a more colorful city," said Dennis Dacia, a professional in the financial services industry.
"I'm in full support of this organization... This is not political. I do not understand why Beijing do not allow this practice. This is good for the body and mind. It's good for the soul. Obviously we can do it Vancouver."
He continued by saying that in addition to oceans and mountains, an open society with all sorts of cultures and lifestyles makes Vancouver one of the world's most livable cities. He welcomed the practitioners' "traditional lifestyle" as a positive addition to the city.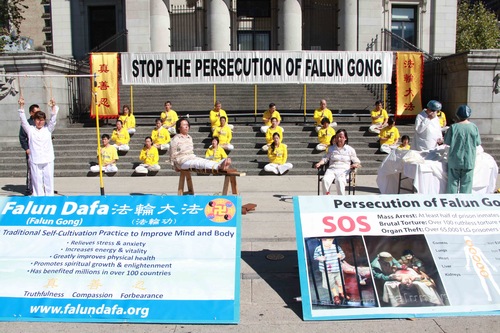 Falun Gong practitioners demonstrate group exercises near the Vancouver Art Gallery at the city center
Falun Gong practitioners stage torture re-enactments to raise awareness of the persecution in China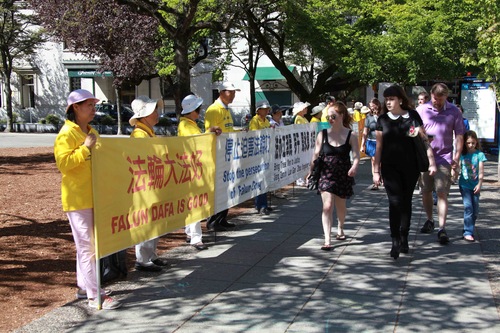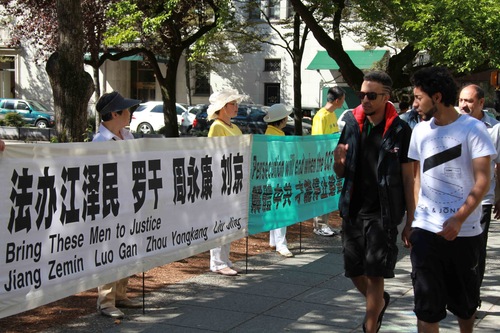 Practitioners unfurl banners in the city to raise awareness of the persecution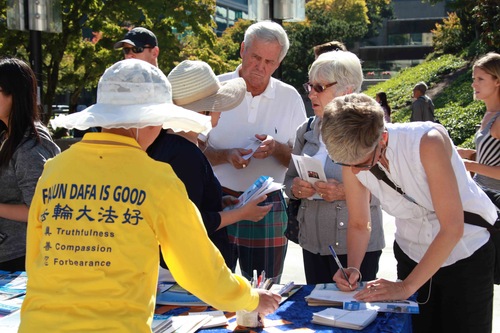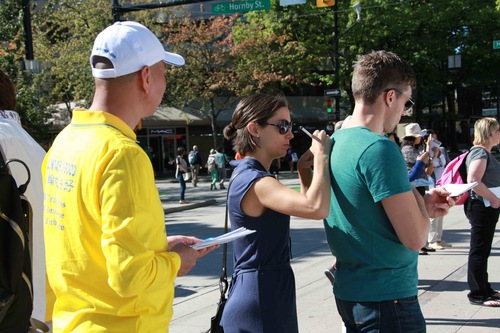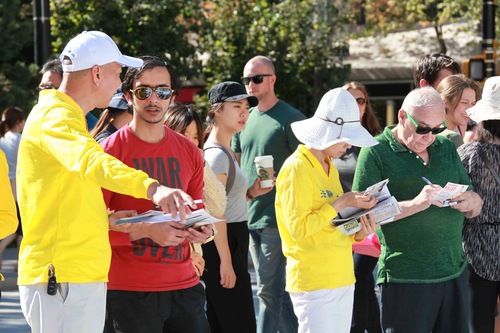 Passersby sign the petition to support practitioners' efforts to end the persecution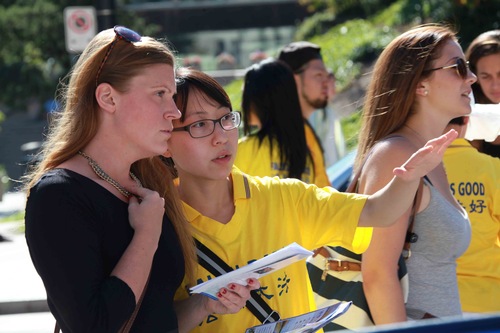 Locals and tourists find out about the persecution
Mr. Liu, who is visiting Canada from Beijing, chatted with practitioners for a long time. He said, "I have finally seen the Falun Gong practitioners that I have read so much about by circumventing China's Internet firewall!"
He asked about learning the exercises and registered his name for quitting the Chinese Communist Party and its affiliated organizations.