Elementary School Teacher Arrested and Subjected to Extortion for Talking about Falun Gong
September 19, 2014 | By a Minghui correspondent from Shandong Province, China
(Minghui.org) A teacher at the Xiachu Town Elementary School in Rushan City, Shandong Province, Mr. Zheng Xufei, was released August 15, 2014, after being held for 35 days and having 5,000 yuan extorted from him as "bail."
Mr. Zheng was arrested for talking to people about Falun Gong on July 11, 2014. While in the Rushan Detention Center for 10 days, he was handcuffed and shackled. His case was submitted to the procuratorate twice but was rejected both times.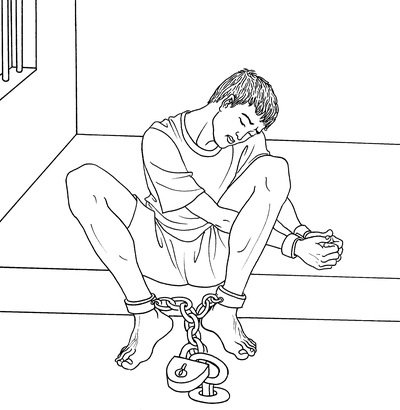 Torture illustration: Handcuffed and shackled
During his detention, officers ransacked his residence and confiscated Mr. Zheng's driver's license, teacher's license, motorcycle keys, and other items. Neither Mr. Zheng nor any of his family were notified regarding the confiscated items.
Because his family was threatened by the police and deceived by the negative government propaganda, they are now keeping Mr. Zheng at his older sister's home and have forbidden him to go out alone.
Parties Involved in Persecuting Mr. Zheng:
Li Linyu (李林玉), director of the 610 Office: +86-631-6665789(Home), +86-631-6663171(Office), +86-13153319501(Cell)Feng Xinyong (冯心勇), chief of the Domestic Security Division: +86-13863152039(Cell), +86-18663198189(Cell)Duan Tao (段涛), principal of the Xiachu Town Elementary School in Rushan City: +86-13506301556(Cell)