Henan Practitioner Arrested for the Third Time (Photos)
September 19, 2014 | by a Minghui correspondent from Henan Province
(Minghui.org) Mr. Ma Jianjun (马建军), a Falun Gong practitioner from Hebi City, Henan Province, was illegally arrested on his way home on the night of September 4, 2014. The police then ransacked his home. Mr. Ma is currently detained in the Hebi City Detention Center where he is being subjected to forced labor.
The arrest, Mr. Ma's third since the persecution of Falun Gong began in 1999, came as a direct order from Hebi City Police Department. The area just established a new 610 Office, a communist party-based extra-legal organization dedicated to implementing the persecution.
Officers from the Fuyuan Residential Area, the Jinshan Police Station, and the Criminal Division of the local police department joined forces in the arrest and home invasion.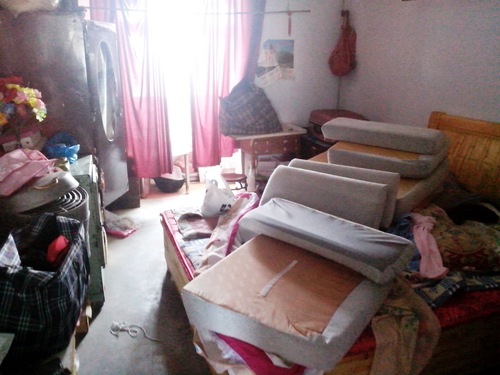 Mr. Ma's home after the search
The city police department threatened his family on September 9, ordering them to provide "confessions." The policemen claimed that if the family refused, they would be arrested. Mr. Ma's family members are now forced to stay away from home for fear of arrest.
Previous Arrests and Detentions
Mr. Ma's first arrest was in November of 2002, during the 16th People's Congress. He was held in the Hebi City Detention Center for 43 days.
He was arrested again in 2007 and was detained at the Xuchang Forced Labor Camp for one year and nine months.
Officials from the local 610 Office and the residential committee visited Mr. Ma on December 18, 2013, trying to take him to a brainwashing center. Unsuccessful, they returned the next day for the same purpose. Mr. Ma managed to escape on the way to the brainwashing center.
Police officer involved in the arrest of Mr. Ma:
Cheng Hongbao (程红宝), in his 30's, an officer from the Fuyuan Second District Police Office, +86-13693921067 (Mobile)