Ms. Gao Yuqin Arrested; Lawyer Barred from Meeting with Her
September 10, 2014 | By a Minghui Correspondent from Heilongjiang Province, China
(Minghui.org) Falun Gong practitioner Ms. Gao Yuqin from Heilongjiang Province was arrested on May 12, 2014 while she was doing laundry. This was her fourth illegal arrest for practicing Falun Gong.
Ms. Gao Yuqin
Ms. Gao has been detained in Mudanjiang No. 2 Detention Center for three months. After the domestic security police handed her case to the Procuratorate, her defense lawyers Wang Yu and Tang Tianhao applied to read her files at the Procuratorate. But prosecutor Zhao Jinyu refused to meet with the lawyers. The lawyers visited the Procuratorate several times and were told that Zhao Jinyu was not there.
The Procuratorate turned the case over to Muling City Court without informing Ms. Gao's family or her lawyers. Head judge Hao Guizhen was assigned to the case, but she tried to avoid the lawyers' requests to meet. The lawyers' repeated visits to the court were unsuccessful. They could not read Ms. Gao's file, nor could they hand in their papers.
Lawyer Barred from Meeting
Lawyer Wang Yu came to the detention center for a scheduled meeting with Ms. Gao Yuqin on July 24, 2014, but she was not allowed to meet her, even though he waited the entire afternoon.
Lawyer Wang Yu said: "According to the law, lawyers have the right to meet with their client if he has authorization from the client's family, a lawyer's certificate and an introductory letter from his law firm." But the detention center officers alleged otherwise. They claimed that they received a fax document from the Muling City domestic security division, telling them no one was allowed to see Ms. Gao Yuqin. But in reality, after the case was sent to the Procuratorate, the police do not have the right to block the visit.
Lawyer Wang Yu and Ms. Gao's family members went to the Muling Procuratorate to read her file on July 25. One person told them Zhao Jinyu (the designated section chief for the case) went to Mudanjiang for a conference. Another person told them Zhao Jinyu went to Harbin. They seemed to be making excuses for Zhao's attempt to avoid them.
Lawyer Wang Yu and Gao Yuqin's family went to the domestic security division in the afternoon. They asked them why they violated the law and barred the lawyers from meeting their client. The police offered several answers. At first they said it was a detention center rule; later they said it was a request from Ms. Gao's employer; they also said it is necessary for the detention center's normal operation. When the family asked who was the responsible person, no one dared to say anything.
Lawyers Wang Yu and Tang Tianhao came for a meeting with Ms. Gao in Mudanjiang on August 10. This time, detention center section chief Wang pulled out a paper and said: "Li Mingxian (deputy head of Mudanjiang Political and Legal Affairs Committee, head of 610 Office) told us certain cases are off limits for rights lawyers. The detention center is told to deny the lawyers' visit, refuse their requests, and offer no explanations. The lawyer and family must pay money to gain access to the client."
The lawyer brought a document from the Procuratorate to the detention center on August 12. The document lists lawyers' right to meet clients. The detention center ignored the document and refused to grant a meeting with Ms. Gao. Frustrated, the lawyer went to the police department to complain, but he was held up for seven hours by the police.
The next day, lawyer Tang Tianhao went to ask head judge Hao Guiju to open Ms. Gao's file. A court staff said Hao Guiju had not come to work, and the office did not answer the lawyer's phone calls.
Husband Calls for Rescue
Ms. Gao's husband Mr. Sun Guoyang published an open letter to local citizens, calling for people's attention to his wife's plight.
Mr. Sun later recalled the arrest: "Police officers suddenly showed up at my house without an arrest warrant or search warrant. They turned everything upside down and left no stone unturned. They took away some VCDs, a computer, a cell phone and the camera my daughter bought for us. The officers include Muling City domestic security division head Sun Yajun and officers Cui Xingguo and Li Yanchun from Sun Yajun's group. Officer Liu Zhiguo of Hexi Town Police Station also joined the search."
Mr. Sun went on: "With fake evidence, Muling City domestic security police arrested my wife. They did not even bother to provide a detention notice until five days later.""My wife has practiced Falun Gong for 15 years. Before that she could not live without medicine, and she was not an easy person to live with! She argued with everyone, and always wanted to gain the upper hand. She hardly did any house chores, so I did pretty much everything."
"After she began practicing Falun Gong, she changed into a different person. Not only did she become completely healthy, she tried her best to be productive in the field and at home. She never complained about hardships in life. There are over a hundred households in our village. Everyone sees clearly how Falun Dafa changed my wife for the better, and made her a person of high integrity."
He added: "For instance, a family was too poor to purchase seeds to grow crops. My wife Gao Yuqin donated some of our own seeds to the family. I was not that comfortable with just giving seeds to them. When she found items lost by others, she always managed to return the items to the owners. She has become a generous person. I am not a practitioner, so I am no match to her level of moral quality."
Arrested Four Times in 15 Years
Prior to this arrest, Ms. Gao was arrested three times, and she served one year of forced labor.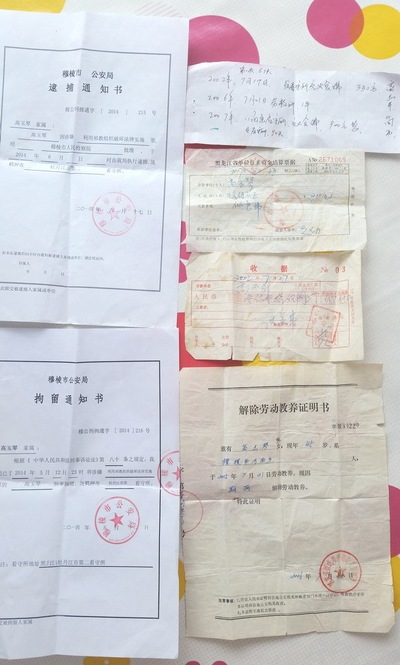 Arrest Notice
Her first arrest was in May 2002. Hexi Town Police Station deputy head Chen Zhiyong arrested her at her farm. Ms. Gao strongly resisted the arrest. During a violent struggle to push her into a police car, officer Kong Qingzheng knocked out two of her teeth. Two months later on July 17, 2002, she was forced to pay 330 yuan for meals and was released. Jiaoxihe Police Station has kept the 1000 yuan deposit, and never returned the money.
Following her second arrest on July 21 2005, Ms. Gao spent one year in Harbin Labor Camp until her release on July 30, 2006.
The third time the police arrested her in late August 2007, she ended up spending 90 days in detention until her release on November 27. More than 40 people signed a petition calling on the authorities to release Ms. Gao. In Bamiantong Detention Center, Ms. Gao suffered from severe torture. After a 17 day hunger strike, she weighed less than 35 kg. (she was over 60 kg before detention.) Despite the hunger strike, the detention center still charged her family 900 yuan for meals.
Responsible Persons: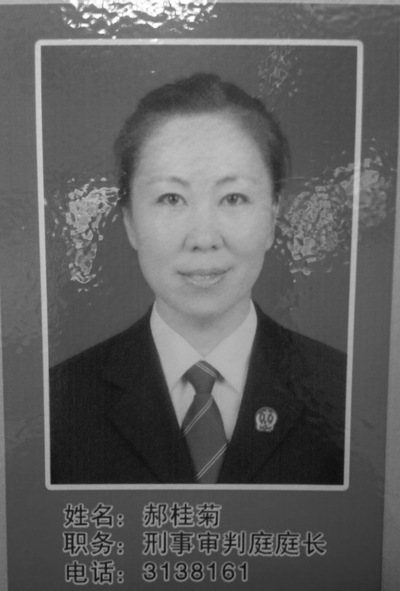 Hao Guiju (郝桂菊), head judge: +86-453-3122309 (Home), +86-453-3138161 (Office), +86-13836321519 (Cell)
Du Yunqing (杜蕴青), deputy head judge: +86-453-3129051 (Home), +86-453-3122010 (Office), +86-13845389051 (Cell)Long Yunbo (龙云波), court president: +86-453-3123723 (Office)Zhao Jinyu (赵金玉), section chief in the Procuratorate: +86-13945399032, +86-453-3122682