Shanghai Woman Sentenced to Four Years in Prison Following Her Fifth Arrest (Photos)
September 10, 2014 | By a Minghui correspondent in Shanghai, China
(Minghui.org) Following her most recent and fifth arrest last October, Ms. Yang Manye was tried and sentenced to four years on August 29, 2014, simply for telling people about the persecution of Falun Gong.
This was not the first time Ms. Yang, a Falun Gong practitioner from Shanghai, was incarcerated for her belief. She spent half of the decade 2000-2009 in wrongful imprisonment, serving an illegal four-year prison term and enduring forced labor for another year and a half.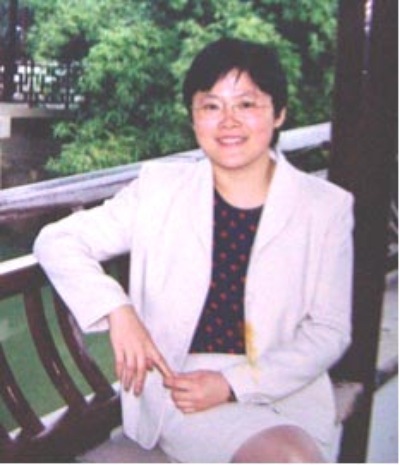 Ms. Yang Manye
Tight Security
Ms. Yang's trial was held at the Putuo District Court in Shanghai City on August 29. At 1:30 pm, judicial staff, special and plainclothes police, and officials from her residential community gathered outside the courthouse. Police cars were stationed around the building. Many plainclothes police with video cameras continually recorded goings-on near the court entrance and across the street.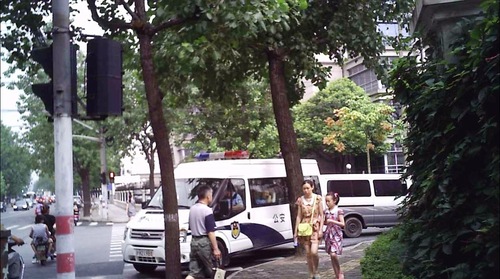 Police car outside of the courthouse (Photo)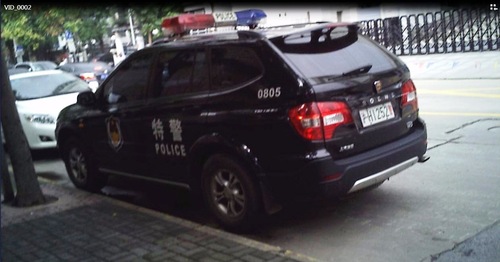 Police car outside the courthouse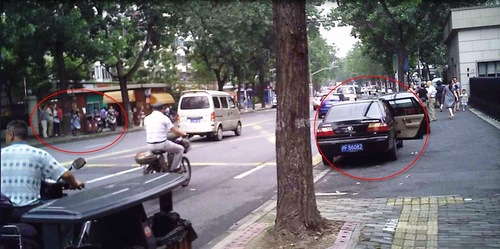 Plainclothes police from Domestic Security Division outside the courthouse (Photo)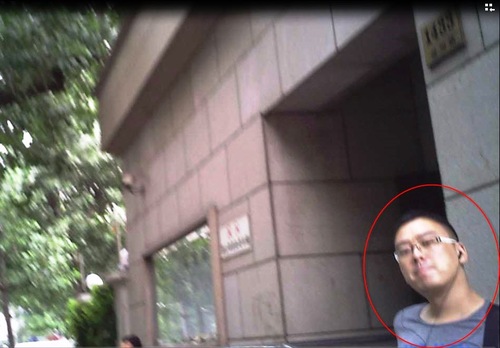 Plainclothes police outside the courthouse
Family Denied Admittance to Hearing
Court staff would not allow Ms. Yang's husband and son to attend the hearing. Two judicial police officers kept a close eye on them, and even followed them to the restroom.
Ms. Yang's 80-year-old mother-in-law, who had seen how Ms. Yang conducted herself in her daily life, said to others that Ms. Yang didn't break any law by practicing Falun Gong. She tried to attend the hearing to testify, but was driven away by court staff. The elderly lady sat on a curb outside the courthouse the entire afternoon, with plainclothes police watching her.
All seats in the courtroom were taken by residential community officials and other officers who came for the show trial.
Prosecutor Failed to Provide Legal Evidence
The prosecutor said that Ms. Yang undermined the law by following a cult during the trail. The defense lawyer asked the prosecutor which clause in the law says that Falun Gong is a cult. The prosecutor was speechless and couldn't provide any legal clause.
Judge Xie Yan continually interrupted the defense lawyer as he tried to defend his client.
Ms. Yang's case had been rejected by the Putuo District Procuratorate three times for lack of evidence. Since her arrest on October 9, 2013, police forged evidence to get her sentenced.
Despite the lack of evidence, the court sentenced Ms. Yang to a four-year prison term.
Previous Persecution: Four Arrests; Four Years in Prison; One and a Half Years in a Labor Camp
This latest arrest, trial, and prison sentence was the culmination of years of illegal treatment by the police and judiciary. Her family has continually lived in fear, and her son lost a mother's care and guidance for his entire childhood.
Ms. Yang was born in 1967, earned a BA and lived in Shanghai. When police became aware of her firm belief in Falun Dafa, they arrested her four times between 2000 and 2009, and ransacked her home many times.
Police arrested Ms. Yang while she was distributing materials about the facts of Falun Gong in 2000. She was sentenced to four years in prison and her term was extended another nine months because she refused to give up her belief in Falun Dafa.
While in prison, she suffered various tortures, from long-term solitary confinement, beatings with an electric baton, and extended forced labor. Physical beatings and hard labor caused her knee to fracture. She was released in August 2005.
The police from Putuo District Domestic Security Division arrested her a second time less than six-months later, and sentenced her to a year and half of forced labor at the Shanghai Qingpu Forced Labor Camp.
Mr. Yang was arrested a third time and detained in a detention center for a month in June 2009.
Police from Putuo District Domestic Security Division and the 610 Office called her in for a "conversation" at the end of 2009. Using this to trick her, they arrested her as soon as she arrived and sent her to a brainwashing center.
Over ten police officers from the Ganquan Police Station in the Putuo District broke into her home and arrested Ms. Yang for the fifth time on October 9, 2013. She was sentenced to another four years in prison on August 29, 2014.
Contact info of Putuo District Court, Shanghai City
Address: 1433 Tongchuan Rd, Putuo District, Shanghai CityTel: +86-21-200333 / 62656265 / 52564588
Judges: Xie Yan (谢燕), Chen Xi (陈肸)Tel: +86-21-62658619 / 62657521 / 62656265