U.S. Bill H.R. 5379 Introduced to Sanction Rights Offenders in China
August 06, 2014 | By Minghui correspondent Brianna Pendleton
(Minghui.org) Congressman Chris Smith introduced a new bill to sanction individuals responsible for human rights violations in China.
Bill 5379 (H.R. 5379) proposes visa denial and financial sanctions against rights offenders in China. It is the first bill that proposes specific measures to hold human rights perpetrators in China accountable.
The perpetrators covered by the bill include senior leaders giving directives, as well as individuals implementing such measures. The Bill offers protection for most victims of human rights violations in China, including Falun Gong practitioners, underground churches, ethnic minorities, pregnant women, etc.
In addition to visa denial and revocation for perpetrators and their immediate families, the Bill provides for financial measures to be taken against them, such as freezing their assets in the United States.
H.R. 5379, introduced on July 31, 2014, has been referred to the Committee on Foreign Affairs, and in addition to the Committees on Financial Services, the Judiciary, and Ways and Means.
The Committee on Foreign Affairs passed an earlier resolution, H. Res. 281, that condemns forced organ harvesting from prisoners of conscience in China, including a large number of Falun Gong practitioners. H. Res. 281 is now ready for a general vote on the floor of Congress, after which it will become an official congressional resolution.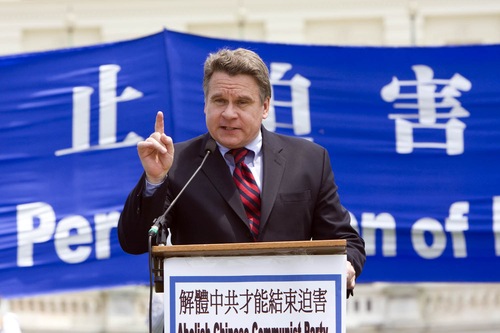 Congressman Christopher Smith of New Jersey, a senior member on the House Foreign Affairs Committee, is also chairman of its Africa, Global Health, Global Human Rights and International Organization Subcommittee
The purpose of H.R. 5379 is to "impose sanctions on individuals that are responsible for the commission of serious and ongoing violations of human rights or gross violations of human rights against nationals of the People's Republic of China or their family members, to protect universal freedoms in the People's Republic of China, and for other purposes."
The US State Department's 2013 International Religious Freedom Report was released a day before H.R. 5379. It also highlighted the mechanism of holding individuals and/or governments accountable for engaging in severe human rights violations, empowered by the same law that mandates the Report.
Congressman Smith advocated for this bill in a prepared statement at the July 17 rally on Capitol Hill in Washington DC: "I am working on a bill right now that will sanction individuals in China – officials, police, and those who torture Falun Gong and other rights defenders in China – with visa denials and financial penalties. The China Human Rights Protection Act of 2014 is something I want to introduce soon, because Chinese officials need to know there are consequences to their actions."
H.R. 5379 is especially powerful because many Chinese Communist Party (CCP) officials have assets outside of China, and particularly in the United States. Financial sanctions and visa denial may mean that their current exit strategies or retirement plans will no longer be possible. As such, the penalties proposed in the Bill may serve as an effective deterrent for them in terms of participating in severe human rights violations, such as the persecution of Falun Gong.