Melbourne, Australia: "Forced Organ Harvesting Must Be Stopped Immediately!"-- A Signature Drive Draws Support (Photos)
August 27, 2014 | By Minghui correspondent Xia Chunqing in Melbourne, Australia
(Minghui.org) Falun Gong practitioners held a signature drive in the City Square in downtown Melbourne on August 23, 2014.
They set up a booth displaying photos with information about Falun Gong and the brutal persecution of the practice in China. They collected signatures on a petition calling for an end to the forced organ harvesting being carried out by the Chinese Communist Party (CCP).
Many tourists and locals, who came out to enjoy the sunny weekend, passed by the practitioners' booth and took informational materials. Some stopped to talk to practitioners to find out more and readily signed the petition to call for an end to the CCP's crime against humanity.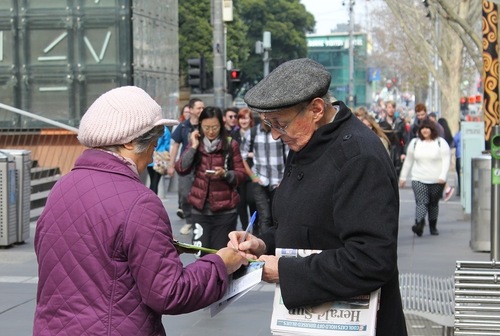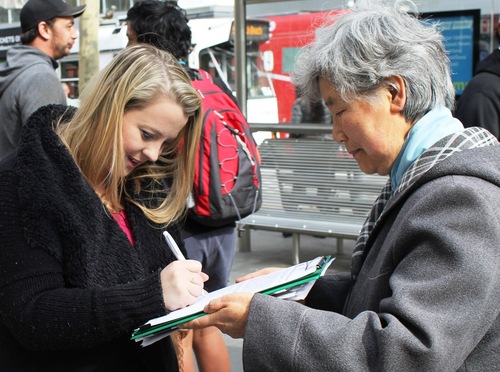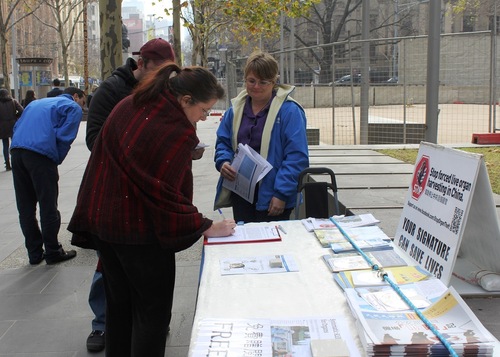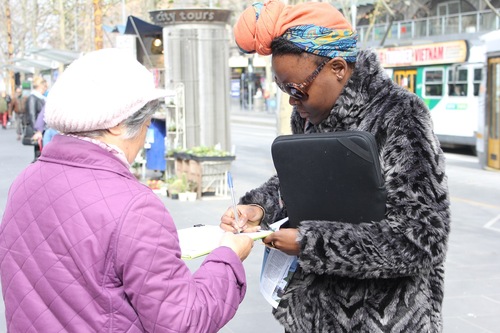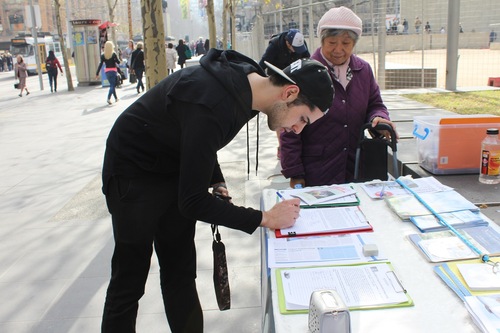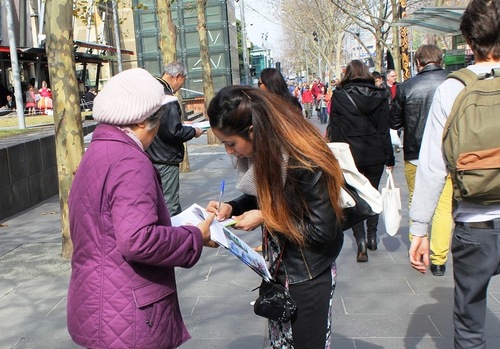 Signing a petition to help end the persecution
"All This Must Be Stopped Immediately!"
Chuff Wong, an overseas student from Hong Kong who studies at the University of Melbourne, talked with a practitioner for a long time and asked many questions. The practitioner's explanation dismissed his doubts about the authenticity of the alleged forced organ harvesting from living Falun Gong practitioners.
He finally said, heavy-heartedly, "All this must be stopped immediately!"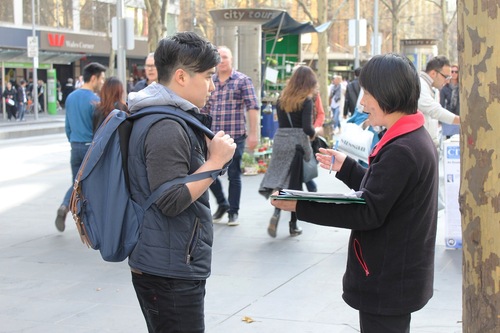 Mr. Wong (left), an overseas student from Hong Kong, talks to a practitioner
Chinese Tourist Readily Quits the CCP
Mr. Zhu, a young man from China who was spending his vacation in Australia, attentively read the information on the display boards for quite some time. When a practitioner walked up to him and briefly explained to him about quitting the CCP movement, he immediately asked the practitioner to help him quit the Youth League and Young Pioneers, two of the CCP organizations, and to use his real name.
An elderly couple who came from Beijing to visit their relatives in Melbourne acknowledged a practitioner while passing by the booth. When the practitioner asked them if they had heard about quitting the CCP, they smiled and replied, "Yes, our neighbors have renounced their Party membership, too. No one believes in the Party nowadays."