The Eight-Month-Old Prisoner
August 23, 2014 | By a Minghui correspondent in Hebei Province
(Minghui.org) Eight-month-old little Tianci became a prisoner in a black jail in China when his entire family in Hengshui, Hebei Province was arrested for practicing Falun Gong.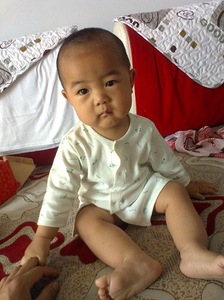 Zhang Tianci
Late Night Arrest
Little Tianci was sound asleep at 3:30am on May 30, 2014 when several strangers broke into his family's home. Tianci's mother, Liu Nana, awoke and thought her home had been invaded by robbers. Looking closer, she saw that her room was filled with police officers. A cold voice ordered, "Get up! Pack some stuff for your child. Follow us!"
Nana then noticed that even her courtyard was filled with police. Some were well-equipped special forces. They had used a ladder to climb into the courtyard.
Nana and Tianci were forced into a black car and taken to an unknown place. That same night, Tianci's grandparents and two of his toddler-age cousins were also arrested and taken to the same location. Police had handcuffed his grandfather, Zhang Hengyu, and covered his head with a black cloth hood.
Under the direction of the Hengshui City 610 Office, the local police and Domestic Security Division arrested 16 Falun Gong practitioners in three counties and one city: Hengshui City, Jingxian County, Gucheng County, and Zaoqiang County. Ten people in Tianci's extended family were arrested.
Interrogation
Each family member was thrown into a room containing a metal interrogation chair in the Wenquan Hotel in Hengshui. This is a black jail especially set up to detain Falun Gong practitioners. Officers took turns watching the detainees, who weren't allowed to talk. The youngest prisoner, Tianci, was put in the same room with his mother.
Officer Zhai Hongjun and another female officer interrogated Nana, attempting to incriminate Tianci's grandfather, Zhang Hengyu. Nana insisted she didn't know anything about what her father-in-law had done and said she only saw him painting for a living.
Unaware of his family's dire situation, little Tianci had a smile on his face and kept trying to get out of the room to play. After three days, police released Tianci and his mother Nana, having failed to get any information from her.
Before leaving, she requested to see her parents-in-law. Seeing her father-in-law tied to an interrogation chair, she couldn't help but cry. At the time, Nana didn't know her own parents and brother had been arrested, too.
A Difficult Journey to Rescue Her Family
Nana and Tianci returned to their empty home in Gucheng County, which had been completely ransacked by police. With a sense of helplessness, she took Tianci to her parents' home in Jingxian County, only to find that they, too, had been arrested. The parents' home was also ransacked by police.
Because Nana's husband worked in another town, Nana and Tianci became the only two left from the two sides of their families and couldn't rely on support from relatives. Because it was harvest season, friends, relatives and neighbors helped Nana's family with farm work. One farmer sighed, "A good family was destroyed by the police. Why is it so hard for ordinary people to survive?"
Little Tianci and his mother started their difficult journey to rescue their family members, who were being illegally detained in four separate places. Nana's mother, Sun Suying, and mother-in-law, Tan Fengling, were detained in Hengshui Detention Center. Her father-in-law, Zhang Hengyu, was held in Zhengkou Detention Center in Gucheng County. Father Liu Xiwei was locked up in Jingxian County Detention Center, and her 19-year old brother, Liu Bingbing, in Zaoqiang County Detention Center.
Nana and Tianci went to Jingxian County, dozens of miles away, and talked to Deputy Chief Zhang Qingchang, who had personally led officers to arrest her mother. She also visited Jingxian County Detention Center and tried everything she could to request the release of her family, only to be ignored. She tried again and again, but eventually returned home disappointed.
Nana then went to the detention center to request the release of her father, Liu Xiwei. She was referred to the Hengshui City Domestic Security Division, about 40 miles away. However, she was not allowed to enter the office. After calling, she was told to go to Jingxian County Police instead. After two visits, she still wasn't allowed to see any officials.
Nana didn't give up. She talked to Deputy Chief Zhang Qingchang several times. Zhang replied, "Don't talk to me about this. Go to the courts. You can hire a lawyer and sue us for whatever you want."
Time after time, little Tianci got on the road early in the morning with his mother to rescue their family. He waited quietly with his mother outside government offices on hot summer days in strange towns. Little Tianci was exhausted but rarely cried, as if he understood his mother's sadness and was willing to endure the hardship with her.