Instructor at Liaoning Industrial University Illegally Sentenced
August 20, 2014 | By a Minghui correspondent from Liaoning Province, China
(Minghui.org) Ms. Miao Xiaokun, in her forties, is a lecturer at the Liaoning Industrial University. She was illegally arrested again on July 7, 2014, ten months after her previous release. Jinzhou City Guta Court sentenced her to three years in prison.
The police grabbed her legs and pulled her out of the police car and all the way into the cell in Jinzhou City Detention Center. Her head hit the stairs, and she passed out.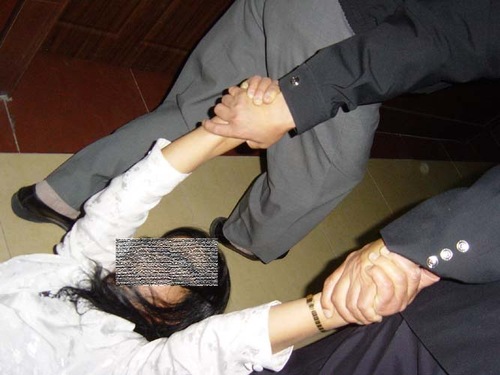 Torture re-enactment: Dragging
Persecution Details
Ms. Miao was arrested on August 7, 2013, for raising awareness about Falun Gong on the Internet. She was taken to a detention center by Bai Ning and Li Meishan from the Jinzhou 610 Office, and officers with the Jinzhou Police Department Domestic Security Division. Her home was ransacked, and personal belongings, including computers, were confiscated. She was later transferred to the Jinzhou City Detention Center.
Officers Bai Ning and Li Meishan attempted to speed Ms. Miao's case along, but the Jinzhou City Procuratorate did not approve the arrest due to insufficient evidence. Ms. Miao was released after more than 20 days of detention.
Officers Bai and Li did not give up. They produced fabricated documents and submitted the case to the Guta District Procuratorate, setting the wheels in motion for a trial.
The Guta District Procuratorate handed the indictment to Ms. Miao in late December 2013, and issued a hearing notice for January 15. Ms. Mao's employer got involved in taking her to court.
Pan Lili was the presiding judge, and the prosecutors were Wen Zhenyu and Zhang Huiyong, from the Guta District Procuratorate. They have been active participants in persecuting Falun Gong practitioners.
Ms. Miao was again arrested on July 7, 2014, by officers Bai Ning and Li Meishan.