First Half of 2014: Sixteen Elderly Falun Gong Practitioners Illegally Tried
August 18, 2014 | By a Minghui correspondent in China
(Minghui.org) The Chinese people had a high respect for their elderly in ancient times. Yet in today's China, arrests and sentencing of the elderly for their spiritual practice is not uncommon under the communist rule.
In the State of Qi during the Spring and Autumn and Warring States Period (770 BC – 221 BC), the sons of anyone who was over 70 years old were exempt from paying taxes and from performing military and other services to the state. This policy enabled them to have enough time and finances to attend to their aging parents. During the Han Dynasty (202 BC – 220 AD), those who failed to take care of their elderly parents could be punished by death.
Contrary to the traditional practice of providing them extra respect and care, elderly Falun Gong practitioners are not exempt from being the target of persecution, only because they believe in a peaceful practice that the Chinese Communist Party (CCP) considers as a threat.
During the first half of 2014 alone, at least 16 elderly Falun Gong practitioners have been put on trial. Thirteen were over the age of 70 and three were over the age of 80. Some of them have been sentenced or transferred to prison.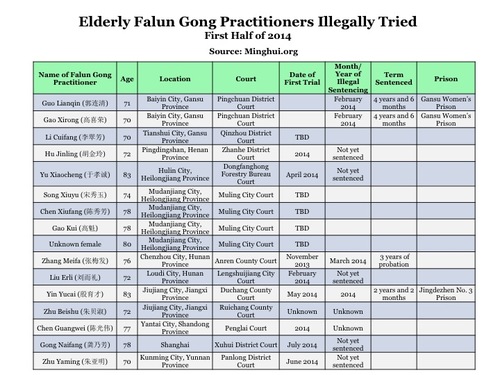 83-Year-Old Man Imprisoned for More Than a Decade
Mr. Yin Yucai, 83, a former presiding judge of the Duchang County Criminal Court, had been illegally sentenced to forced labor and prison for a total of 11 years. While he was incarcerated at the Yuzhang Prison, he was secretly fed unknown drugs, which caused a mental disorder for a period of time.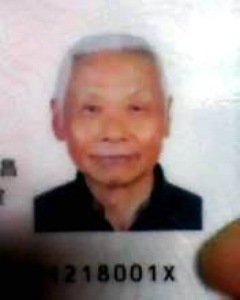 Mr. Yin Yucai
Mr. Yin was again arrested on January 13, 2014 in Xubu Township for distributing Falun Gong informational materials. On February 10, his family visited the domestic security division in Duchang County and asked for his release. Responding to the family's plea citing Mr. Yin's age, the head of domestic security yelled, "He will be imprisoned even if he's 95!"
Mr. Yin was subsequently tried at the Duchang County Court on May 21, and sentenced to three years and two months in prison. Mr. Yin was taken to the Jingdezhen No. 3 Prison on June 24.
Two Elderly Women Sentenced to Prison Within Days
Ms. Gao Xirong and Ms. Guo Lianqing, both in their 70s, from Baiyin City, Gansu Province, were arrested for practicing Falun Gong on February 8 and 13, 2014. Only a few days later, they were each sentenced to four and a half years and transferred to the Gansu Women's Prison on February 28.
Coerced to Dismiss the Attorney
Chinese authorities also intimidate these elderly practitioners and their families to keep them from hiring defense lawyers. For instance, the daughter of 72-year-old Ms. Hu Jinling was coerced into dismissing the attorney from Beijing and accepting the one appointed by the court.
Two weeks prior to the trial on May 15, Zhanhe District Court demanded Ms. Hu's daughter to dismiss the attorney the family hired from Beijing. Ms. Hu's daughter declined to do so.
On the day of the trial, the court forced the attorney into a conference room on the fourth floor, while keeping Ms. Hu in a temporary detention room on the second floor. Therefore, Ms. Hu wasn't able to meet with her lawyer.
The court staff also tricked Ms. Hu's daughter into going into the office and took away her cell phone. With a mix of threats and promises, they made Ms. Hu's daughter sign the dismissal document.
Ms. Hu was arrested on November 21, 2013, for distributing Falun Gong informational materials.
Related articles:Mr. Liu Qiusheng and Mr. Yin Yucai Detained for More Than 50 Days, Facing Illegal Prison Sentences
Two Women in their 70s from Gansu Province Sentenced to Four and a Half Years
Presiding Judge of Pingdingshan Court Coerced Ms. Hu Jinling into Dismissing Her Attorney