Cultural Festival in Frankfurt: People Line up to Sign Petitions
July 04, 2014 | By a Minghui correspondent in Germany
(Minghui.org) When Frankfurt's Cultural Festival was held on June 28, 2014, Falun Gong practitioners set up two tables to introduce the self-improvement system along with traditional Chinese culture. Many people that came by to learn more signed the petitions condemning the brutal persecution in China.
The petitions will be forwarded to the United Nations to raise awareness of the severe human rights violation. Next to them were postcards to be sent to Chinese prisons where Falun Gong practitioners are illegally detained for their belief.
"Every Signature Counts"
Surprised to learn about the torture and brutality practitioners encounter in China, event attendees lined up to sign the petitions. As she signed, an elderly lady said, "I am from Israel and I have seen Falun Gong before in Tel Aviv. We support you." Her husband also came over and signed the petition.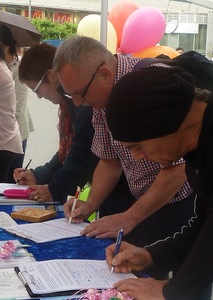 People line up to sign petitions at Frankfurt's Cultural Festival
A mother came over with her 10-year-old son and explained organ harvesting from living Falun Gong practitioners to him, then signed the petition. "We need to let the younger generation know about these human rights issues. They are very important," she told a practitioner.
After a couple and their daughter heard about the persecution, the father asked more questions and finally understood why the Chinese Communist Party (CCP) suppressed Falun Gong. "I see," he said, "the CCP promotes brutality and lies, which contradicts Truthfulness-Compassion-Forbearance, the principles of Falun Gong. Thank you for telling me."
They all signed the petition, and the father said, "Our entire family supports you. Every signature counts."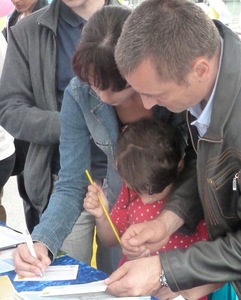 A little girl and her parents sign the petition
More Interest in Learning the Exercises
When the Divine Land Marching Band performed, many people gathered around and enjoyed the beautiful music.
A young girl was very impressed by the beautiful paper lotus flowers displayed on the table. Her father, who mentioned he was a big fan of Asian culture, said, "I know Falun Gong is great and I would like to give a try."
As they left, the girl was holding a lotus flower and her father had a pamphlet containing information on local practice sites.
Mr. Zhang, a practitioner volunteer who has participated in the cultural festival for several years, was glad to see more people were willing to learn Falun Gong: "Many people have been searching for this for a long time. Now they have found it."