Lawyers and Families Forbidden to Visit Four Detained Practitioners—Local Citizens Sign Petition to Rescue Them
July 25, 2014 | By Minghui Correspondent from Heilongjiang Province, China
(Minghui.org) Four Falun Gong practitioners were illegally arrested by officers from the Sandaogou Police Station on March 19, 2014. For over 100 days, the authorities at the detention center deprived them of the right to family visits.
Related article: Wife Imprisoned for Exposing Persecution Suffered by Husband
The Huanan Forestry Bureau Police Department transferred the practitioners' case files to the Procuratorate on June 4. The local practitioners collected signatures on a petition to rescue the four practitioners and asked for their immediate release. Within 12 days, 252 people signed the petition despite the risk of being persecuted by regime authorities for publicly supporting Falun Gong.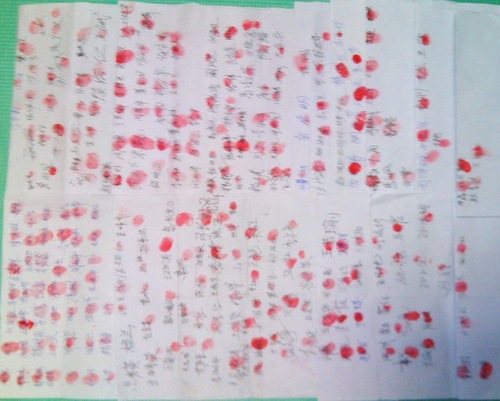 252 local citizens have signed and finger-printed the petition to rescue detained practitioners
Procuratorate Obstruct Defense Lawyers from Seeing Case Files and Judge Avoids Meeting with Lawyers
The imprisoned practitioners are Ms. Cheng Shujie, Ms. Wang Zhiqin, Ms. Zhang Fenghua, and Ms. Wang Weijie.
Ms. Cheng's daughter and their lawyer went to the Procuratorate on June 16 requesting to read Ms. Cheng's case file and meet with her.
Prosecutor Wang Yuan claimed that they had to wait for the judge to return the next day. However, he demanded that Ms. Cheng's lawyer plead guilty on behalf of his client.
The lawyer said, "It's impossible for me to make any plea before reading my client's case file. I must read her file first."
After negotiating for 30 minutes, Wang Yuan promised that the lawyer could read the file the next morning. That afternoon, the lawyer was able to meet with Ms. Cheng. She firmly believed that it was legal and she didn't violate any existing Chinese law for helping people understand the facts about Falun Gong and telling them how to become good people.
Ms. Cheng's family and the lawyer returned to the Procuratorate on the morning of June 17. Wang claimed that he had to consult with the judge before letting them read Ms. Cheng's case file. Wang then agreed to let them read it the next morningat 9 a.m.
Meanwhile, fellow practitioners sent materials to other prosecutors to help them understand Falun Gong and the persecution. The prosecutors claimed that they were just carrying out orders from higher authorities.
Ms. Zhang Fenghua's family also hired a lawyer. However, the presiding judge, Xiao Liwen came up with a number of excuses to stop the lawyer from handling the case. The head of the criminal court, Ren Yongliang was assigned to the case, but he refused to meet with the defense lawyer.
The two lawyers finally met their clients on the afternoon of July 4. Ms. Cheng's daughter, after many attempts during the three months of her detention, was finally able to meet with her mother.
Imprisoned Practitioners' Health Deteriorating Due to Harsh Conditions
Due to harsh conditions and abuse at the detention center, Ms. Wang's inflammation of the gallbladder reoccurred and she is unable to eat. Her hair also turned gray and she became pale and weak. One month after she was detained, her heart disease reoccurred. She felt dizzy and her lips were black and purple.
Ms. Wang Weijie and Ms. Wang Zhiqin are given only one steamed bun to split between the two of them for each meal, and they have lost a significant amount of weight from lack of food and nutrition. Ms. Wang's husband and other family members went to talk to the chief of the domestic security team. Li Peng refused to meet with them because they were there to talk about Falun Gong.
Parties involved in the persecution of the four practitioners:Han Jianjun (韩建军), head of the Political and Legal Affairs Committee: +86-13349446777, +86-18645415678, +86-454-6688811 (Office)Wang Jincheng (王金诚), chief of the Forestry Bureau Police Department: +86-18078345999Shi Yinglin (史营林), deputy chief of the Forestry Bureau: +86-13845425777Li Peng (李鹏), chief of the Domestic Security Team: +86-13512615566, +86-454-6227652Lin Bingqing (杜秉清), Procuratorate Deputy Attorney General: +86-454-6689338, +86-454-6685687, +86-13845492917Chen Guowei (陈国伟), head of the court: +86-454-6688477, +86-454-6685566, +86-18724260888Xiao Liwen (肖立文), deputy head of the court: +86-454-6685657, +86-454-6685476, +86-13836693727Ren Yonglian (任永良), presiding judge: +86-13136970967, +86-454-6685902