New York: Rally in Front of the Chinese Consulate Protests 15 Years of Persecution (Photos)
July 23, 2014 | By Minghui correspondent Cai Ju in New York
(Minghui.org) A duplicate of the "miniature stool" was shown at a public rally in front of the Chinese consulate in New York. Smaller than Ms. Wang Huizhen's palm, it was used by guards at Liyuan Prison in Tianjin to torture Falun Gong practitioners.
Guards force practitioners to sit on it from 6:30 a.m. until 9:30 p.m. The stool is about one inch tall, one inch wide, and four inches long.
The practitioner has to keep his back, neck, and head straight and his legs close enough together to hold a piece of paper. If the paper dropped to the floor, the guard would shock him with an electric baton.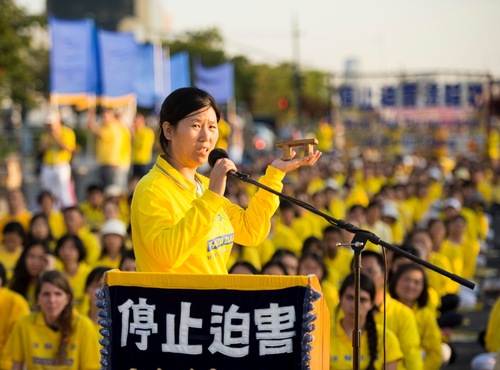 Falun Gong practitioner Ms. Wang Huizhen exposes a torture method the Chinese Communist Party (CCP) used to torture practitioners
The rally on July 20, 2014 was held to protest the 15-year-long persecution of Falun Gong, which was officially launched on July 20, 1999. In addition to exposing the persecution, the rally participants also celebrated 170 million Chinese people's choice of renouncing their memberships in communist organizations.
Practitioners held a rally in front of the Chinese Consulate in New York , calling for ending the persecution and offering support to 170 million Chinese who have chosen to quit the communist organizations.
Yi Rong: The Disintegration of the CCP Is Reality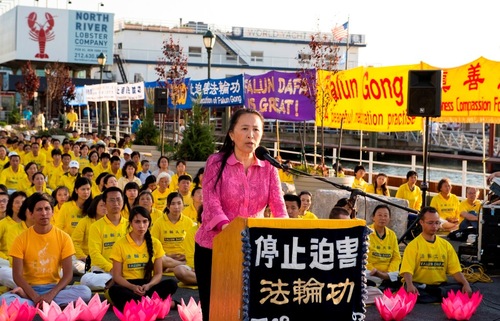 Ms. Yi Rong, president of the Global Quitting the CCP Service Center speaks at the rally
As a result of Falun Gong practitioners' extensive and persistent efforts of raising awareness of the persecution, the Chinese Communist Party (CCP) is counting its remaining days, according to Yi Rong, president of the Global Quitting the CCP Service Center.
The persecution has become the last straw that a lot of Chinese needed to see through the nature of the CCP. Therefore, they are quitting the CCP and its affiliated organizations at a speed of 90,000 per day, Ms. Yi said.
As she presented certificates to eight Chinese who quit the CCP, she remarked that the time has come for the entire Chinese population to oppose the persecution and accelerate the CCP's disintegration with their personal peaceful choice of quitting the communist organizations.
Chinese Ivy League Student Remains Steadfast in His Beliefs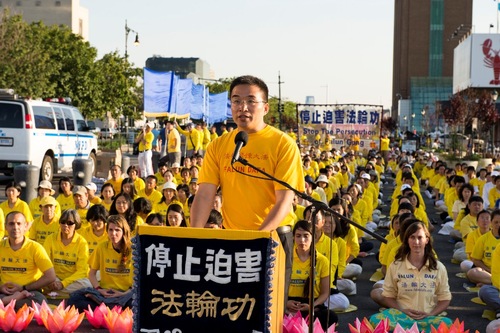 Falun Gong practitioner Mr. Qin Peng recounts his personal experience of persecution in China
Mr. Qin Peng began practicing Falun Gong in 1995. He was admitted to be a postgraduate student at Tsinghua University, China's Ivy League school, in early 1999.
During the 15 years of persecution, Mr. Qin was forced to drop out several times, was illegally detained, and subjected to torture for remaining steadfast in his belief of Falun Gong.
When he was incarcerated in the Gaoyang Forced Labor Camp in Hebei Province, he suffered multiple forms of torture. One torture he was subjected to was that both of his hands were cuffed and chained to a metal ring anchored to the ground.
The labor camp also used an old hand-crank telephone to torture him. Two electrodes were attached to his ankles, and then the phone was charged by cranking the handle. The torture caused him to be unable to stand and his heart to beat erratically.
On top of that, the labor camp division head Yang Aimin told him, "What you have suffered is far from enough. We have a variety of ways to transform Falun Gong practitioners, such as piercing their fingers with bamboo slips, whipping them and having scorpions bit them, and so on."
Zhang Jian: Practitioners Carry Forward the Spirit of the Chinese Nation
Democracy activist Mr. Zhang Jian said in his speech, "You have not been extinguished because of the CCP's physical and mental persecution. On the contrary, your voices can be heard wherever there are Chinese people. You've carried forward the spirit of the Chinese nation.
"The persecution of Falun Gong will one day be punished by law, and receive a fair trial by heaven. Jiang Zemin and other main perpetrators will ultimately be held accountable and brought to justice."
"What Falun Gong promotes is what the world needs. The world needs Falun Gong and all its practitioners," he concluded.
New York Citizens: The Persecution Must Stop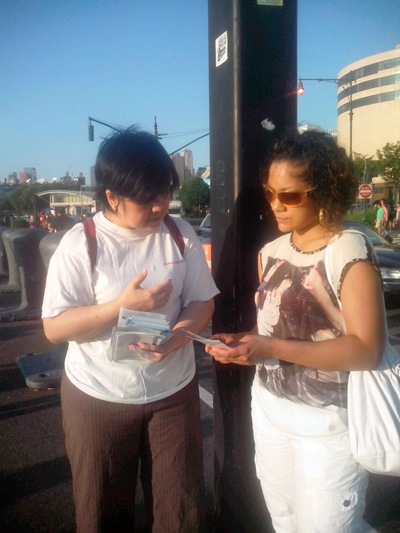 Angel (right), a medical worker, is shocked at the CCP's atrocities
Many New York citizens passing by the rally site were impressed by the compassionate and solemn scene. They took pictures, talked to practitioners and collected informational materials to find out more about Falun Gong and the persecution.
Angel, a medical professional said that no one can do such a thing as harvesting organs from living people for profit. She promised to check online to learn more about it, and spread the information on the social media so that more people will be aware of this (crime against humanity).
After the rally, practitioners continued sitting in meditation for 30 minutes, honoring those practitioners who have lost their lives for upholding their faith amidst the persecution.