Tokyo, Japan: 2014 Asia Pacific Falun Dafa Experience Sharing Conference (Photos)
July 16, 2014 | By a Falun Dafa practitioner in Asia
(Minghui.org) The Asia Pacific Falun Dafa Experience Sharing Conference was held on July 12, 2014, at the Edogawa-ku Sogo Bunka Center in Tokyo, Japan. Over 1,000 practitioners from Japan, Taiwan, Hong Kong, Macau, South Korea, Malaysia, Indonesia, Vietnam, and Thailand attended the annual event. Nineteen practitioners shared their experiences in cultivating their xinxing and clarifying the facts about Falun Dafa.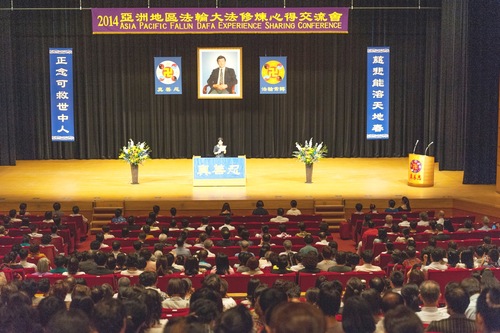 The 2014 Asia Pacific Falun Dafa Conference held in Japan
Practitioner shares her cultivation experiences during the conference.
Practitioners demonstrated the exercises the following day, and held a rally protesting the Chinese Communist Party's (CCP) persecution of Falun Dafa, at Meiji Park. They held a grand march afterward in Tokyo, to allow more people to learn about the goodness of Falun Dafa. They raised awareness about the persecution, and in particular the CCP's state-sanctioned crimes of forced organ harvesting from living Falun Dafa practitioners.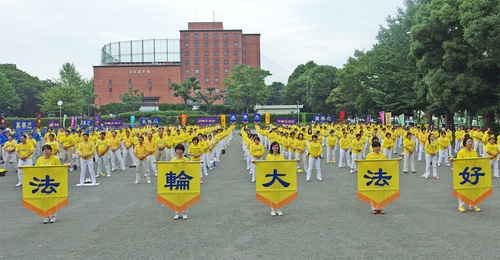 Practitioners demonstrate the exercises on the second day of the conference.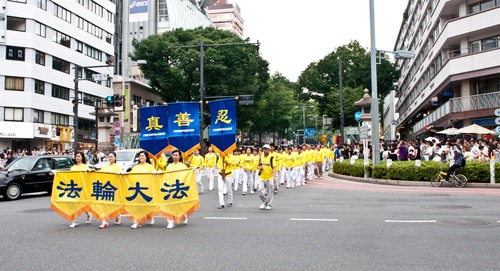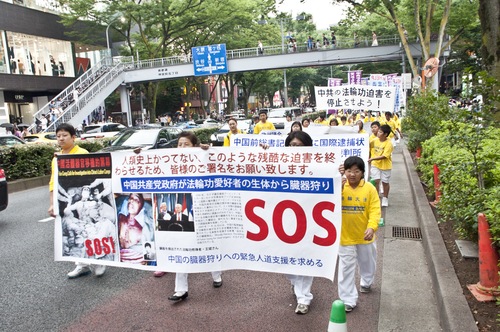 Grand march in Tokyo on the second day of the conference
Progressing Together Through Learning from One Another
Ms. Tan from Hong Kong talked about how she dealt with malicious interference from the Youth Care Association. She clarified the facts about Falun Dafa and helped people understand the truth and support the practice.
Ms. Nishikawa, 83, from Japan, said that she regained complete health after she began practicing Falun Dafa, and people around her witnessed the miraculous power of the practice. She also talked about how she traveled a long way to sell Shen Yun Performing Arts tickets door-to-door. Her sincerity and righteous thoughts had many people buying tickets.
Ms. Hirai Yuko also became illness-free after she began practicing. She shared her experience of clarifying the facts of the persecution to the staff, who leased her a place for group Fa study, and subsequently gave her permission to use it every week free of charge.
Mr. Takahashi Yutaro, a young practitioner, shared how he played songs composed by Falun Dafa practitioners between classes in school and clarified the facts. He also gave up soccer and put his time into practicing a musical instrument. He eventually became a member of the Falun Dafa Divine Land Marching Band.
Great Benefits from Participating in the Conference
Ms. Shimada said that she began practicing Falun Dafa five years ago to improve her health. She wishes that she had known about it earlier. This was her first time attending a Fa conference, and she felt the purity and righteousness of the fellow practitioners.
Mr. Jin from Tokyo was touched by a practitioner's sharing of his disagreements with other practitioners, and his thoughts in detail. Mr. Jin had thought of writing an experience sharing, but worried that writing about disagreements with other practitioners would intensify the grudge. After he heard the sharings of other practitioners, he knew that he should just share his thoughts, which were tests to pass in his practice, and not focus on human notions or worries.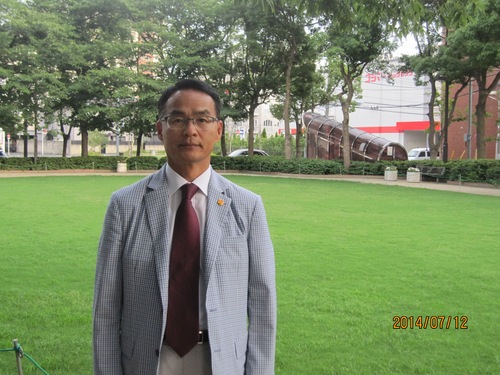 Mr. Wu Shilie, spokesperson for the Falun Dafa Association in South Korea
Mr. Wu Shilie, spokesperson for the Falun Dafa Association in South Korea, said that he benefited greatly from the sharing of speeches. He was inspired to see that so many people in Japan practiced Falun Dafa. He was very impressed with a phrase he heard in one of the talks, "Smile, is what I learned from the Fa." Mr. Wu said that he wished to become more diligent in the practice and would tell practitioners in South Korea to remain diligent after they returned. He also recommended that everyone read the sharing articles from the Fa conference.
Mr. Yang Yun from Malaysia was especially moved by the hard work of practitioners who worked in the media. He also learned a lot from talking to the practitioners in Hong Kong.
Tony from Indonesia said that he was glad that he finally made it to this Fa conference in Japan. He was most impressed by the young practitioner who gave up his favorite game of soccer and learned how to play a musical instrument in order to join the Divine Land Marching Band.
A practitioner from Vietnam was excited about attending this great annual event in Tokyo. "I was especially moved by hearing the Hong Kong practitioners share their experiences. I will become more diligent and better at clarifying the facts. I hope that a Fa conference as big as this one can be held in Vietnam in the future."