London: "We Must Put an End to This Violation of Human Dignity"
July 15, 2014 | By Tang Xiuming, a Minghui correspondent in London
(Minghui.org) "When it comes to a battle between righteousness and evil, everyone is taking a stance. We hope that, by listening to our conscience and supporting what is right, we all make the choice that leaves us with no regrets," said Dr. Liu at a July 12th rally in front of the Chinese Embassy in London.
Following the morning rally, there was a march in central London and truth-clarification activities at St. Martin's Place and Chinatown.
"I Have to Join Your Efforts"
Dozens of female practitioners, all dressed in white, stood across from the Chinese Embassy and carried photos of practitioners who have died for their belief while in police custody. Next to them, practitioners held banners urging, "End the Persecution in China" and "Dissolve the Chinese Communist Party" in both English and Chinese.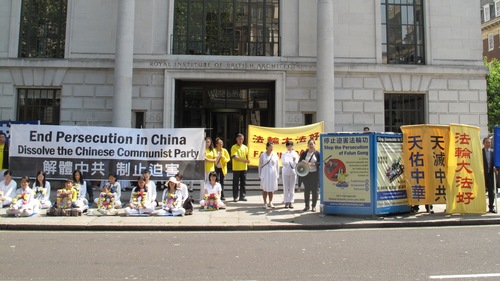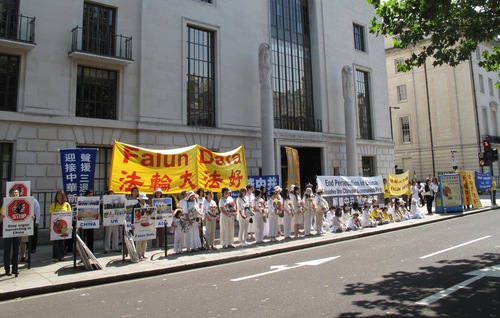 Rally in front of the Chinese Embassy on July 12, 2014, calling for an end to the persecution of Falun Gong in China
Ms. Yu and Ms. Song, two practitioners who had been illegally detained by the Chinese Communist Party (CCP), spoke about their experience.
Ms. Yu was imprisoned for five years, and Ms. Song was held in a labor camp for two years. "This persecution is massive and severe. By targeting a peaceful group of people who simply want to improve their minds and bodies, it [the persecution] is undermining the cornerstone of society."
"The physical and mental abuse while in detention is beyond imagination," they added. "Fifteen years is too long, and we must stop it."
It was a sunny day, and many tourists saw the signs and came up to ask for more information. Christina from Hungary, who was in town for a short-term training course in London, accepted a pamphlet from a practitioner and read it.
After standing nearby and watching the rally, Christina decided to join the rest of the march. She said to a practitioner, "This is important. I have to join your efforts."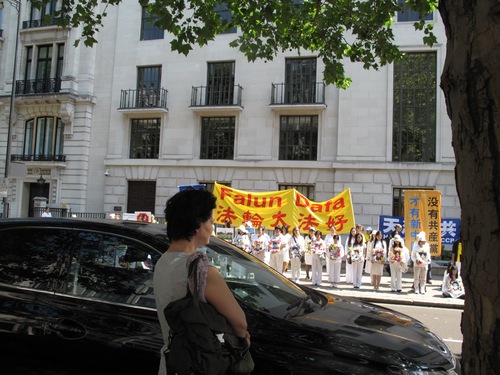 Christina from Hungary decided to join the march after watching the rally.
March in Central London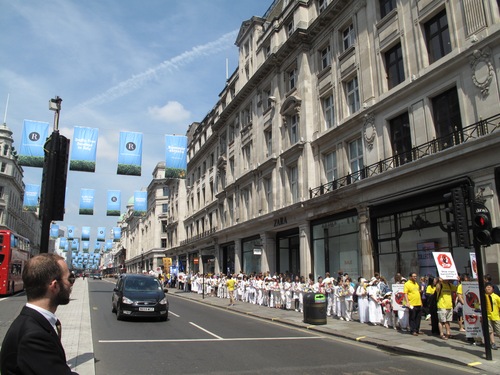 The march through Central London helped people learn more about Falun Gong.Parade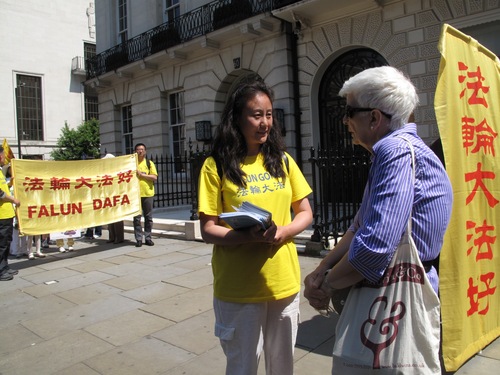 Pedestrians saw the march and wanted to learn more.
The march began shortly after the rally. Carrying banners and posters, practitioners walked past nearby streets, including one near BBC headquarters, Regent Street, Oxford Circus, Piccadilly Circus, Leicester Square, and then Chinatown, where they stayed for an hour to do the exercises as a group and tell people about Falun Gong.
The march then continued past Charing Cross, the Prime Minister's Office on Downing Street, Trafalgar Square, the National Gallery, and back to St. Martin's Place.
The march drew the attention of many pedestrians. Many people accepted pamphlets and read them. Some looked at the banners and took pictures or videotaped them.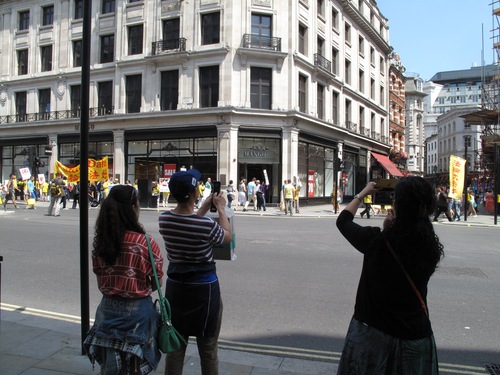 Pedestrians took pictures and videotaped the march
Anna, an immigrant from Hong Kong, has lived in London for many years. As she was walking with her friends in Leicester Square, she saw the march and was impressed. She said to a Minghui correspondent, "We did not know how bad the CCP was. Now we do. Even people in Hong Kong cannot tolerate it anymore and have taken to the streets.
"I like your events to end the persecution; the more, the better."
Support in Chinatown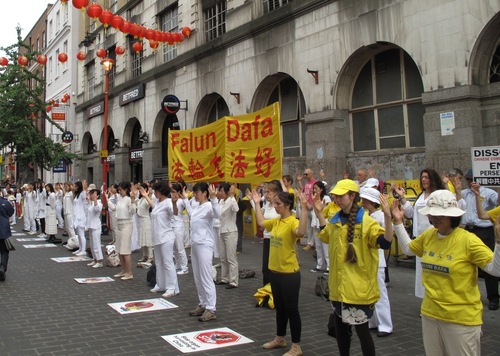 Doing the exercises as a group in Chinatown
Telling people the facts about Falun Gong in Chinatown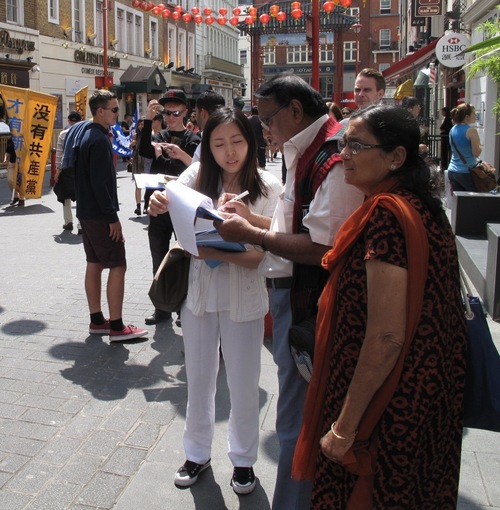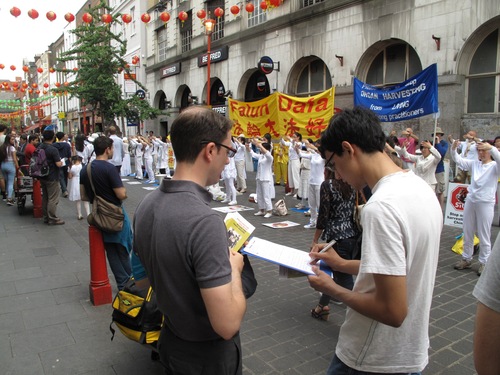 Signing a petition to support Falun Gong
When the march arrived in Chinatown, it immediately caught the attention of both local residents and tourists. Many people stopped by to watch the group exercises and signed petitions to condemn the persecution.
After the learning about the bad things the CCP has done, some Chinese agreed to quit the Party and its affiliated organizations.
"We Must Stop This Barbaric Violation of Human Dignity"
The march ended at St. Martin's Place, where practitioners have maintained a presence for a long time to tell people the real story of Falun Gong with group exercises, banners, and conversations.
After reading the banners and posters, many people quickly understood and signed petitions to show their support.
London resident Anthony was one of them. He signed his name on the petition and called the crimes of organ harvesting "barbaric" and "a serious violation of human dignity." "It must be stopped," he said.