Toronto, Canada: Faith and Hope Resonate with Viewers at the Art of Truth, Compassion, Tolerance International Exhibition
July 14, 2014 | By a Falun Dafa Practitioner in Toronto, Canada
(Minghui.org) The Art of Zhen, Shan, Ren (Truth, Compassion, Tolerance) International Exhibition was unveiled in Toronto's Metro Hall on July 10. The 19-day exhibition features artwork with unique insights into the spiritual practice of Falun Dafa and the ordeals practitioners go through under persecution in China.
The event received warm greetings from local politicians and was highly praised by visitors for its deeply moving and inspiring content.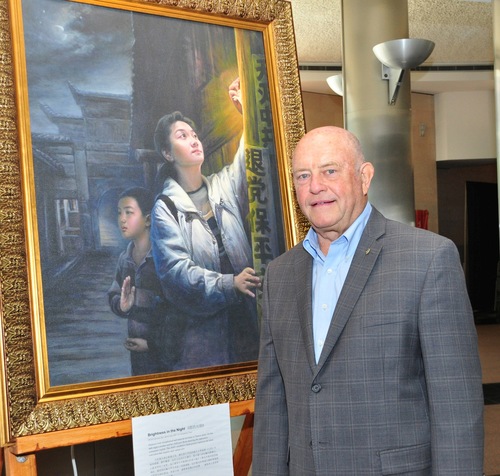 Mississauga Councillor Ron Starr next to the painting "Brightness in the Night"
Mississauga Councillor Ron Starr said the painting "Brightness in the Night" was "very, very striking." It depicts a mother and her son posting banners decrying the oppressive communist regime on a dark night. The light from the banner illuminates the mother's face.
Councillor Starr said that in this painting he could see the light of hope, coming out of the night of darkness: "It falls in line with what everyone is trying to accomplish – freedom of speech, religion and actions."
Mr. Starr said, "You could see light. But you had to fight for it. Unfortunately in most nations, people die for it." Raised in a family originally from Ukraine, Mr. Starr shared that his grandparents had lived under Communism.
"If we give up, our children and grandchildren will never get an opportunity to live a different life... It's very important to let people know about the persecution. The persecution is not acceptable. The fight will have to go on. We have to let people know that there should be freedom for everybody," said Mr. Starr.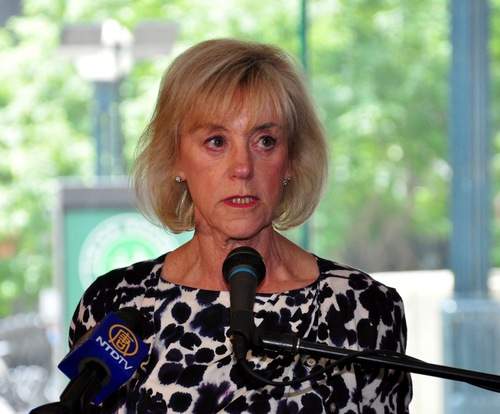 President of the Canadian Polish Congress, Teresa Berezowski
President of the Canadian Polish Congress, Teresa Berezowski, commented, "It's absolutely beautiful! My favorite is the woman and the little boy [in "Brightness in the Night"]. To me, the painting says 'hope.'"
Ms. Berezowski continued, "The paintings are traditional. They project the idea of Falun Gong, with feeling that you can transmit hope, faith and love to other people."
She believes that everyone might see something different in the paintings. "You would see something that was in you," she said. As for Ms. Berezowski, she sees faith in these paintings.
Buddha Law Inspires Spirit
The participating artists at the exhibition, though from different backgrounds, all practice Falun Dafa. Dafa has revealed the meaning of life to them though spiritual cultivation. Their artwork shows the traditional idea of harmony between heaven and mankind, and shows reverence for the divine.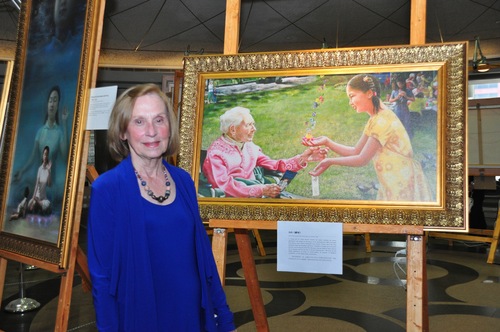 Canadian artist Kathleen Gillis and her painting "Gift"
In Kathleen Gillis' painting "Gift," a young Falun Gong practitioner presents an informational leaflet and an origami lotus flower to an elderly lady. The girl's face emits peace and kind wishes. Different types of lovely flowers emerge from the lotus flower.
"Falun Gong practitioners are giving a gift of humanity. People will understand what the gift is about. She (the young practitioner in the painting) is giving the lady the information she needs. The elderly woman probably has a limited amount of time in her life. A gift from this little girl at this particular time is very precious," said Ms. Gillis of her inspiration for the painting.
Mr. Sikandar Shaikh, an engineer in Toronto, visited the exhibition and said that the paintings told stories of spiritual growth. He believes that peace comes from one's heart, not from the external. Happiness lies in spirit and faith instead of money. "Unless we help each other, do good deeds and praise God, we won't be happy," said Mr. Shaikh.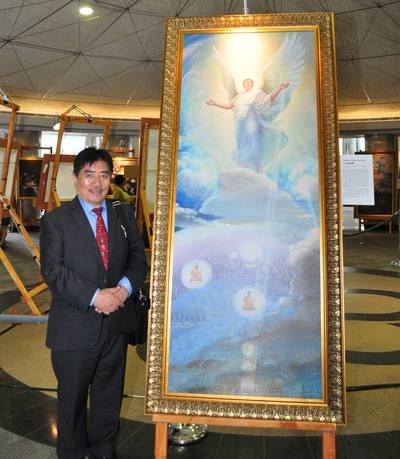 Mr. Kunga Tsering, Co-Chair of Canadian Friends of Tibet, standing next to his favorite painting
Mr. Kunga Tsering, Co-Chair of Canadian Friends of Tibet, was especially interested in the painting "Coming of the Holy Falun King." He said it was very inspiring and wonderful. Buddha has always been identified with peace and compassion. He appreciated that Falun Dafa's teachings include Compassion and Tolerance.
Artist's Inspiration: Exposing the Persecution and Saving Lives
Ms. Kathleen Gillis shared her reasons for exposing the persecution through her artwork. She started painting images of this subject since 2003. She wanted to do whatever she could to save practitioners' lives in China and to document the history of the persecution.
As she learned more about the persecution, Ms. Gillis understood more about how the Communist Party controls people's minds. For example, a friend told her that she had been seen bodies being cleared away from Tiananmen Square the day after the massacre in 1989. But the TV broadcast told her that what she saw didn't happen and that everything was fine. By the end of the week, her friend was convinced that what she had seen was not real.
Ms. Gillis said she painted these paintings with the persecutors in mind as well. They are also victims of another kind of torture because their essential humanity has been destroyed. "I paint for humanity; for you, and for the people of the future."
The art exhibition will be shown in Metro Hall (55 John Street) from July 10 to July 20 and City Hall from July 21 to July 28.