Mr. Hao Xiangtang to Face Second Illegal Trial Based on Fabricated Charges
July 10, 2014 | By a Minghui correspondent from Hebei Province, China
(Minghui.org) Falun Gong practitioner Mr. Hao Xiangtang will be tried for the second time in Qiaodong District Court in Xingtai City on June 30, 2014.
As requested by Mr. Hao's lawyer after the first trial, Qiaodong District Court started procedures to eliminate illegal evidence and held a pre-trial conference on June 20. However, instead of a fair and just trial, the prosecutors tried to make Mr. Hao admit that he only confessed to printing and distributing about 1000 Falun Gong brochures after the police stopped torturing him.
Mr. Hao was arrested on July 14, 2013. He was first secretly detained in the Gaokai District Police Department for 2 days, then transferred to Shahe Team of the Hebei Province Criminal Offense Division for 23 days and subsequently held at Dongwang Police Station for 13 days. This far exceeds the 24-hour interrogation limit stipulated by law.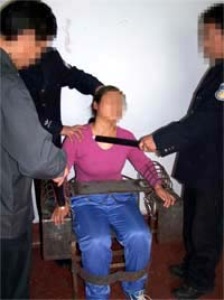 Torture reenactment: Chained to a metal chair and shocked with electric batons
During that time, Mr. Hao was tortured, including being handcuffed to a metal chair for long hours, electric shocks, having his feet stabbed with a screwdriver, having the soles of his feet whipped with tree branches, and so on.
Gaokai District Police Department refused to show video footage of Mr. Hao's interrogation and "confession."
After the Procuratorate returned the case file to the Gaokai District Police Department last December due to insufficient evidence, the officers submitted Mr. Hao's case directly to the local court, bypassing the Procuratorate.
Qiaodong District Court held the first trial on May 23, 2014. Mr. Hao's lawyer noticed that the prosecuting attorney's name was not on the original indictment and asked the court to dismiss the prosecutor. The judge promptly adjourned the trial.
To date, Mr. Hao has been imprisoned in the No. 1 Detention Center in Xingtai City for over 11 months. He has been subjected to forced labor and is deprived of food, causing serious weight loss.
Previous report: Mr. Hao Xiangtang Illegally Tried Despite the Evidence Being Deemed Insufficient by the Procuratorate
Parties Involved in Persecuting Mr. Hao:Ma Junxiao (马军骁), judge: +86-319-3635060 (Office), +86-13171857676 (Cell)Liu Dongbo (刘东波), chief of the Domestic Security Division: +86-15531900777 (Cell)Wang Huanfang (王焕芳), political head of the Domestic Security Division: +86-13393093008 (Cell)Hao Qingbo (郝庆波), head of City Criminal Police Team: +86-319-8855868, +86-15833195999 (Cell)Liu Zhanfeng (刘占峰), head of Gaokai Police Station: +86-13503197888, +86-13363710999 (Cell)