A Real Hero – The Story of Yuan Jiang (Part 1)
June 07, 2014 | By Yu Zheng
(Minghui.org) On October 29, 2001, in Lanzhou, the capital of Gansu Province, China, 3,000 police officers carried out an intense search for a wanted individual. Sirens were heard everywhere in this 2,500-year old northwestern Chinese city with a population of two million. Every street intersection and hotel were inspected, and every bus and train station were under watch. Later, the search was extended to the nearby towns. The police had been given an order—find Yuan Jiang at all costs.
Who was Yuan Jiang? A notorious criminal mastermind? No, Yuan Jiang was just an intellectual and one of the many Falun Gong practitioners who have been persecuted in China.
The persecution of Falun Gong reached a fever pitch in 2001, and Yuan Jiang was arrested. After being severely tortured for two months, he miraculously escaped, although he was badly injured.
Why did his escape make the police and the regime so panic-stricken and scared that they wanted him at any cost? Here is Yuan Jiang's story from the beginning.
1. An Outstanding Graduate of Tsinghua University
Yuan Jiang was born in 1972 into an intellectual family. His father was a professor and chair of the physics department at Northwest Normal University in Lanzhou. His mother was an elementary school teacher. He has three older sisters. Yuan was a smart student and worked very hard. He won a provincial prize at a high school physics competition. After high school, he was accepted by the best engineering school in China—Tsinghua University (also known as Qinghua University).
Yuan had always been sick since his youth. He developed myocarditis at 17 and had to quit school for a year. In college, he was addicted to cigarettes and alcohol, which worsened his health.
In 1993, by chance he attended a free Falun Gong workshop, which fundamentally changed his life. All of his ailments were healed without treatment, and he quit smoking and drinking. Not only was his physical health restored, but also his mind was refreshed. After that, he endeavored to follow Falun Gong's teachings of Truthfulness-Compassion-Forbearance in his daily life.
2. A Volunteer Assistant in Northwest China
After college, Yuan had a job offer from a large company run by Lanzhou Telecommunication Bureau. Being a selfless, honest, and kind person and a capable, hardworking employee, he was highly respected by his co-workers and supervisor. He was soon promoted to be the deputy general manager of the company.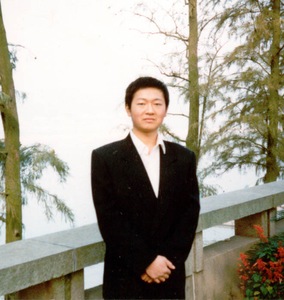 Yuan Jiang
Every morning, he went to the campus of Northwest Normal University to practice the Falun Gong exercises. At the beginning, it was just him and a banner. But more and more people joined him. In two years, there were more than a thousand practitioners at this site.
The miraculous mind and body benefits Falun Gong has and its positive impact on society spread via word-of-mouth. More and more exercise sites sprung up. The gentle movements and beautiful music were seen and heard all over town.
To help new practitioners improve themselves in their practice, Yuan founded the volunteer assistance center in Lanzhou and two others, one in Xi'ning City and one in Yinchuan City, the capitals of two northwestern provinces, Qinghai and Ningxia, respectively. He became the contact person for these three centers.
Falun Gong workshops are free of charge. However, printing the materials and renting spaces for workshops are costly. All those who worked at the assistance centers voluntarily contributed. Yuan, a white-collar professional living a simple life without a car or a house, donated considerable funds to the centers every year.
As a volunteer assistant, Yuan Jiang not only contributed to the spread of Falun Gong in the northwestern areas, but also tried his best to safeguard Falun Gong's reputation.
In July 1998, the largest newspaper in Gansu, Gansu Daily, published an article slandering Falun Gong. Yuan Jiang talked to the editors and reporters, and shared his own experiences of benefiting from practicing Falun Gong. His sincerity and story deeply touched the newspaper staff, who changed their attitudes toward Falun Gong. The newspaper published an apology later.
Falun Gong was well accepted in society, and the number of practitioners in Northwestern China rapidly increased.
3. The Nationwide Persecution Begins
The incredible popularity of Falun Gong in China made the communist party leaders jealous. Jiang Zemin, the then Chinese communist dictator, was afraid of Falun Gong, as though it posed a threat to his power. On July 20, 1999, he and his gang launched a nationwide persecution of Falun Gong.
Every facet of society was exploited to persecute and defame Falun Gong. Falun Gong contact persons in assistant centers in towns and counties all over the country were arrested on the same day.
Yuan was no exception. He and his friends were jailed in a room in Lanzhou Hotel, which was tightly monitored 24/7. They were forced to read and watch materials that slandered Falun Gong. The brainwashing lasted for six months before they were released.
Yuan's employer removed him from his deputy general manager position. Since he was such an essential employee, they appointed him as the chief of technology. However, he was forced to check in with the local police station once a week.
In January 2001, the local police arrested Yuan again and took him to a brainwashing center.
Brainwashing centers, also known as a "Black Jails," have been set up all over China to persecute Falun Gong practitioners. After being released, Yuan had to leave home to avoid further persecution. He traveled around China, homeless, clarifying the truth about Falun Gong to people in a peaceful defiance to the persecution.
4. Tortured
On August 30, 2001, Yuan was arrested again on a bus near Dunhuang in Gansu Province. Around that time, the police painstakingly checked passengers for identification on all the buses crossing the Gansu corridor. They wanted to keep practitioners from going to Beijing to appeal for Falun Gong. Checking for identification was also a way for them to arrest practitioners.
Yuan did not have an ID on him. The police recognized him as a wanted person and a major Falun Gong contact person in the northwest provinces. News of his arrest made those in the police department of Gansu Province overjoyed. They saw his arrest as a path to promotions and financial rewards.
What happened to Yuan afterward was brutal. He was hung up in a detention center in Dunhuang and badly beaten. Later he was sent to Si'ergou Detention Center in the Xigu District in Lanzhou. The policemen soon realized that physical torture didn't work on Yuan Jiang. He refused to renounce his belief in Falun Gong.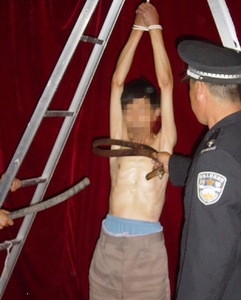 Torture re-enactment: Hung up and beaten
To the Chinese police, physical torture, especially beating, is the "normal" approach to force the arrested to give in. But they did not want to take full responsibility in case Yuan died from the beatings, so they tried to get his former employer involved.
Bowing to police demands, the Telecommunications Bureau made available a garden it owned behind Baitashan Mountain in Lanzhou City. It is located five miles from the downtown area, surrounded by mountains covered with woods. The weather was getting cold and there were no visitors, so it was an ideal place for the police to torture Yuan. They quickly moved in, taking with them two truckloads of torture instruments.
The police wanted to extract information from him, such as what he had done after he left home, which cities he visited, who he had contacted, and where they could find other Falun Gong contact people. They did everything they could to torture him, but got nothing from him. According to an insider, although Yuan looked weak on the surface, his bravery and toughness even earned the respect of the police.
(To be continued)
Part two will cover sections 5-7.
Table of Contents
1. An Outstanding Graduate of Tsinghua University2. A Volunteer Assistant in Northwest China3. The Nationwide Persecution Begins4. Tortured5. A Miraculous Escape6. The Death of a Hero7. Ongoing Persecution