London, UK: Falun Gong Practitioners Raise Awareness of the Chinese Communist Party's Persecution at East Finchley Festival (Photos)
June 28, 2014 | By Tang Xiuming, a Minghui correspondent in London
(Minghui.org) Falun Gong practitioners participated in the East Finchley Festival, held at Cherry Tree Wood Park in North London, on the afternoon of June 22, 2014. This was the fifth time that they've participated, and the local residents welcomed their return.
The East Finchley Community Festival is the longest standing free festival in the borough, according to Alison Moore, East Finchley Labor Councilor and one of the event organizers. About 10,000 people participated in this year's event.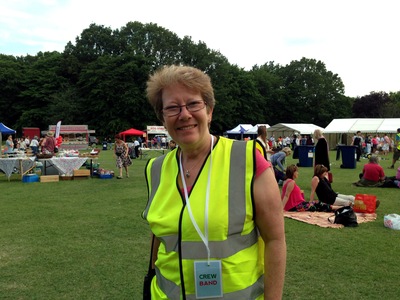 Alison Moore, one of the East Finchley Festival organizers, welcomes Falun Gong practitioners' participation
The Falun Gong booth stood out from the others with its simple beauty and peacefulness. Several practitioners in yellow T-shirts demonstrated the Falun Gong exercises, and the gentle music was a calm oasis amidst the noisy background.
Practitioners handed out informational brochures or talked to people. They also invited them to sign the petition condemning the Chinese Communist Party's (CCP) forced organ harvesting from living Falun Gong practitioners.
During the six-hour event, many people signed the petition and some of them also signed on behalf of their family members. This was the first time some people heard about Falun Gong, and after they learned about the CCP's brutal persecution ofthe practice, they signed the petition to show their support. They said that they would tell their friends and neighbors about it.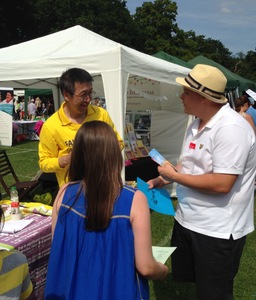 The man in the hat told the practitioner that he often passes by their round-the-clock peaceful protest site outside the Chinese embassy, and he knows that Falun Gong is being persecuted.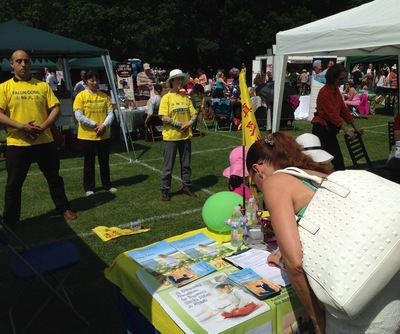 One lady immediately signed the petition condemning the crime of forced organ harvesting. She wished to show her support for practitioners after hearing about the persecution in London's Chinatown.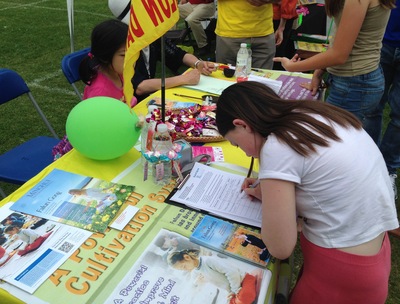 Chloe, a British girl, signed the petition and also signed on her grandmother's behalf.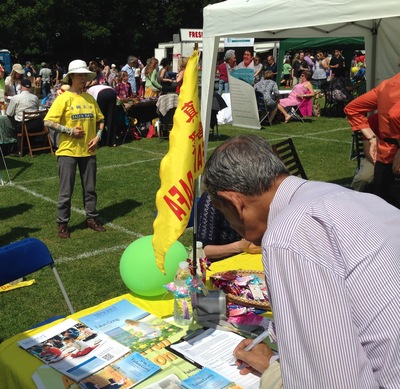 Himat heard about Falun Gong for the first time, and said he was drawn by the practitioners' peaceful and moving exercise demonstration. After hearing about how Falun Gong is being persecuted in China, he immediately signed the petition to call for an end to the persecution.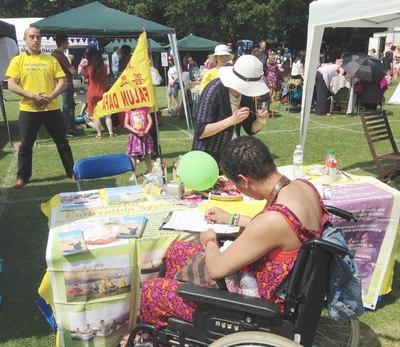 Princess Zoey, sitting in a wheelchair, signed the petition and also signed on behalf of her twin sister.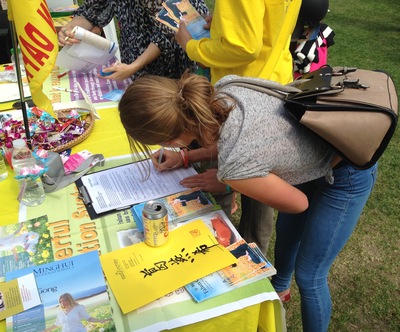 Daisy, a college student who speaks Chinese, knows that Falun Gong is being persecuted in China. After she found out about the practitioners' efforts to end the persecution, she signed the petition to express her support.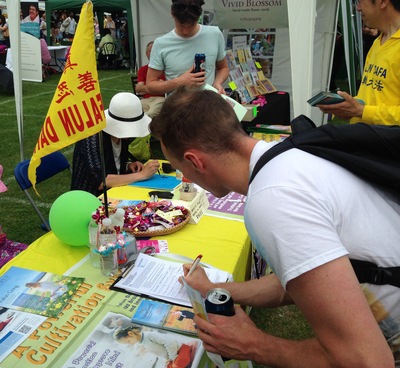 David, who manages a performing arts school, signed the petition
This was the first time for David to have met Falun Gong practitioners. He said, "I'm sensitive of energy, I believe that the positive energy generated in one's mind can change one's life for the better. I feel the energy here is wonderful."
David said he would go to a practice site next weekend to learn the exercises. He also signed the petition after he learned that the CCP has persecuted the practice for 15 years.
He promised, "I'll speak out for Falun Gong from today on, I'll talk about Falun Gong in my school, and help more people learn about the ongoing persecution in China."