London: Falun Gong Protest in Front of 10 Downing Street During Chinese Premier's Visit (Photos)
(Minghui.org) UK Falun Gong practitioners held a peaceful demonstration in front of Prime Minister David Cameron's official residence during Chinese Premier Li Keqiang's three-day visit. The protest, held during the official reception on June 17, called for an end to the persecution of Falun Gong in China and for those responsible to be brought to justice.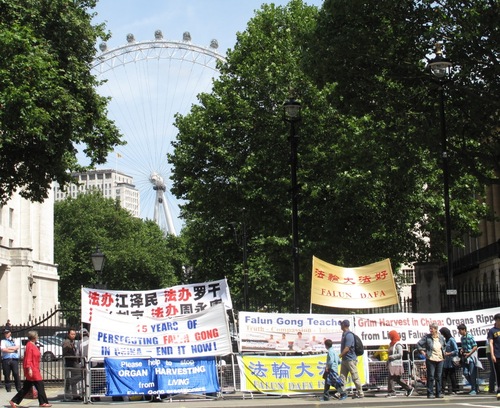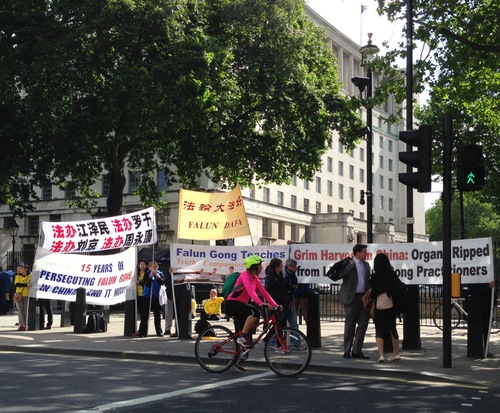 Falun Gong practitioners' peaceful protest in front of 10 Downing Street during the Chinese Premier's visit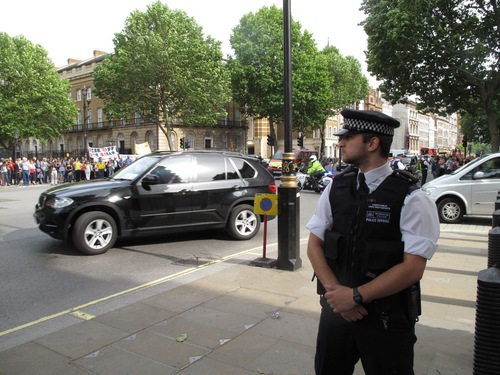 Li Keqiang's car passes by the protesters
In the afternoon, Li Keqiang's car left the Prime Minister's residence and passed by the protest. Practitioners shouted out "Falun Dafa is good!" to the Chinese officials.
10 Downing Street is a famous tourist destination, and there were several groups protesting on June 17. According to the police, Falun Gong practitioners' events are known for being the most peaceful.
At 1p.m., several Chinese government officials entered the residence through the front gate. Zack, a Western Falun Gong practitioner, said to them in Chinese, "Quit the Communist Party" and "Falun Dafa is good," as he offered them Falun Gong materials. Some of the officials accepted the materials.
Zack offers Falun Gong materials to Chinese government officials and tells them in Chinese, "Quit the Communist Party. Falun Dafa is good."
A few Chinese officials waited outside during Li and Cameron's meeting. When Falun Gong practitioner Ms. Zhou asked them if they knew about the persecution, they tried to ignore her. She said, "Don't get involved in the persecution. Did you know that many of the prime instigators of the persecution, such as Bo Xilai and Zhou Yongkang, have been punished?" The Chinese officials then seemed to change their attitude somewhat and nodded at her.
Many Chinese tourists and students were surprised to see Falun Gong practitioners there. They took photos of the peaceful demonstration and talked to practitioners. Two Chinese students praised practitioners: "Falun Gong is flourishing. Many of those responsible [for the persecution] indeed have been punished."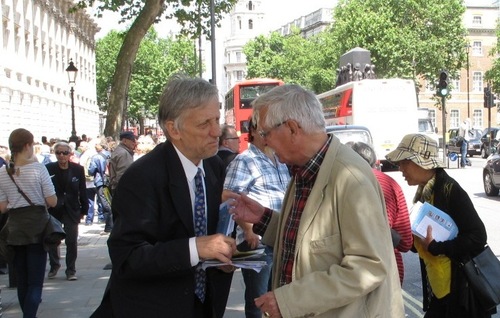 Telling tourists about Falun Gong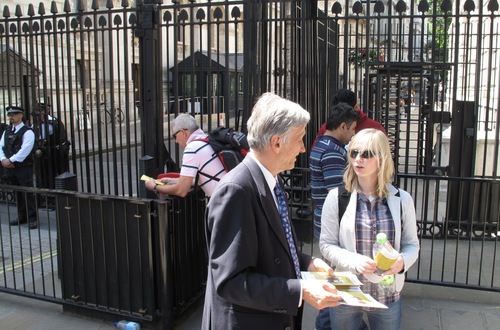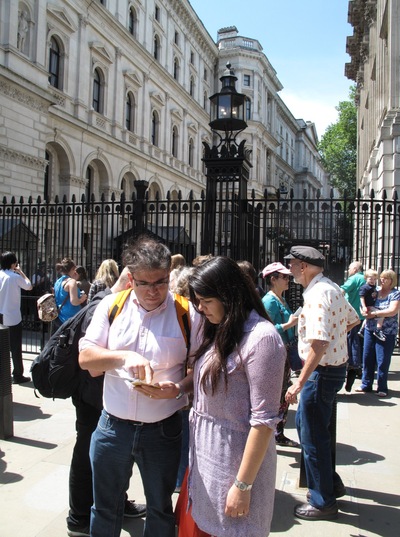 Reading Falun Gong materials.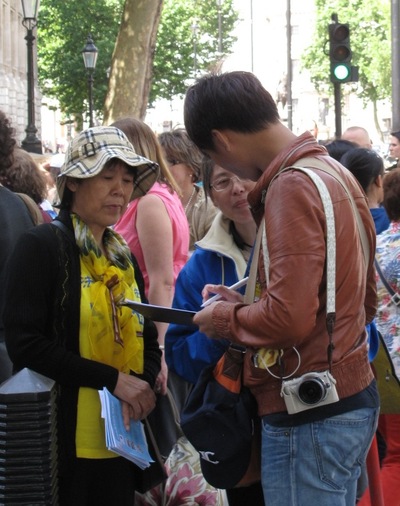 Signing the petition to condemn the persecution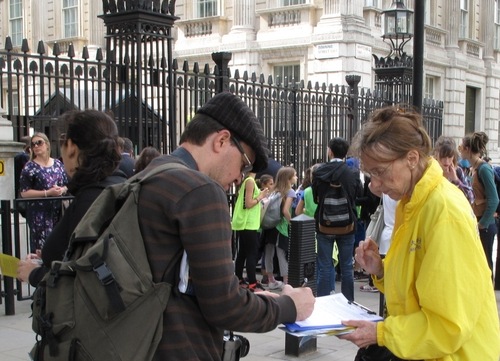 During the 10-hour protest, practitioners demonstrated the exercises and handed out materials. Many tourists signed the petition, expressing their support for Falun Gong and condemning the persecution.