Practitioners Protest CCP Politburo Standing Committee Member Liu Yunshan During Finland Visit
June 15, 2014 | By a practitioner in Finland
(Minghui.org) Liu Yunshan, Member of the Chinese Communist Party (CCP) Politburo Standing Committee and Secretary of the CCP Central Committee, led a delegation to Finland from June 12 to 15, 2014. Wherever he went in Helsinki, Liu was met with the peaceful protests of Falun Gong practitioners, calling to bring Liu Yunshan to justice. Why? As Minister of the CCP Propaganda Ministry from 2002 to 2012, Liu was an active participant in the systematic and brutal persecution of Falun Gong.
The CCP Propaganda Ministry has been carrying out the Party's persecution policy against Falun Gong, directing all media in China to carry slanderous stories defaming the traditional cultivation practice. This persecution policy has been in force since July 20, 1999, and has been instrumental in perpetuating the lies and misconceptions that have fueled the 15-year-long persecution. During his tenure as Minister of the Propaganda, Liu actively promoted the genocidal policy against Falun Gong practitioners.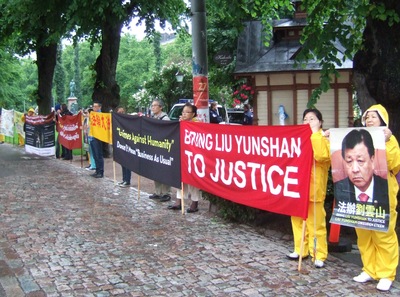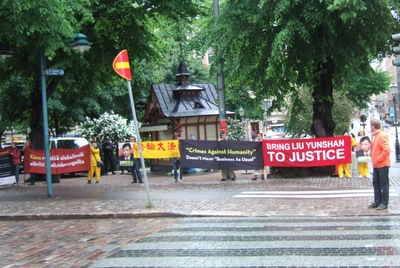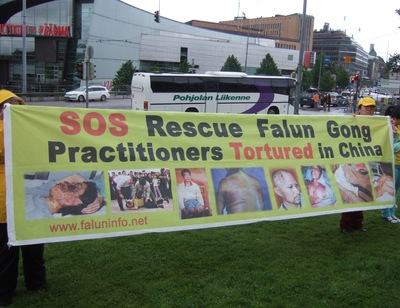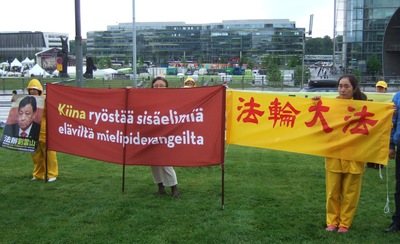 Falun Gong practitioners protest CCP Politburo Standing Committee Member Liu Yunshan during his recent visit to Finland
On June 12, Liu and his delegation visited the Finnish President and Prime Minister, the Parliament of Finland and the Ministry of Culture. Falun Gong practitioners staged peaceful protests at all of these locations. They held banners worded "Bring Liu Yushan to justice," "The CCP conducts live organ harvesting from Falun Gong practitioners," and, "'Crimes Against Humanity' Doesn't Mean 'Business as Usual'," to call attention to Liu's role in the brutal persecution of Falun Gong.
As the Chinese delegation entered the Prime Minister's office on the afternoon of June 12, practitioners held banners in front of the building. Later, practitioners held a protest in front of the Finnish Parliament. In an attempt to avoid the protest and negative publicity, Liu and his delegation left the building by the rear entrance. Over the years, entering and leaving from the rear entrance of state buildings has become part of the norm for CCP officials who are involved in the persecution of Falun Gong, because they fear exposure of their crimes when they travel overseas.
The practitioners also held a protest in front of the Finnish History Museum where the delegation was scheduled to stop. The CCP hired two buses to park in front of the museum to block people's view of the protestors. Liu and his delegation left the museum quickly, with the two buses following closely.
Liu was also scheduled to visit the Helsinki City Hall and the city of Rovaniemi on the delegation's Finnish tour. Falun Gong practitioners continued to gather at these locations to expose and protest Liu's crimes in the persecution of Falun Gong.