Tourists Encounter Falun Gong at Grand Canyon National Park
(Minghui.org) Falun Gong practitioners held a three-day truth-clarification event at Grand Canyon National Park in Arizona, one of the most visited national parks in America, from June 6 to 8, 2014. The colorful banners, display boards and peaceful Falun Gong exercise demonstration attracted many visitors, who expressed their support of Falun Gong's endeavor to expose the persecution in China.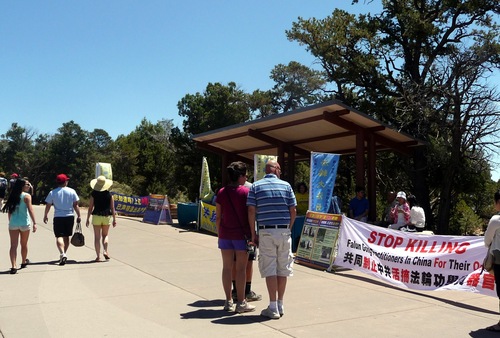 A Falun Gong truth-clarification activity at the Grand Canyon
An older Japanese man saw the "Falun Dafa Is Good" banner and said to a practitioner in English, "I am very surprised to see (Falun Gong) here. You must have traveled a long way to come here. I knew the persecution of Falun Gong in China is very bad."
An American couple studied the display boards for some time. They said that they had traveled to many places and had met Falun Gong volunteers many times. "Today I decided that I must learn what Falun Gong is all about. Please give me a flier so I can read it after I get home," the husband said.
A Vietnamese couple, their parents, and their children were visiting the Grand Canyon from Texas. They recognized the practitioners' yellow T-shirts and came by to chat with a practitioner. "The Chinese Communist Party is very evil. They harvest organs from living (Falun Gong) people. It is very cruel. I support you. You must let more people know (the CCP's evil deeds)." the husband said.
A tour group from China showed up on June 7. Some of them appeared to be shocked to see the Falun Gong banners. One of them called out to his friend, "Come here! There are Falun Gongs (practitioners) in America!"
A middle aged Chinese woman in the group hesitated at the site for a while and finally asked a practitioner to help her to quit the CCP and its affiliated organizations, saying that she didn't want to miss the opportunity to quit the CCP while she was abroad.
A practitioner talked to a Mr. Wu, a Chinese student, and asked him if he knew about quitting the CCP. He smiled and said he had already quit the Party in Los Angeles. "I had software to break through the firewall when I was in China. I read news from the Epoch Times and NTDTV. I quit the CCP in Los Angeles. I know it can help me be safe and successful," Mr. Wu said.
His friend, a student from Anhui Province, China, commented that it was really hard to find a job in China, where one has to to bribe the officials to be employed: "It is a big burden to ordinary Chinese people. Most of those corrupt officials are moving their families and money to foreign countries."
A Chinese couple listening to the conversation between the practitioner and the two students smiled and chimed in, "You're right. Because of the Chinese government's information blockade, we learned many things only after going abroad. Now we know you can freely practice Falun Gong in any country outside of China."
Two young Americans spoke to the practitioners in Chinese. One said, "For two years we taught English in China, where we were not allowed to talk about Falun Gong. At first I didn't know why. Later, I went to Taiwan and saw Falun Gong everywhere. I learned the truth about the persecution, and I know Falun Gong is good." He said that he wanted to learn the exercises and took a flier.