Osaka Japan: Japanese Edition of Bloody Harvest Published
June 10, 2014 | By a Falun Dafa practitioner in Japan
(Minghui.org) Bloody Harvest, the book which exposed the Chinese Communist Party's (CCP) organ harvesting from living Falun Gong practitioners, has been translated into Japanese and published. Mr. David Matas, one of the authors, was invited to speak on June 2, 2014, at a symposium held to celebrate the publishing of the Japanese edition.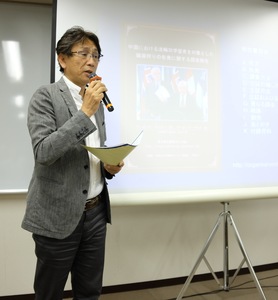 Japanese Human Rights lawyer Mr. Shinichi Tokunaga
Mr. David Matas, 2010 Nobel Peace Award nominee, spoke about the recent development of the CCP's organ harvesting. He said that investigations indicated that among prisoners, only Falun Gong practitioners were given regular blood and organ tests. He said, "Falun Gong practitioners have been persecuted and are dying in the jails, and it is obvious that the Chinese authorities don't care about their well being. Strangely, the authorities run a systematic and complete blood test and organ test on them. We also interviewed other released inmates from the Chinese prisons who were not Falun Gong practitioners. They said that only the Falun Gong practitioners had to take those tests."
The international community is becoming increasingly aware of the CCP's live organ harvesting. One of the symposium organizers, human rights lawyer Mr. Shinichi Tokunaga, who participated in the lawsuit against former Chinese Chairman Jiang Zemin in Japan, spoke about how to let more Japanese people know about the CCP's organ harvesting.
After the speeches, attendees watched the award winning documentary, "Free China: The Courage to Believe." Many were deeply moved. Human rights advocate Ms. Chuso said that people can't tolerate a government's disrespect of life in pursuit of profit, and that she would use her network to spread the truth.