Los Angeles: Falun Dafa Practitioners and Families Celebrate World Falun Dafa Day (Photos)
May 07, 2014 | By a Falun Dafa practitioner in Los Angeles
(Minghui.org) As World Falun Dafa Day draws near, Falun Dafa practitioners and their families in the Greater Los Angeles Area in California gathered at Santa Monica Pier on May 4, 2014, to celebrate this special occasion with a large group exercise activity and cultural performances.
May 13, World Falun Dafa Day, is the 22 nd anniversary of Falun Dafa's public introduction and the birthday of Mr. Li Hongzhi, the founder of Falun Dafa (also known as Falun Gong). Practitioners sang "Ode to Master's Grace" to express their deep respect and gratitude to their revered Master, who made the teachings of Truthfulness-Compassion-Forbearance available to them to improve the wellbeing of their minds and bodies.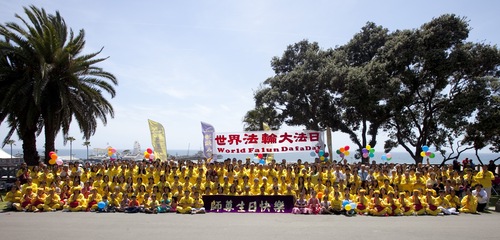 Practitioners in Los Angeles have a group photo taken to express their gratitude to Master Li.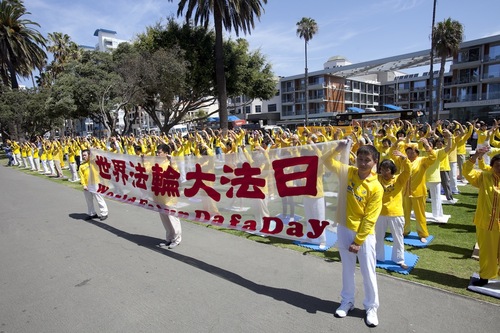 Group practice in Los Angeles to celebrate World Falun Dafa Day
Falun Dafa practitioners' exercise movements and meditation to gentle music brought an atmosphere of peace and tranquility to Santa Monica Pier, a famous tourist destination.
Hollywood resident Jeremiah, who has been drawn to Eastern culture since childhood, was on his way to a martial arts course at the pier when he saw and heard the Falun Gong exercise demonstration and felt a peaceful energy coming from the practitioners.
Practitioners presented a variety of performances for the crowd after doing the exercises together as a group. Several shared their thoughts and understandings of the special day.
Public Falun Dafa Day Celebrations in China Not Far in the Future
Mr. Zhang Jin from Anhui Province, China, endured eight years of persecution in a prison in China for remaining steadfast in his belief before he came to the United States last year. The May 4 event was his first opportunity to take part in a World Falun Dafa Day celebration outside of China. He began practicing in 1993.
Mr. Zhang recalled when he was in China in 2000, and he and fellow practitioners were very excited to see online photos of overseas celebrations of the first World Falun Dafa Day: "Amidst the brutal persecution, practitioners were encouraged when they saw that we had our own holiday and that practitioners outside of China joyously celebrate it."
Proposed by practitioners around the world, May 13 was designated as World Falun Dafa Day by more than a dozen Falun Dafa associations around the world in 2000. This year is the 15 th anniversary of this important day.
Today, as Mr. Zhang celebrates this special occasion in the U.S. on a sunny weekend, he hopes that practitioners in China will enjoy such freedom in the near future.
"In such a festive atmosphere, practitioners dance and sing to express how happy they are to have attained the Fa and to extend their respect to Master. I'm looking forward to seeing the immediate end of the persecution, so that practitioners in China can openly celebrate our holiday the same as practitioners in the United States," he said.
Raising Awareness of the Persecution Is Duty-bound
Dr. Donald Churchill, who has participated in World Falun Dafa Day celebrations for 10 years, felt fortunate to be part of the activity. He said that every time he thinks of his experience of obtaining the Fa, he has a sense that he is being divinely taken care of.
He was keenly aware of the responsibility he shouldered. He said that, while celebrating this special occasion, practitioners take the opportunity to help people learn about Falun Dafa and raise awareness about the ongoing persecution in China, particularly the Chinese regime's crime of harvesting organs from living Falun Gong practitioners.
Dr. Churchill also commented that practitioners display the real, traditional Chinese culture when they entertain people with dances, songs, and a martial arts performance. He said that the Chinese Communist Party has attempted to destroy 5000 years of Chinese culture, but Falun Dafa practitioners have been making efforts to resurrect traditional Chinese culture around the world.