As 71-year-old Husband Serves a Six-Year Illegal Sentence, Unattended Sick Wife Is Found Frozen to Death in a Paddy Field
May 29, 2014 | By a Minghui correspondent from Heilongjiang Province, China
(Minghui.org) "You don't have to save money for me. My biggest concern is your aunt. You need to take good care of her." 71-year-old Mr. Chen Jizhong told his nephew during his recent visitation at Jiamusi Prison.
While still serving his second prison term, Mr. Chen had no idea that his beloved wife of 30 years had frozen to death in a paddy field after a sudden seizure.
Mr. Chen was sentenced to 6 years in prison in 2010, only a few years after his release from the previous sentence. During his absence, his wife suffered tremendous mental pressure. Left unattended, she had frequent seizures, often resulting in severe injuries. In early 2012, one of his brothers passed away under the strain of the persecution against the family.
Wife's Tragic Death
It was late December of 2012, the coldest winter in decades in Heilongjiang, the northernmost province of China. After having breakfast at her nephew-in-law's home, Mr. Chen's wife headed home.
On the next day, her nephew-in-law learned from her neighbors that she hadn't returned home yet. He and several people from the same village searched for her everywhere. Ten days later, they finally found her lying in the paddy field on her way back home, frozen to death after suffering a seizure.
Her entire face was black. Both of her arms were outstretched, with the fists clenched.
After Mr. Chen was arrested, she was unable to look after herself without his care. While she was cooking one day, she suddenly lost consciousness. Her pants caught on fire. Fortunately, her nephew-in-law happened to be there, and he was able to put out the fire and save her.
On another occasion, she suffered a seizure while standing in front of a window, and she collapsed into it. Her entire body was shaking badly, and there was blood all over her face.
Husband Serving Six-Year Illegal Sentence
Mr. Chen is an upright, honest and kind person. After Mr. Chen's parents died during the Cultural Revolution, as the oldest child at home, he took on the responsibility to raise his two brothers and one sister.
He didn't get married until he was 41. His wife suffered from epilepsy, asthma, and many other problems. She relied on medication and had a very hard life.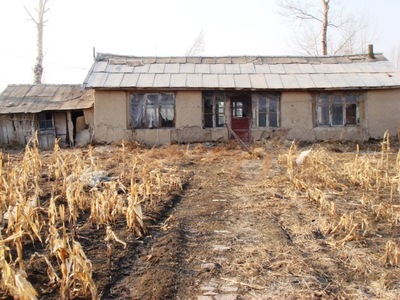 Mr. Chen Jizhong's Home
Mr. Chen started practicing Falun Gong in 1996, and his health improved quickly. Soon, his sister also started practicing Falun Gong.
Since the communist regime started the persecution against Falun Gong in July 1999, Mr. Chen was arrested five times and sentenced to prison twice to a total of 11 years.
He was released in 2007 from his first sentence, but was soon arrested again on November 30, 2009, while distributing materials about Falun Gong. He was sentenced to prison for the second time.
Mr. Chen was taken to Jiamusi Prison on May 27, 2010. Three practitioners were beaten to death by prison guards in a span of only two weeks. Mr. Chen was on the verge of death three times as a result of the severe beatings.
Unwilling to shoulder responsibility for Mr. Chen's possible death, the prison guards asked his nephew to take him home. However, when his nephew arrived at the prison, four prison guards surrounded him and demanded 3,000 yuan.
His nephew stated that he didn't bring that much money with him, so the guards refused to release Mr. Chen. After his nephew went back home, they kept calling him to tell him to bring money to exchange for Mr. Chen. His nephew didn't want to meet such an unreasonable request, so Mr. Chen is still detained.
Torture at Jiamusi Prison During First Jail Term
While Mr. Chen was detained at Jiamusi Prison in Spring 2004, the prison employed many measures to force the practitioners to renounce their belief. Mr. Chen was shocked with electric batons and forced to stand for a long time. In one of the tortures, his head was bent down, and his hands were pulled up and held at the highest point against the wall.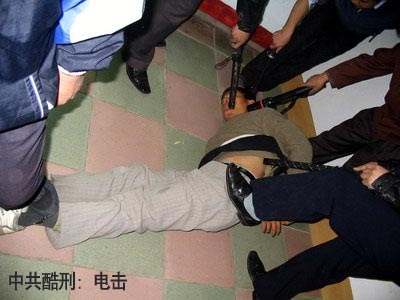 Torture re-enactment: Shocked by electric batons
Two inmates were assigned to monitor him. He was forbidden to speak to other practitioners, buy any daily necessities, or make phone calls to his family members. Meanwhile, his family members were turned away when they tried to visit him. he was once savagely beaten by inmates until he lost control of his bowels.
Previous reports:Lawyer Defends Mr. Chen Jizhong and His Sister, Ms. Chen Jihuan
Police from Yilan County, Heilongjiang Province Illegally Detain and Frame Chen Jizhong and His Sister
Practitioner Mr. Chen Jizhong from Heilongjiang Sentenced to Five Years Imprisonment, Whereabouts Unknown