Mr. Yang Lingfu Sentenced to Four-Year Prison Term
May 25, 2014 | By a Minghui correspondent from Hubei Province, China
(Minghui.org) Following his most recent arrest in September 2013, Falun Gong practitioner Mr. Yang Lingfu was tried on April 11, 2014, in the Qiaokou District Court, and sentenced to a four-year prison term a week later. He has appealed the sentencing.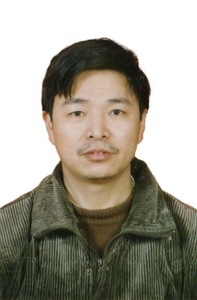 Mr. Yang Lingfu
"Believing in Truthfulness-Compassion-Forbearance Breaks No Law"
Many plainclothes officers were stationed inside and outside the courthouse on the day of the trial, and police cars were patrolling the area. A SWAT vehicle was parked outside the entrance.
The police strictly monitored anyone entering the courthouse. They didn't allow Mr. Yang's wife to attend the trial. Only three other family members were allowed into the courthouse. They were told to sit in the back of the courtroom, and were thoroughly searched.
The courtroom was filled to capacity by district and residential-level Chinese Communist Party (CCP) officials, including officer Cai Heng and others from the Wuhan City Police Department Domestic Security Division who arrested Mr. Yang on September 24, 2013.
Judge Tan Yi constantly interrupted Mr. Yang's attorney during the trial, who stated that Falun Gong had never been defined as a cult religion according to China's laws, because no government agency had the authority to declare it as such, so accusing his client of "utilizing a cult religion to undermine law enforcement," couldn't be established.
He further argued that the right to freedom of belief was guaranteed by the constitution, and couldn't be taken away by any organization or individual. He said, "Believing in Truthfulness-Compassion-Forbearance breaks no law," and urged the judge to make the right decision.
The trial lasted an hour-and-a-half, and the judge couldn't reach a verdict.
Qiaokou District Court officials later ruled against Mr. Yang and sentenced him to a four-year prison term on April 15, 2014.
The sentence was handed down on April 18 at the Qiaokou District Detention Center. Mr. Yang submitted his formal appeal on April 23.
Attorney Prevented from Being Involved
After Mr. Yang was arrested, the public security authorities tried to threaten his family and prevent them from hiring an attorney.
The Qiaokou District Procuratorate submitted Mr. Yang's case to the Qiaokou District Court at the beginning of the year, but didn't notify his family.
The trial was originally scheduled for April 4, 2014, without Mr. Yang's family or attorney's knowledge. His family found out about the trial when they went to visit him on April 2.
The next day, Mr. Yang's attorney put in a request to reschedule the trial. However, the new trial date wasn't disclosed to him or Mr. Yang's family.
The family went to the courthouse on April 9, 2014, and saw a post on the bulletin board listing Mr. Yang's new trial date. They immediately notified his attorney who was out of town.
Repeatedly Persecuted
Mr. Yang, 55, lives in the Qiaokou District of Wuhan City. He previously worked at the Dongxihu District Supply and Marketing Cooperatives Wholesale Food Company.
He was fired from his job and illegally detained for two weeks in 1999 for not giving up his belief in Falun Gong. He was also forced to go through intense brainwashing sessions.
He was arrested again in September 2013 for making Falun Gong books in his home. The local CCP authorities have classified Mr. Yang's case as a major, inter-provincial case.
Parties Involved in Persecuting Mr. Yang:Li Jun (李军), president of the Qiaokou District Court: +86-27-83417585 (Office), +86-18971263666 (Cell)Song Yanhong (宋红燕), presiding judge of the Qiaokou District Court: +86-27-83417217 (Office), +86-18971696106 (Cell)Tan Yi (谈毅), judge of the Qiaokou District Court (in charge of Mr. Yang's case): +86-27-83417209 (Office)Qiaokou District Procuratorate: +86-27-68839566 (Office), +86-27-83762000 (Office)Chen Shiguo (陈仕国), director of the Wuhan City 610 Office: +86-27-82402903 (Office), +86-27-87403060 (Home)Zhao Fei (赵飞), secretary of Wuhan City Political and Legislative Affairs Committee and director of Wuhan City Police Department: +86-27-85876666 (Office)