Minnesota, USA: Cities of Saint Paul and Minneapolis Recognize Falun Dafa Day
(Minghui.org) On the occasion of the 15th World Falun Dafa Day, Mayor Christopher B. Coleman of the City of Saint Paul, Minnesota, proclaimed May 13, 2014, as Falun Dafa Day. Mayor Betsy Hodges of the City of Minneapolis, Minnesota, wrote a greeting letter in recognition of World Falun Dafa Month.
Proclamation from Mayor Christopher Coleman of City of Saint Paul
City of Saint PaulProclamation
Whereas, the City of Saint Paul in Minnesota joins in celebration with Falun Dafa practitioners from around the world as they commemorate World Falun Dafa Day on May 13; and
Whereas, since Master Li Hongzhi, the founder of Falun Dafa, introduced the practice in May of 1992. The practice of Falun Dafa has helped hundreds of millions across the world improve their health and moral standards, as well as deepen their understanding of life, humanity, and the universe; and
Whereas, Falun Dafa is based on the principles of Truth, Compassion, Tolerance; and
Whereas, Falun Dafa is now practiced freely, in over 100 countries by people from all walks of life; and millions of people have benefited from the practice both physically and mentally.
Now, Therefore, I Christopher B. Coleman, Mayor of the City of Saint Paul, do hereby proclaim Tuesday, May 13th, 2014, to be:
Falun Dafa Day
in the City of Saint Paul.
In witness whereof I have hereunto set my hand and caused the seal of the City of Saint Paul to be affixed this Thirteenth Day of May in the Year Two Thousand and Fourteen.
Christopher B. ColemanMayor
Greeting Letter from Mayor Betsy Hodges of the City of Minneapolis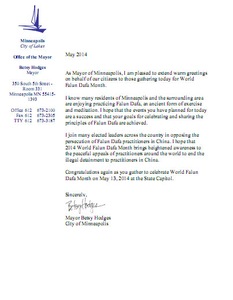 MinneapolisCity of Lakes
May 2014
As Mayor of Minneapolis, I am pleased to extend warm greetings on behalf of our citizens to those gathering today for World Falun Dafa Month.
I know many residents of Minneapolis and surrounding area are enjoying practicing Falun Dafa, an ancient form of exercise and meditation. I hope that the events you have planned for today are successful and that your goals for celebrating and sharing the principles of Falun Dafa are achieved.
I join many elected leaders across the country in opposing the persecution of Falun Dafa practitioners in China. I hope that 2014 World Falun Dafa Month brings heightened awareness to the peaceful appeals of practitioners around the world to end the illegal detainment to practitioners in China.
Congratulations again as you gather to celebrate World Falun Dafa Month on May 13, 2014 at the State Capitol.
Sincerely,Mayor Betsy HodgesCity of Minneapolis