Shen Yun in Buenos Aires: Pure Eastern Culture Appreciated
May 21, 2014 | By Minghui correspondent Li Ruoyun
(Minghui.org) Shen Yun Performing Arts completed six shows from May 6 to May 10 at the Opera Allianz Theater in Buenos Aires, Argentina. Many audience members were charmed by the pure oriental culture of the performances. They appreciated Shen Yun's blending of Western and Eastern music, which offered them a familiar platform with distinctive oriental elements.
Film Director: Stunning Performance Based on Fundamental Values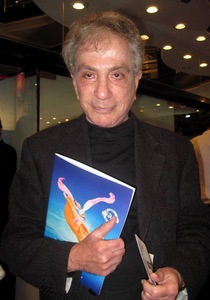 Mr. Sergio Renan, renowned Argentine actor, film director and screenwriter
Sergio Renan, an actor, film director, screenwriter and former Director of Colon Theater, attended Shen Yun on May 10 and was deeply impressed.
He called Shen Yun "stunning" and commented that the perfect synchronization of Shen Yun dancers is the goal ballerinas strive to achieve: "I have never seen such perfect performances."
"Shen Yun's blending of Western and Eastern music is very wisely done and pleasant." The live orchestra left Mr. Renan with a very deep impression.
"Precisely because it is about the Chinese world, which has many aspects that are far from Western and Christian sensibility, there are aspects that basically belong to the human condition, so one feels close to beings who were supposed to be very distant." Mr. Renan added.
Member of Parliament: "Uplifting"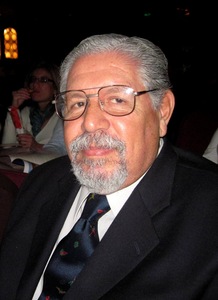 Mr. Gustavo Bouchedie, member of Latin America Parliament and anthropologist
Gustavo Bouchedie, Member of Latin America Parliament and an anthropologist, said the performance was "uplifting" and the messages it conveyed was also outstanding. He attended Shen Yun on May 10.
Speaking of the lyrics of the songs, Mr. Bouchedie stated that all the songs share one theme, and he could completely understand it. He thought that his feeling was beyond words and everyone's understanding of the lyrics might be different. It was a kind of "internal elevation" for him. Everything in the show made him feel uplifted.
He also stressed that not only China, but the entire world needs the values of Truth-Compassion-Tolerance that Falun Gong advocates, and that it is necessary for one's life. He said that it does not simply belong to religion or faith, but the fundamental idea of the entire humankind. He expressed regret for the fact that mainland China is being persecuted by communism and that they have forgotten this ancient idea.
Best Culture Show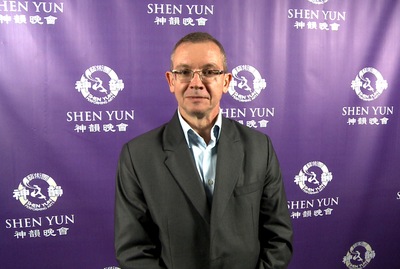 Member of Parliament Juan Manuel Pedrini
Member of Parliament (MP) Juan Manuel Pedrini, attended the performance on May 9. He believed that Shen Yun is a beautiful display of eastern culture and it is the best culture show he has seen.
He said that this performance brings people an irresistible joy because the quality of the performance is very high, the live orchestra is top-notch, and the dancers are all outstanding. The performance presents the essence of Chinese culture that Chinese people have preserved.
As someone knowledgeable about China, Mr. Pedrini saw typical Chinese elements in the dance and music. The performance also touched upon spirituality and beliefs, which cannot be seen in the materialized Chinese today, as he mentioned.
Mr. Pedrini thought the show was amazingly beautiful, that it calls people to care less about materialism and seek beauty and compassion which gives rise to the worlds of the gods, which far exceeds the world we now live in.
At last, Mr. Pedrini stressed that Shen Yun's choice of showing five thousand years of Chinese civilization is a wise act. He would like to thank Shen Yun for coming to Argentina. He felt honored to be able to see their performance and urged people to follow Shen Yun and learn from them.
Creative and Inspiring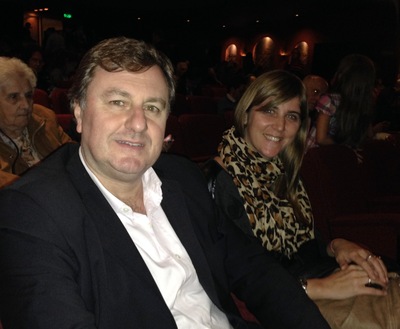 Mr. Omar Arnaldo Duclós, Member of the Argentine Parliament, admires the discipline of Shen Yun performers.
Member of the Argentine Congress Omar Arnaldo Duclós attended the performance on May 6. He saw the respect to the heavens and nature in Chinese culture from the show and regarded it "creative" and "inspiring."
Mr. Duclós was amazed by the liveliness of the digital backdrop. To him, the background pictures for the dances were beautiful and the synchronization between the dancers and the backdrop was impressive.
Incredible Spiritual Depth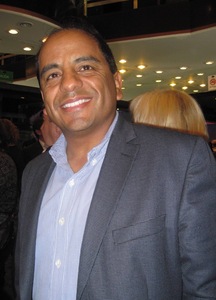 Mr. Julio Herrera, CFO of British Petroleum South America
Julio Herrera, CFO of British Petroleum South America, attended the performance on May 7. He called it one of the best performances he had ever seen.
Mr. Herrera said that the performance was filled with bright colors and contained calm elements. It transmits beautiful and peaceful messages that relax people. He noted that Shen Yun incorporates perfectly many elements such as color, music, and backdrops.
He felt that the meaning of the stories in the show are very profound, and that he needed time to comprehend the spirituality of the scenes. He noted that he has never seen such deep spirituality in other shows.
Mr. Herrera also praised the high skills of the singers. He saw infinite inner meaning in the songs. Mr. Herrera noted that through Shen Yun, he understood a lot of the parts of Chinese culture that he did not understand before. He was charmed by the ancient Chinese culture displayed in the performance.
"Splendid Spectacle"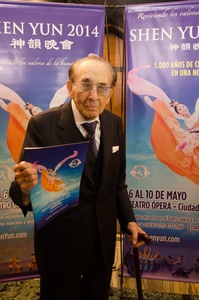 Argentine Supreme Court judge Carlos Fayt
Carlos Fayt, an Argentine Supreme Court judge, academic, and prominent figure in Argentine politics, was awestruck with Shen Yun Performing Arts. Mr. Fayt caught Shen Yun's opening performance at the Teatro Ópera Citi on May 6.
"This is a splendid spectacle—amazing, creative," Mr. Fayt said. "It really arouses your interest and makes you love and appreciate the work and applaud. Honestly, a very beautiful show."
"It was really beautiful," he said of the overall performance.
He said he would tell his family and friends about Shen Yun, as well as his colleagues "who sit with me every Tuesday to decide matters of the country."