Numerous Canadian City Officials Congratulate 22nd Anniversary of Falun Dafa's Introduction to the Public
(Minghui.org) Following congratulatory letters from the Prime Minister, Members of Parliament, provincial leaders, and officials from numerous Canadian cities also sent greetings to commemorate the 22nd anniversary of Falun Dafa's introduction to the public. [More information: http://en.minghui.org/html/articles/2014/5/12/786.html http://en.minghui.org/html/articles/2014/5/12/781.html ]
Milton, Ontario: Announcing May 13, 2014, as Falun Dafa Day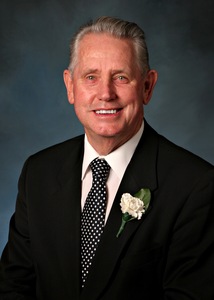 Milton mayor Gordon A. Krantz announces May 13, 2014, as Falun Dafa Day
Mayor of Richmond Hill, Ontario: An Exemplary Model to Inspire and Champion Peace at Home and Around the Globe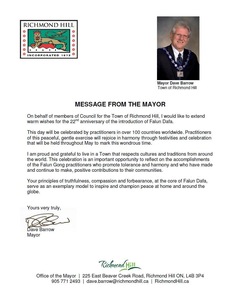 Congratulatory letter from Dave Barrow, mayor of Richmond
Message from the Mayor
On behalf of members of Council for the Town of Richmond Hill, I would like to extend warm wishes for the 22nd anniversary of the introduction of Falun Dafa.
This day will be celebrated by practitioners in over 100 countries worldwide. Practitioners of this peaceful, gentle exercise will rejoice in harmony through festivities and celebration that will be held throughout May to mark this wondrous time.
I am proud and grateful to live in a Town that respects cultures and traditions from around the world. The celebration is an important opportunity to reflect on the accomplishments of the Falun Gong practitioners who promote tolerance and harmony and who have made and continue to make, positive contributions to their communities.
Your principles of truthfulness, compassion and forbearance, at the core of Falun Dafa, seve as an exemplary model to inspire and champion peace at home and around the globe.
Yours very truly,
Dave Barrow Mayor Richmond ON
Mayor of Aurora, Ontario: Your Dedication Towards Compassion and Faith Is Commendable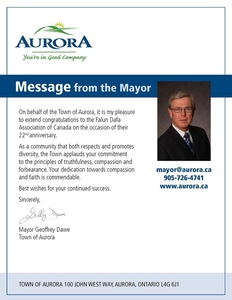 Greeting letter from Aurora mayor Geoffrey Dawe
Message from the Mayor
On behalf of the Town of Aurora, it is my pleasure to extend congratulations to the Falun Dafa Association of Canada on the occasion of their 22nd anniversary.
As a community that both respects and promotes diversity, the Town applauds your commitment to the principles of truthfulness, compassion and forbearance. Your dedication towards compassion and faith is commendable.
Best wishes for your continued success.
Sincerely,
Mayor Geoffrey Dawe Town of Aurora
Mayor of Burlington, Ontario: An Inspiration to People of All Nations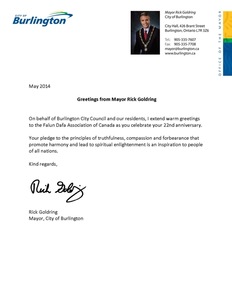 Congratulatory letter from Rick Goldring, mayor of Burlington
May 2014
Greetings from Mayor Rick Goldring
On behalf of Burlington City Council and our residents, I extend warm greetings to the Falun Dafa Association of Canada as you celebrate your 22nd anniversary.
Your pledge to the principles of truthfulness, compassion and forbearance that promote harmony and lead to spiritual enlightenment is an inspiration to people of all nations.
Kind regards,
Rick Goldring Mayor, City of Burlington
Mayor of Clarington, Ontario: May 13, 2014, Will Mark the Beginning of a Month Long Celebration of Festivals and Activities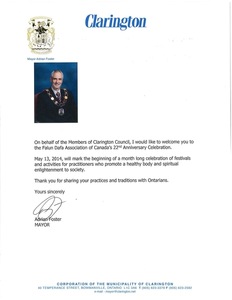 Greeting from Adrian Foster, mayor of Clarington
On behalf of the Members of Clarington Council, I would like to welcome you to the Falun Dafa Association of Canada's 22nd Anniversary Celebration.
May 13, 2014, will mark the beginning of a month long celebration of festivals and activities for practitioners who promote a healthy body and spiritual enlightenment to society.
Thank you for sharing your practices and traditions with Ontarians.
Yours sincerely,
Adrian Foster Mayor Corporation of the Municipality of Clarington
Mayor of Cornwall, Ontario: Proclamation of Falun Dafa Day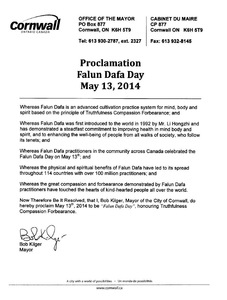 Proclamation from Cornwall Mayor Bob Kilger
Office of the Mayor Proclamation Falun Dafa Day May 13, 2014
Whereas Falun Dafa is an advanced cultivation practice system for mind, body and spirit based on the principles of Truthfulness Compassion Forbearance; and
Whereas Falun Dafa was first introduced to the world in 1992 by Mr. Li Hongzhi and has demonstrated a steadfast commitment to improving health in mind body and spirit, and to enhancing the well-being of people from all walks of society, who follow its tenets; and
Whereas Falun Dafa practitioners in the community across Canada celebrated the Falun Dafa Day on May 13th; and
Whereas the physical and spiritual benefits of Falun Dafa have led to its spread throughout 114 countries with over 100 million practitioners; and
Whereas the great compassion and forbearance demonstrated by Falun Dafa practitioners have touched the hearts of kind-hearted people all over the world.
Now Therefore Be It Resolved, that I, Bob, Kilger, Mayor of the City of Cornwall, do hereby proclaim May 13th, 2014 to be "Falun Dafa Day" , honouring Truthfulness Compassion Forbearance.
Bob Kilger Mayor
Mayor of Brampton, Ontario: These Are Important, Positive and Lasting Contributions that Have Shaped Our Future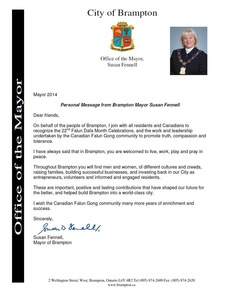 Brampton Mayor Susan Fennell Recognizing Falun Dafa Month celebrations
City of Brampton Officer of the Mayor Susan Fennell
Personal Message from Brampton Mayor Susan Fennell
Dear friends,
On behalf of the people of Brampton, I join with all residents and Canadians to recognize the 22nd Falun Dafa Month Celebrations, and the work and leadership undertaken by the Canadian Falun Gong community to promote truth, compassion and tolerance.
I have always said that in Brampton, you are welcomed to live, work, play and pray in peace.
Throughout Brampton you will find men and women, of different cultures and creeds, raising families, building successful businesses, and investing back in our City as entrepreneurs, volunteers and informed and engaged residents.
These are important, positive and lasting contributions that have shaped our future for the better, and helped build Brampton into a world-class city.
I wish the Canadian Falun Gong community many more years of enrichment and success.
Sincerely,
Susan Fennell Mayor of Brampton
Greetings were also received from Jeff Lehman (mayor of Barrie) and Michael Di Biase (council member of Vaughan).