Times Square: Group Meditation Demonstrates Ancient Practice at Modern "Crossroads of the World"
May 17, 2014 | By Minghui correspondents Tang Xuming and Dexiang
(Minghui.org) Tranquil group meditation and gentle exercises in Times Square turned heads on May 15 at this fast-paced commercial intersection of the world.
Many New Yorkers paused in their daily hustle and bustle to inquire about what was going on, and took flyers to get to know more about the practice of Falun Gong and the ongoing persecution in China.
Tourists took notice as well. In particular, many Chinese tourists took pictures of the scene and quit the Chinese communist organizations after talking to the practitioners.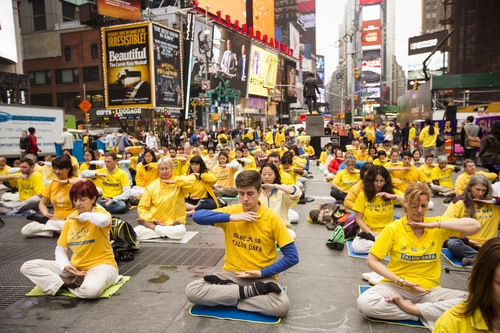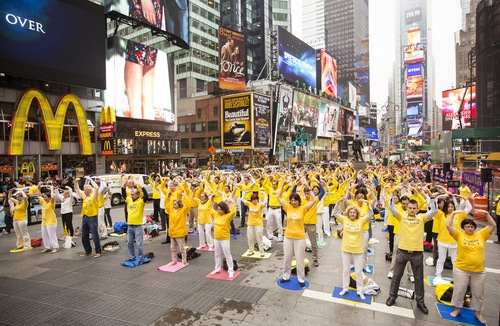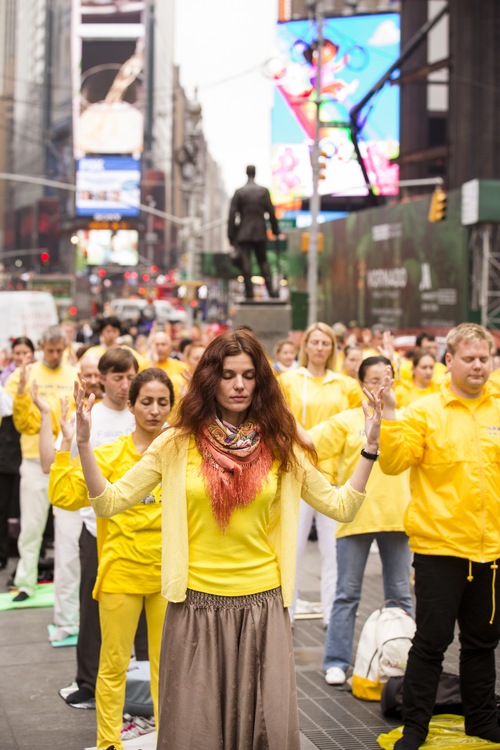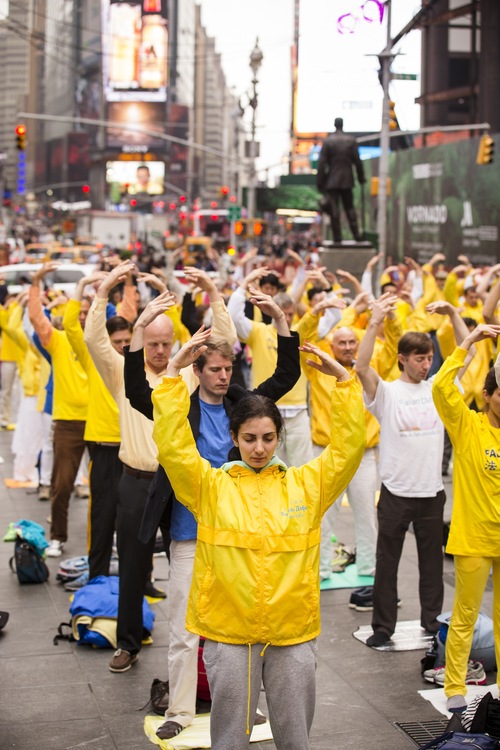 Group meditation and gentle exercises at Times Square on May 15, 2014.
US Practitioner: "We know how precious this is for them."
"A lot of the locals made eye contact with me. I see the smiles in their eyes and feel the warmth in their hearts. Some of them smiled and nodded, or showed me the Falun Gong flyer that they had already taken at another intersection nearby," Terri Newman from Washington DC shared, "These New Yorkers are paying attention. And, we know how precious this is for them!"
Ms. Newman distributed flyers near Times Square on May 16 and has visited New York frequently to tell people about Falun Gong and expose the persecution throughout the past 15 years. She noticed a change: "I connected with the locals at a level that I have not seen before. The message that I got today was, 'I'm busy, but I know you [Falun Gong]. I want to know more about you.' For many years, it was 'Who are you? I'm busy. Don't bother me.' That's a huge difference. I feel that these New Yorkers are getting the message that this is a practice that offers ancient mind and body benefits, and is brutally persecuted precisely for its goodness."
Swedish Practitioner: "Very Peaceful"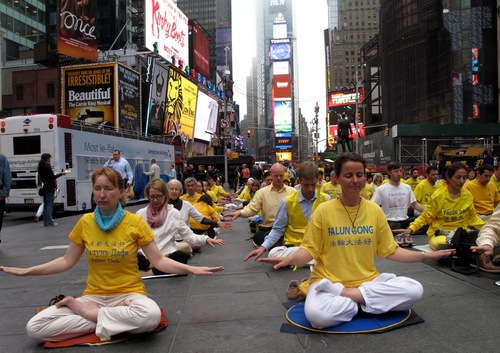 Ms. Carole Caulier from Sweden (first right in the front row) joined the group meditation at Times Square on May 15, 2014.
"This is special. The environment is very noisy with the crowds and cars, but my heart is peaceful and goes out to all these people around us," shared Carole Caulier from Sweden. She started practicing Falun Gong in 1999.
"I'm grateful for the opportunity at Times Square to share the beauty of this ancient practice that has benefited more than Chinese," she continued: "I made the trip to join the activities here because of the sense of urgency of ending the 15-year-long persecution and letting more people know what the practice is about."
German Practitioners: From Europe to Times Square for the Truth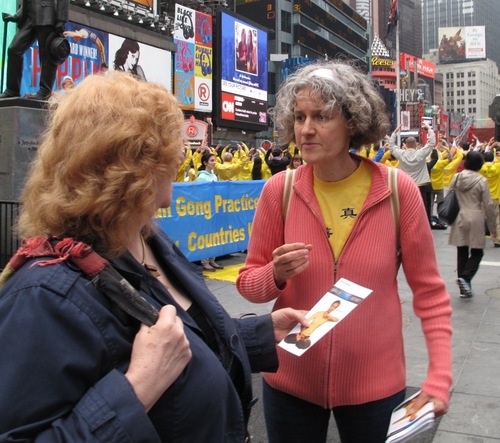 Ms. Birgit Braun from Germany explained the facts of Falun Gong to locals and tourists at Times Square on May 15, 2014.
Birgit Braun from Germany said that she had only one goal in mind for her trip: seizing the time to tell more people about Falun Gong and expose the persecution: "We came from different parts of Europe to Times Square. The group exercises demonstrate the beauty of the practice. We are also telling people about the persecution, especially forced organ harvesting of living Falun Gong practitioners. We have a responsibility to spread the facts. Everyone does."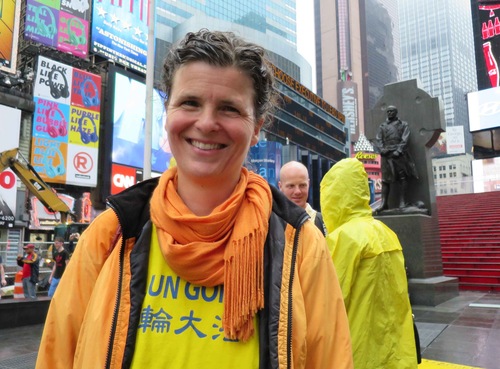 Ms. Silke Ohlert from Germany
Silke Ohlert from Germany passed out a lot of materials: "A lot of local professionals took materials in the early morning. I had many opportunities to speak to them. They thanked me for letting them know about the practice and the persecution. Later, I met many tourists, including quite a few from Germany."
She liked her experience of speaking to different people: "This is the charm of New York. You can meet all kinds of people here and let them know the facts."
Ms. Ohlert joined the practice after observing a practitioner friend for quite some time. She was moved by her friend's kindness. "Starting from when I was 20 years old, I have been looking for spiritual solutions. I had never encountered something so profound and boundless as Falun Gong. Therefore, I persisted in my practice, even though my legs were so painful during meditation!" She smiled while looking back.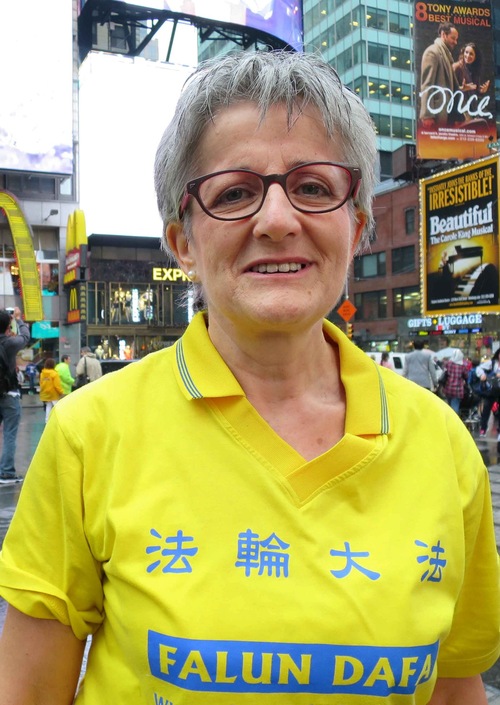 Ms. Mara Asquini from Italy started practicing Falun Gong three years ago. She said that she had become much more peaceful, and her relationship with her family also changed for the better.