Celebrating World Falun Dafa Day in North America and Europe (Photos)
(Minghui.org) Wherever they live, practitioners all over the world have been celebrating the 15 th World Falun Dafa Day. Below is a summary of practitioners' events in Austria, Russia, Canada, and America.
Vienna, Austria
On Falun Dafa Day, practitioners held a celebration in Helden Platz in front of Hofburg Palace, the Austrian president's residence.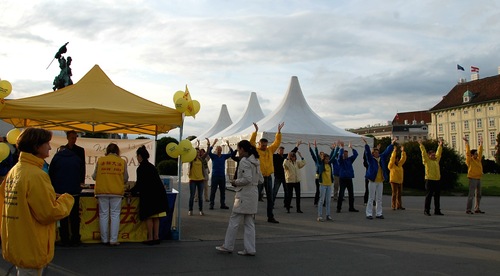 Group exercises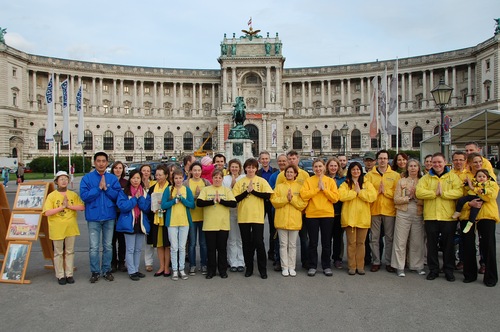 Celebrating World Falun Dafa Day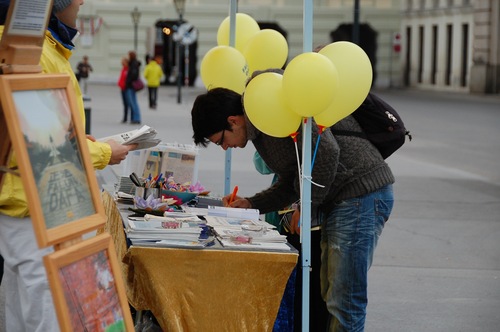 A tourist signs the petition in support of Falun Gong.
Practitioners demonstrated the exercises and handed out Falun Gong materials. Many tourists signed the petition condemning the brutal persecution of Falun Gong in China.
Nayiri accepted a Falun Gong flyer in a park two years ago, which started her on her journey of cultivating Falun Gong. Since her first day, she has come to the park to do the exercises and pass out flyers to tourists every day.
She owns a jewelry store with her husband. She said that she had always looked for something spiritual, although she did not know what it was until she read Zhuan Falun . She was amazed by the profound teachings in the book.
When she first did the exercises, she felt strong energy field spinning in her hands and feet. Her neck pain was gone right away, and she is now full of energy. She likes to share her experience with other people.
Moscow, Russia
On May 10, practitioners celebrated Falun Dafa Day at the Moscow Botanical Garden, a famous tourist destination. Practitioners did the traditional Chinese lion dance and a dragon dance and sang.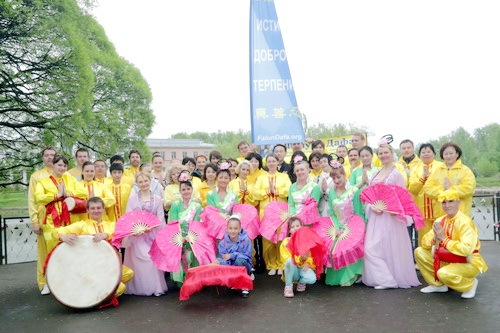 Celebration at the Moscow Botanical Garden
Fan dance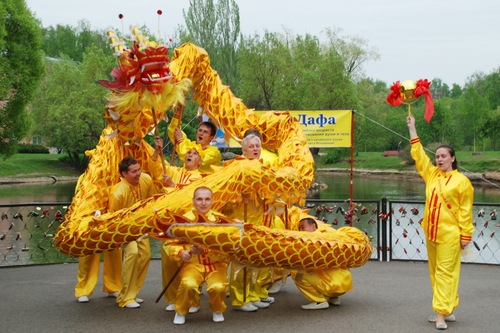 Dragon dance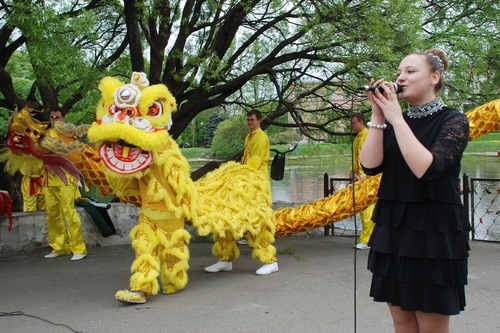 Lion dance
Winnipeg, Canada
In Winnipeg, Canada, the celebration was held in Chinatown. CBC News and other local media covered the story.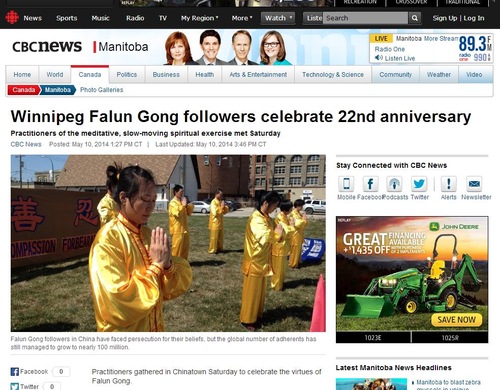 CBC News covered the story on its website.
May 13 also marks the 22 nd anniversary of Falun Gong's public introduction. Sam Katz, the Mayor of Winnipeg, and Rod Bruinooge, the Canadian Member of Parliament, sent letters congratulation to practitioners.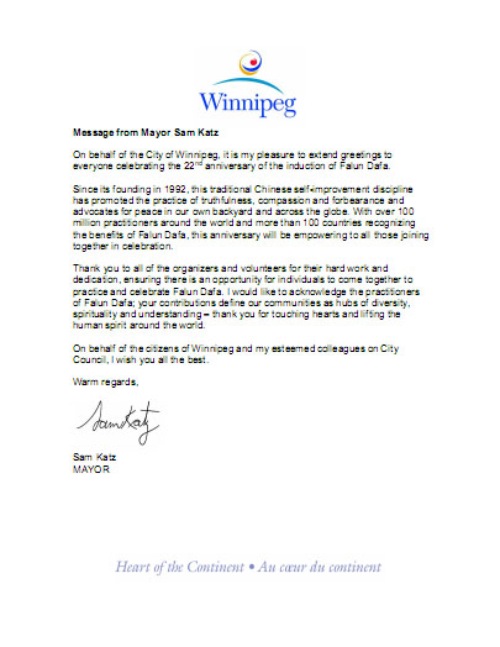 Congratulatory letter from Sam Katz, the Mayor of Winnipeg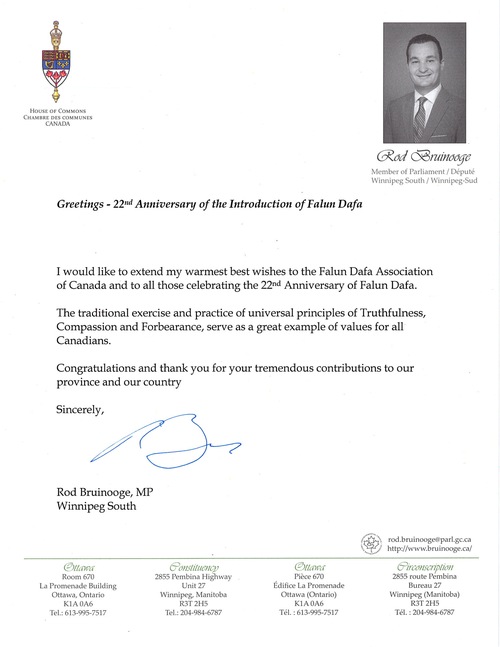 Congratulatory letter from Rod Bruinooge, the Canadian Member of Parliament
Practitioners also collected signatures on a petition to protest the persecution of Falun Gong in China. Many people were shocked to learn about forced organ harvesting.
One local citizen sobbed in front of a photo showing an example of the brutal torture the Chinese government uses on Falun Gong practitioners. He asked practitioners for details of the persecution and signed the petition.
Philadelphia, U.S.A.
On May 11, a large scale celebration was held on the square in front of Independence Hall.
Senator Patrick Toomey, Congressman Allyson Schwartz, the Mayor of Philadelphia Michael Nutter, and several state representatives sent letters of congratulation to practitioners, recognizing Falun Gong's contribution to society and its positive impact on mental and physical health.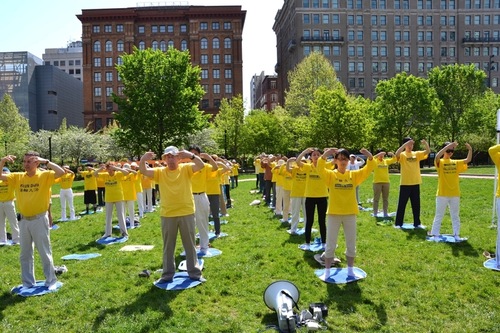 Group exercises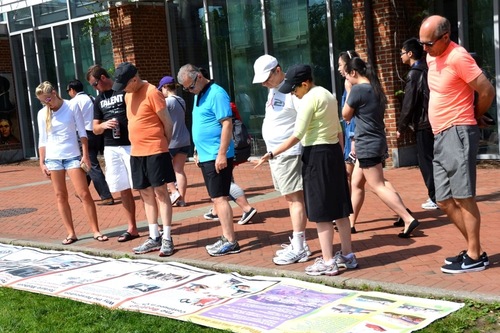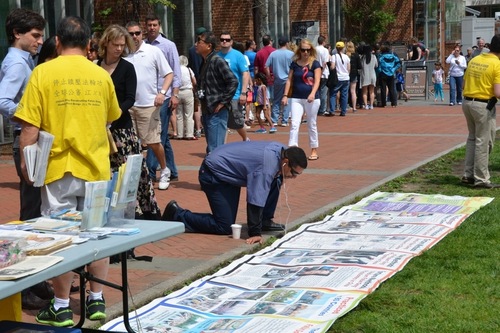 Reading the Falun Gong materials.
Practitioners demonstrated the exercises, set up display boards telling people about Falun Gong, passed out flyers, and collected signatures on a petition to end the persecution.
Aiberto DiCupe, a local, spent 30 minutes reading about the brutality of the persecution in China. In tears, he said that he had heard about the persecution but didn't know it was so severe. "It is so horrible. All they do is peaceful exercises. It is ridiculous that the government even deprives people of this freedom."
Mr. DiCupe signed the petition. Practitioners told him about the weekly group exercises and free workshop. "I will bring my friends," he said.
Mr. Wang, a tourist from Beijing, was amazed by the group exercises. "There is no chance to learn about Falun Gong in China. But I heard that many people practice it overseas. I am happy to witness this today myself. I will bring some Falun Gong materials back to my friends in China."
Mr. Wang also signed the petition and quit the Party with practitioners' help.
San Diego, U.S.A.
The celebration in San Diego was held on May 11.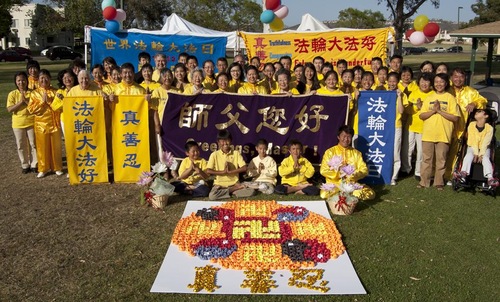 Celebration in San Diego
Miles Segni started practicing Falun Dafa two years ago. A few weeks ago, he got an idea about the celebration.
"I saw how Taiwanese practitioners arrange themselves to form huge characters, which is truly amazing. That gave me an idea. Although we don't have thousands of practitioners in San Diego to form characters, we can make paper lotus flowers and use them to form characters."
Miles shared this idea with other practitioners, and they made 500 colorful paper lotus flowers.
"I make them during my break at work. Some co-workers, who have learned about Falun Gong from me, also helped," said Miles.
Miles said that he is not good at drawing or writing, but he was glad to contribute to the celebration this way.
"I am honored to be a Falun Dafa cultivator, and I am glad to be able to express my appreciation to Master Li Hongzhi this way," he said.
Related articles in Chinese language:
http://www.minghui.org/mh/articles/2014/5/15/在奥地利总统府广场庆祝世界法轮大法日-292208.h tml
http://www.minghui.org/mh/articles/2014/5/15/莫斯科学员庆祝法轮大法日-292211.html
http://www.minghui.org/mh/articles/2014/5/15/加拿大温尼伯学员庆祝大法日-市长议员同贺-292224.html
http://www.minghui.org/mh/articles/2014/5/15/在美国费城庆祝世界法轮大法日-292194.html
http://www.minghui.org/mh/articles/2014/5/15/圣地亚哥法轮功学员谢师恩-292207.html