Thousands Parade in Manhattan Near UN, Locals Welcome "Breath of Fresh Air" to New York
May 15, 2014 | By Minghui correspondents Zhang Yun and Lan Ling in New York
(Minghui.org) Thousands of Falun Gong practitioners from over 50 countries held a parade near Dag Hammarskjold Plaza at the United Nations in Manhattan on May 14, 2014. The event near 47th Street and 2nd Avenue piqued the interest of New Yorkers to learn more about Falun Gong and the persecution. The values of Truthfulness-Compassion-Forbearance resonated with many of them.
Practitioners displayed the beauty of Falun Gong and exposed the persecution, especially forced organ harvesting from living Falun Gong practitioners. This unprecedented parade in Manhattan on a weekday represented their renewed efforts to call for an end to the persecution.
UN Staffer: Parade a "Breath of Fresh Air" to New York
UN staffer Bashir
UN staffer Bashir said as he watched the parade passing by, "This parade is really nice. I think it brings a breath of fresh air to New York!" He said he took a copy of the Falun Gong flyer: "I'm going to study it. Today is a start for me. I will find out more about this."
Mr. Thornberry, who also works at the UN, saw the parade during his lunch break. He said that the parade and the music were beautiful and reflected Chinese traditions. "I know Falun Gong." He commented that Falun Gong was a good practice and that the persecution was wrong and unjustified. "People shouldn't be persecuted for their belief."
Publisher: Parade Participants Have the Spirit of Giving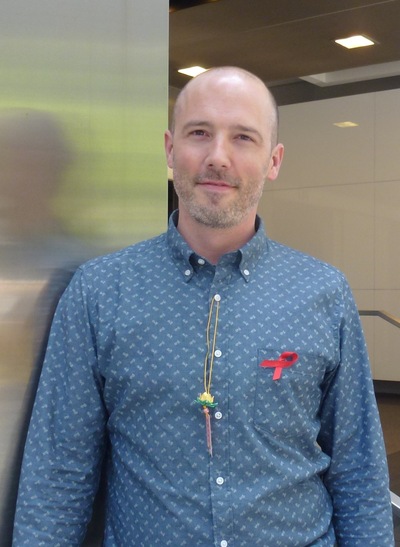 Publisher Graig
Craig, a publisher of legal publications, saw the parade while getting lunch. "I get lunch out every day, but I don't see such a parade every day." He was pleased to have been given a paper lotus flower and a Falun Gong flyer: "Those who are in the parade have the spirit of giving." He planned to get more information about Falun Gong on the Internet.
Professional: Spreading Truthfulness-Compassion-Forbearance Is Very Important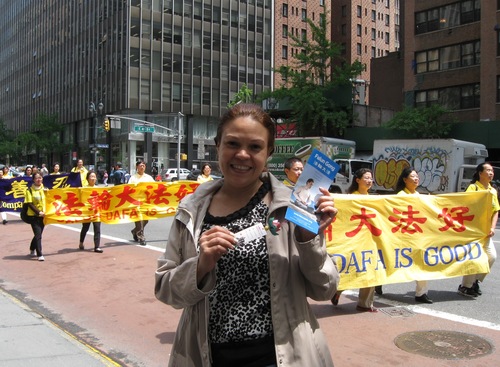 Sandra
Sandra works nearby. She commented on how well the parade was organized and appreciated the principles of Truthfulness-Compassion-Forbearance: "I am happy to see Truthfulness-Compassion-Forbearance--so important! I'm thankful that this group brings this message and so much good information to so many people in New York. I believe a lot of people will know the message of this parade soon."
Anna liked the message, too. She watched the parade with her colleague. She said, "You know, I like Truthfulness-Compassion-Forbearance. I think everyone needs it. The whole world needs it." She said she would read the flyer and learn more about Falun Gong.
Falun Gong Will Be Stronger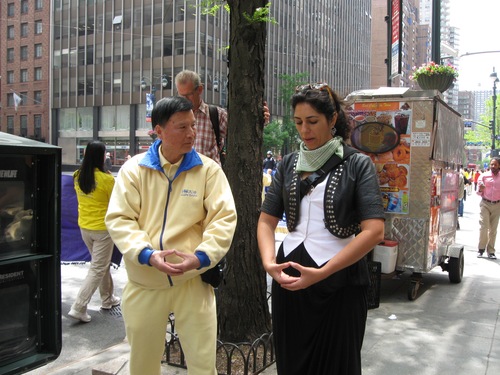 Ms. Ela Alpilib from Chile learns the Falun Gong exercises.
Ela Alpilib started learning the Falun Gong exercises when she saw the parade: "I had a strong feeling that I would like to learn it, so I asked the gentleman who gave me a flyer, 'Can you teach me?' He said OK. So I started learning the exercises on the sidewalk. I felt very comfortable and full of energy!"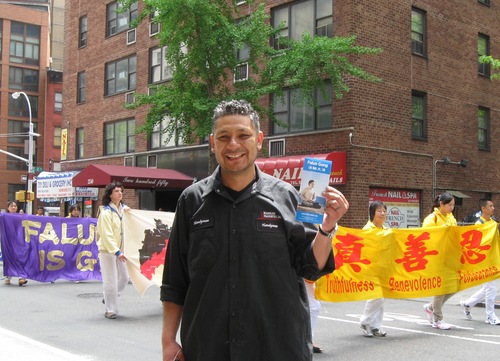 Mauicio supports Falun Gong practitioners' efforts to resist the persecution.
Mauicio saw the parade and read a flyer he was handed: "I like the message of the parade. I just found out about the persecution in China that's been going on for many years. I hope more people will support this group to resist the persecution. I do yoga and know the benefit of meditation... I support their efforts in resisting the persecution. I believe this group will only become stronger and stronger."
Lilian and Jose work at a law firm nearby. They thought the parade was beautiful and peaceful. They also noticed a lot of Westerners in the parade. Jose said, "I like Truthfulness-Compassion-Forbearance. We should cherish such values. It's important to raise awareness of the Falun Gong issue. Good luck!"
Interest in Learning More about Falun Gong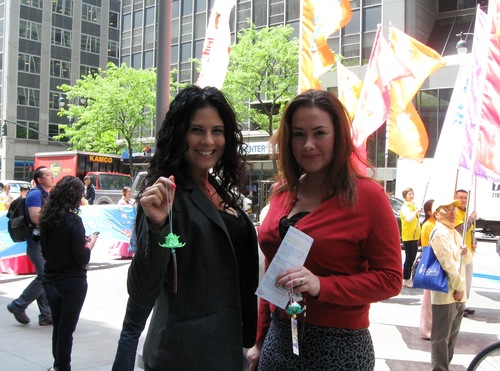 Sara Obyle (right) watched the parade with her colleague and wanted to know more about Falun Gong.
Sara Obyle saw the parade with her colleague. She liked the Chinese traditions reflected in the parade and the fact that many non-Chinese practitioners from all over the world brought their own banners and showed their joy in practicing.
This was the first time she had come across Falun Gong. Sara and her colleague planned to learn more about the practice online.
Gail heard the Divine Land Marching Band and came downstairs right away. She said that the practice seemed to be worldwide and that the parade was beautifully presented. She would do more online research.
Nikki also watched the parade with her colleagues in front of their office building. She said, "I really like this parade, especially the marching band at the beginning. It gives me a grand feeling with a kind of spring message. Look at those flags! They give people a sense of hope."
Chinese Are Happy to See the Parade
A Chinese tourist came across the parade and said that this was something he had never seen in China. He had just learned the facts about the persecution during his trip. He thought the persecution was wrong and had quit the Chinese communist organizations.
Ms. Li and her family watched the parade. She came from China three years ago. She said, "I have seen a few Falun Gong parades, but none on this scale and with such style! It's very encouraging to see that Falun Gong is growing strong. It's spectacular to see such a big parade in Manhattan. The parade is so long I cannot see the end of it."