Shen Yun Completes Its 2014 Australia Tour, Leaving Audiences in Awe
(Minghui.org) Shen Yun Performing Arts completed its 2014 Australia tour on May 4, 2014 at the Regal Theatre in Perth, a city new to the tour this year. The audience was charmed by the visual and spiritual beauty presented in the performances. The revival of traditions, along with beautiful color and pure energy, deeply touched the hearts of local theatergoers.
Shen Yun also performed in Melbourne, Canberra, Sydney, Adelaide, and Gold Coast.
True Human Nature Expressed Through Beauty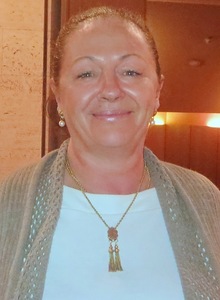 Art gallery curator Rowena Brown was blown away by the beauty of Shen Yun.
Rowena Brown, Curator and manager of the Glenelg Art Gallery, described Shen Yun as "a beautiful way to get an important message across," after watching it at the Adelaide Festival Theatre on Sunday evening, April 20.
She exclaimed, "I think watching gorgeous people doing gorgeous things, is always inspiring … I think it's very important that we embrace people that bring this sort of beautiful art to us... The backdrops were amazing, the artwork is great, the costumes very, very beautiful—just mesmerizing really."
A strong message came through for Ms. Brown about human nature in the face of challenges: "The human love, compassion, truth. It's a very, very strong message here, that is what's coming out, no matter what challenges we face as people with the non-compassion and greed and these sort of closed-off black things, and this lovely light and color that's coming out I think shows the real human nature, and it's a wonderful way for Chinese people to share more of, the real people that they are, with people of the world."
Fashion Designer Charmed by Shen Yun's Costumes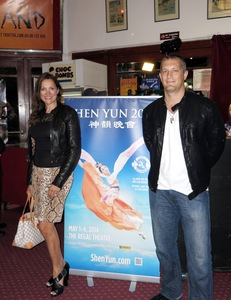 Fashion designer Donna Tobin (left) was impressed by Shen Yun's costumes after seeing the show at Perth's Regal Centre on May 1.
"It was absolutely extraordinary in every aspect—talent and obviously the incredible execution of quality, of workmanship," said award-winning wedding gown designer Donna Tobin at Perth's Regal Centre on May 1.
"The costumes were just breathtaking," Ms. Tobin said. "I found myself feeling so excited, going 'I want to take that design for my next collection.' I think the soft, flowing, chiffon ballerina-style skirts … And I just couldn't believe the level of dancing, [the] grace and harmony of the garments.—I think that brought a lot of emotions to a lot of people tonight."
Ms. Tobin also found a message in the performance. "I believe it's something more than just a show. I absolutely had tears in my eyes when the soprano was singing about realizing our true destiny and how things throw us off our guard in life," she said.
Precise and Insightful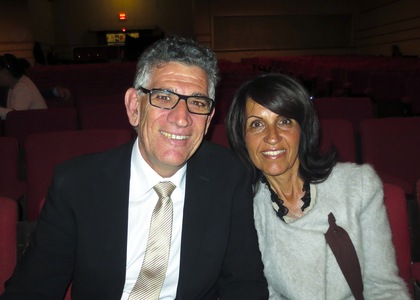 Founder of Viva! life photography, Vittorio Natoli (left), appreciates the efforts and insight of Shen Yun artists.
Professional photographer and founder of Viva! life photography, Vittorio Natoli said after the performance, "I think it was a lovely show, a beautiful performance," said Mr. Natoli. "Very precise and quality movement, great drama—good choreography."
He felt there was a spiritual awareness in the performance, "The drama, there was a lot of spirituality there, using the moon and the sun and the spirits and the gods and so many things, there was plenty there," he said. "There's a lot of different awareness there."
"I thought the show was terrific, absolutely tremendous," said Dr. Alex Douglas, State Member of Parliament at the opening of Shen Yun Performing Arts at the Arts Theatre, The Arts Centre Gold Coast on April 24.
"I've never seen anything like it," he said. "I thought it was an amazing spectacle."
Mr. Douglas urged at last, "It's fantastically well packaged, you'd have to say in terms of production they're absolutely spot on."
Bringing Traditional Chinese Culture Back to Life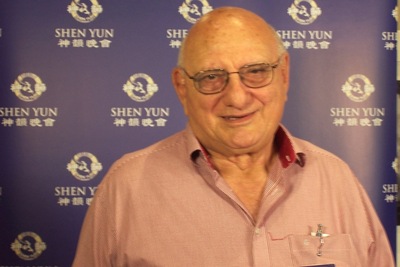 Former Liberal Party Deputy Leader Sam Doumany appreciates the rich culture presented by Shen Yun.
Sam Doumany, former Liberal Party Deputy Leader and current president of Hope Island Rotary Club, was amazed by the traditional culture in Shen Yun after watching the performance in Gold Coast.
He said with excitement, "It is tremendous. It is very interesting, very stimulating. It brings all of the traditions of China from thousands of years, it brings them to life... It tells you the magnitude of what China represents as a country, as a society, with its history, its complex history."
"I feel that there is a tremendous amount to be done for the people in China who want to preserve their traditions and their culture, and who don't want to be swamped by technocracy and the sheer weight of ideology, political ideology, economic ideology. I think in large part it is a very human story. Human beings wanting to retain the basis of their civilization."
Peaceful and Refreshing
Company director Mr. Michael Perrott and Mrs. Rhonda Perrott enjoyed the messages delivered by the performance.
Company director Michael Perrott attended the performance with wife Rhonda Perrott. He said, "I enjoyed it very much. I thought it was wonderful. I thought the dancing was superb. And I thought that the meaning of it all and the sense of forgiveness, and compassion and tolerance was a good message for us all to understand. They give it through dance and the movement was terrific."
Mr. Perrott also noted that the music made him calm. Regarding the messages delivered by Shen Yun, Mrs. Perrott added, "That's really what I meant when I said refreshing, because in today's society we don't have something as peaceful as that. Yes, I think the message is a very good one."
Shen Yun's Cultural Heritage Appreciated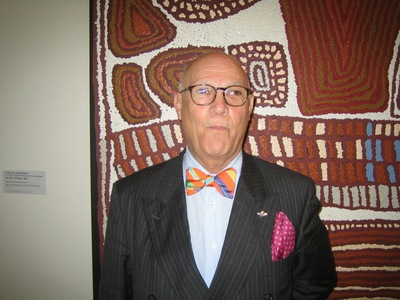 Enrique Miguel Del-Arce-Isern, member of Spanish royalty, enjoyed the spirituality of Shen Yun at his sixth attendance of the performance.
Member of Spanish royalty, Enrique Miguel Del-Arce-Isern, saw Shen Yun for the sixth time. He thought that the performance was full of spirituality. To him, the dance about the story of the mother and daughter being persecuted for practicing Falun Gong was the highlight of the show. He believed that people will eventually face the current situation in China and think about the issue of morality.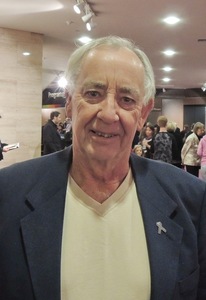 5EBI radio broadcaster, David Sabine, was impressed by Shen Yun's use of modern technology to preserve ancient traditions.
David Sabine, 5EBI radio broadcaster, saw the evening performance on Saturday April 19 at the Adelaide Festival Theatre and commended Shen Yun's mission to revive traditional Chinese culture.
"I think it's wonderful. We have lost so much. Every culture has lost so much with modern technology and the way we have to live. And I think it's so important we keep that culture—for every group, every civilization."
Chinese Audience: Authentic and Classic
Ms. Li and her husband, who came to Australia several days ago, expressed that they like this performance very much, because "the performance guides people toward compassion."
She said, "The performance also shows China's most classic culture." One of Ms. Li's favorite programs was "The Steadfast Lotus." She explained, "People should follow Truthfulness-Compassion-Tolerance from the heart anyway and cannot be defeated by the evil forces."
Lantian, an ethnic dance teacher from Mainland China, said, "There is not a single flaw in Shen Yun's performance. The original music, dance, gorgeous costumes, and brilliant colors... I cannot nitpick anything from the show from the artistic perspective. I have been to Mongolia and places where other ethnic groups live to learn their dances. It is very not easy for Shen Yun to be this flawless. I know the hardship and efforts involved."
Mr. Chen, a mainland Chinese student who came to Australia half a year ago to study, exclaimed after the show, "The performance was astonishing... I was stunned once the curtain opened. Although I cannot clearly remember the specific scenes, my feeling of being stunned left a deep impression. Right from the start, every cell of my whole body seemed to be touched. It felt very nice."
CCP's Interference Ends in Vain
As its first time performing in Perth, Shen Yun faced interference by the Chinese Communist Party (CCP).
In February, manager of the Regal Theatre, Kim Knight, received an email from a person with last name Li from the Chinese Consulate General in Perth, asking her to attend a 30-minute meeting regarding the Shen Yun performance in May. The manager replied to the email and copied the local Shen Yun presenter, referring them to him.
Afterwards, the Shen Yun presenter in Perth invited the head of the consulate Huang Qinguo through email for a dialogue, but never received a reply. On February 26, representatives of the presenter visited the Chinese consulate to extend a meeting invitation in person.
After the presenter's representatives waited for nearly half an hour, Huang's assistant told them that Huang did not have time. When he was asked about the email to the theater manager, he claimed to be unaware of it.
On March 12, Ma Zhaoxu, the Chinese ambassador in Australia, traveled from Canberra to Perth and gathered various Chinese organizations for a meeting. During the meeting, he told the coordinator of every organization not to attend the Shen Yun show.
The CCP's efforts, though, were in vain. All six Perth shows were sold out. A day prior to the performance, the local presenter opened blocked seats to meet demand.
Shen Yun Performing Arts will continue its tour in Buenos Aires, Argentina, May 6-10, Vienna, Austria, May 10-11, Honolulu, HI, U.S., May 7-9, and Jacksonville, FL, U.S., May 9-11. For more information on tickets and dates, please visit ShenYunPerformingArts.org.