Mr. Sun Fa's Teeth Knocked Out in Mudanjiang Prison
April 06, 2014 | By a Minghui correspondent from Heilongjiang Province, China
(Minghui.org) Encouraged by guards in Mudanjiang Prison, criminal inmates attacked Falun Gong practitioner Mr. Sun Fa. As a result, he lost several teeth and is having trouble eating.
The real culprits behind the attacks are No. 1 Ward division head Ma Xutao and team head Jin Feng. It was under their orders that criminal inmates attacked Mr. Sun three times, in November and December 2013, and January 2014.
Another practitioner, Mr. Liu Delu was also assaulted.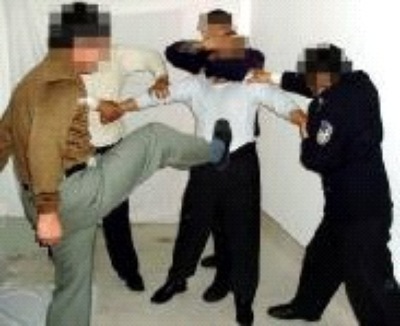 Torture reenactment: Violent Physical Assault
This is the second time that Mr. Sun, from Linkou County of Mudanjiang City, has been imprisoned for his belief. He was again illegally arrested at his home on the afternoon of November 2, 2012, not long after he was released from prison.
On February 4, 2013, the Aimin District Court in Mudanjiang held a trial against Mr. Sun and another practitioner, Mr. Gong Chengge. Mr. Sun was sentenced to four years and Mr. Gong received four and a half years. They were sent to Mudanjiang Prison.
Mr. Sun was sentenced before in 2008 after he, Gong Chengge and several other practitioners were arrested in April 2008. During the trial held on September 10, 2008 they received sentences ranging from 42 months to five years. They served them in Mudanjiang Prison.
Responsible parties: Ma Xutao (马旭涛), division head: +86-13704539600 Jin Feng 金峰), team head: +86-13845355211 Song Xiaobin (宋晓斌), head of Ward No. 1: +86-13766603777