80-Year-Old Grandmother in Critical Condition Due to Worry Over Imprisoned Daughter (Photo)
April 20, 2014 | By a Minghui correspondent from Liaoning Province, China
(Minghui.org) After serving a ten-year prison sentence for practicing Falun Gong, Ms. Wang Yusi, an English teacher, was arrested again at around 7:00 p.m. on August 29, 2013. She was transferred to the Dalian Detention Center on December 25, after being held for four months at a brainwashing center (former Dalian City Forced Labor Camp).
Ms. Wang's 80-year-old mother was also arrested and taken to the Dalian City Drug Rehabilitation Center, where she was held for five days. Although she was released, she is now in critical condition because she has been unable to eat for worrying about her daughter. Now, five weeks later, she can no longer retain food, is bedridden, and has blood in her urine.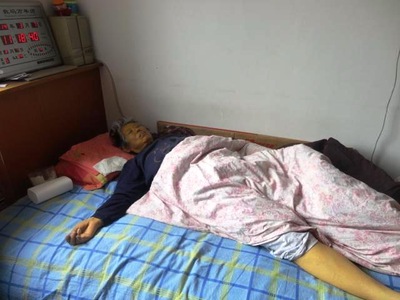 Ms. Wang Yusi's mother, ill due to worry about her daughter who is imprisoned for practicing Falun Gong
Ms. Wang's 80-year-old father went to the Dalian Domestic Security Division to ask for their daughter's release. Officers Wang Xiliang and Wang Guojiang refused to see him, and did not pick up the phone when called.
Ms. Wang's 15-year-old daughter is taking care of her grandparents. Ms. Wang's father said, "We can't look after ourselves, let alone our granddaughter."
Ms. Wang Yusi is an English teacher who graduated from the Dalian Foreign Language College. She was sentenced to a ten-year term in Shenyang Dabei Prison in 2000, because she believes in Falun Gong's principles of Truthfulness-Compassion-Tolerance. Her daughter was only two years old at the time. Ms. Wang's husband couldn't take the pressure of the persecution and divorced her.
Parties responsible for the persecution: Wang Guojiang (王国江), officer from the Dalian City Domestic Security Division: +86-15566409581 (Cell) Wang Xilian (王玺良), officer from the Dalian City Police Department: +86-411-88052356 Gao Bin (高滨), director of Baiyunxincun Police Station in Dalian City: +86-15504085977 (Cell) Yin Jinsong (尹劲松), instructor at the Baiyunxincun Police Station in Dalian City: +86-15504085533 (Cell) Zhou Rixin (周日欣), staff member of Xigang District Procuratorate in Dalian City: +86-411-82116532 Chen Xin (陈欣), officer from the Dalian City Domestic Security Division: +86-411-88057553