The Art of Zhen, Shan, Ren International Exhibition Returns to Ottawa, Canada
April 19, 2014 | By Ying Zi, a Minghui correspondent in Ottawa, Canada
(Minghui.org) The Art of Zhen, Shan, Ren International Exhibition returned to Ottawa, Canada, April 13-19, 2014. Over 50 pieces on display at Jean Pigott Hall in Ottawa City Hall depicted the plight of Falun Gong practitioners amidst the ongoing persecution in China, as well as the spiritual journey of those who practice.
Zhen-Shan-Ren (in English, Truthfulness-Compassion-Forbearance) are the core principles of Falun Gong's teachings.
"Falun Gong is a cultivation of mind and body. What we do is to elevate ourselves," explained local artist Kathy Gillis, whose artwork is part of the exhibit. "We strive to improve ourselves on the inside and, at the same time, to reach higher artistic levels."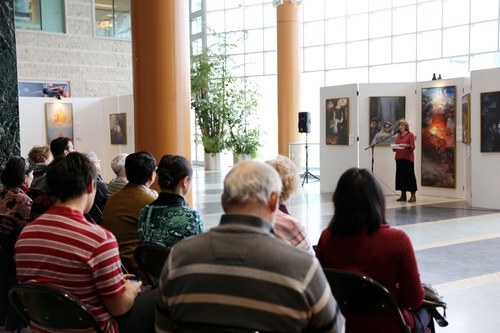 The Art of Zhen, Shan, Ren Exhibit was held in Jean Pigott Hall in Ottawa City Hall April 13-19.
Powerful Message
"It is a very moving exhibition," said Marianne Wilkinson, an Ottawa city councillor, at the exhibit on April 15. "It has beauty, it has sorrow, and it explains what is going on with the Falun Gong people as expressed through their paintings. And not just in China, but also showing the crisis in other parts of the world, which I haven't seen before."
Alex Neve, secretary general of Amnesty International-Canada, said that art was a very important and powerful medium capable of expressing emotions and feelings that words cannot describe. In his view, the works tell stories of the noble fight for human rights and of Falun Gong practitioners' resistance to the persecution in a powerful way.
"I wish to create art for Falun Gong practitioners, because many don't have freedom of expression," shared artist Kathy Gillis. "I also depict the perpetrators, because I believe that they will have to meet with karmic retribution one day, so this is a warning for them. I paint for the people of the future, too. They need to know what happened during this period in history."
Amira Shehata, a project manager with the city government, agreed that the exhibit was an excellent way to understand historical events. She also was inspired by the steadfast faith of Falun Gong practitioners depicted in the artwork.
Lisa Gregory, who works in downtown Ottawa, visited the exhibit out of curiosity. The impact was more than she expected.
"I think it [the exhibit] is very effective, because it expresses the message on a very personal level. It evokes your emotions, it's not just information. It grabs you and makes you want to know more about it."
Understanding Falun Gong
Ms. Gregory explained how the artwork helped her gain a better understanding of what Falun Gong is. "I understand it is a practice of respect - self-respect and respect for others."
Commenting on the fact that many have been tortured to death for upholding their faith in Falun Gong, Ms. Gregory said, "It sort of stops you and makes you wonder: If the government considers itself so powerful, why are they so afraid of people who are spiritual? Because that is what it actually is. It is real spirituality."