Practitioners Tell of Their Ordeals in Qinglongshan Brainwashing Center
April 19, 2014 | By a Minghui correspondent in Heilongjiang Province, China
(Minghui.org) Qinglongshan Brainwashing Center in Heilongjiang Province recently rose to international notoriety due to the detention and torture of four prominent human rights lawyers who defended Falun Gong practitioners detained there. This article contains personal accounts of the practitioners detained there. The majority of them are the human rights lawyers' clients.
Qinglongshan Brainwashing Center, officially known as the "Jiansanjiang Farm Legal Education Center," is considered one of the "black jails," defined as unlawful detention centers.
Earlier this month, Human Rights Watch called for the Chinese regime to acknowledge and swiftly close down black jails in China. It also called for an investigation of the torture the four lawyers - Jiang Tianyong, Zhang Junjie, Wang Cheng and Tang Jitian - suffered.
The brainwashing center is not a legal entity. It is secretly employed in the persecution of Falun Gong. About 100 practitioners from the 6 sub-bureaus and 24 farms of Heilongjiang's Land Reclamation Bureau have been detained, tortured, and brainwashed there since April 2010, for anywhere from a few days to seven months.
Methods of torture include long-term standing and squatting, beatings, kicking, sleep deprivation, burning the chin, hitting the ribs with a metal rod, force-feeding, and stretching.
In addition, the staff torture detainees mentally. They threaten, deceive, yell at, insult, and verbally abuse practitioners. They force practitioners to listen to articles slandering Falun Gong and to inform on other practitioners. Some practitioners became mentally disoriented and wrote the repentance statement renouncing Falun Gong against their will.
Layout of Qinglongshan Brainwashing Center inside Qinglongshan Farm at Jiansanjiang, Tongjiang, Jiamusi, Heilongjiang Province: A. The entrance where practitioners and attorneys protested
B. Used to have the sign that said, "Legal Education Center of Heilongjiang Land Reclamation Bureau." After the place was reported on for persecuting Falun Gong, the sign was removed
C, D, E, and F. Where practitioners are detained and tortured
G. Documents room, now an office for brainwashing center official Tao Hua
H. Office of Fang Yuechun, head of the brainwashing center
Lounge. This is where practitioners are tortured by stretching their limbs.
Table Tennis Room. This is where the practitioners are pressured to write "homework" slandering Falun Gong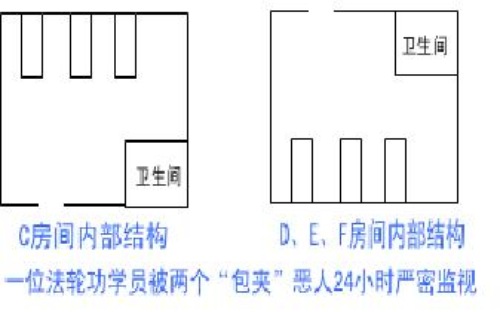 Layout of rooms C, D, E & F. In each one a single Falun Gong practitioner is monitored by two inmates 24/7.
Mr. Yu Songjiang's Personal Account
Mr. Yu Songjiang retains attorney Jian Tianyong, one of the four lawyers retaliated against by Jiansanjiang local authorities on March 21 and April 6, 2014. During his most recent detention in the center, he was forced to write a statement guaranteeing never to file any lawsuits, never to have contact with other practitioners, and never to talk to attorney Jiang. His mother and younger sister were also forced to sign the same statement before Mr. Yu was released on January 18, 2014.
Below is Mr. Yu's personal account of what he endured in Qinglongshan Brainwashing Center:
I live on Qianjin Farm of the Heilongjiang Agriculture Reclamation Administration in Jiansanjiang, Heilongjiang Province. Since 2010, I have twice been picked up and taken to the Qinglongshan Brainwashing Center and tortured. I was forced to write repentance statements to renounce Falun Gong.
Whe I refuse to give away other practitioners' information after my arrest on April 21, 2010, I was sent to Qinglongshan Brainwashing Center on April 23. Sheng Shusen, the director at that time, punched me three times and threatened to put me in prison for four to seven years for the Falun Gong materials I printed. Shen yelled at me, wanting me to betray other local practitioners.
On the evening on May 4, 2010, several guards from Wuchang Brainwashing Center - Mo Zhenshan, Zhao Changjiang, Zhou Hezhen, and Chen Jie - came to Qinglongshan to show how they tortured Falun Gong practitioners. Afterward, Sheng Shusen and five guards took me to a room next to the office. They used the "Stretching Torture" on me. They handcuffed my wrists to the bars of two beds and pulled the beds in opposite directions while I was kneeling down.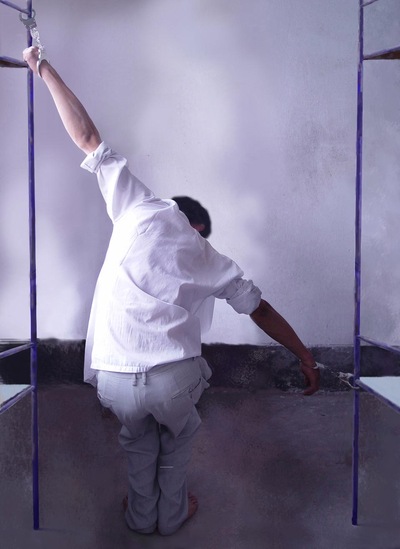 Torture Demonstration: Stretching Limbs. Practitioners are handcuffed to two beds with two arms stretched straight, with one arm higher and one arm lower.
Guard Fang Yuechun told me that I could go home soon if I promised never to practice Falun Gong and if I would sign the repentance statements. I refused. Guard Jin Yanpeng slapped me about 70 times. My ears were humming. Jin then took off my shirt and whipped me with a leather belt about 30 times. I started to sweat heavily because of the intense pain; my legs started to become numb. Jin sat on my back and rocked up and down. I lost consciousness.
Jin Yanpeng poured water on my face and woke me up. Several guards were kicking me. When I couldn't open my eyes, Jin used toothpicks to hold them open. That night I passed out three times. I was tortured for over ten hours. By 6 a.m., I could barely move. Two guards held my hand and signed the Three Statements (repentance letters). When I was taken back to my cell, I could see that the handcuffs had cut into my flesh so deeply that my bones were exposed.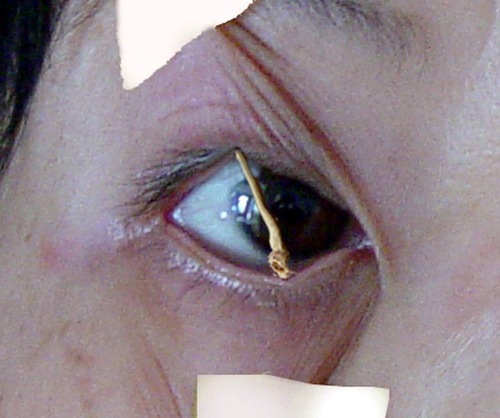 Torture re-enactment: Use toothpicks or matches to hold open the eyelids and prevent the practitioner from closing the eyes or sleeping
I was locked up in the Qinglongshan Brainwashing Center for three months and subjected to brainwashing until I could no longer think clearly. I was released on July 20, 2010.
I hired attorney Jiang Tianyong and pressed charges against those who tortured me in the center. They are:
Liu Tao (刘涛), secretary of Jiansanjiang Political and Legal Affairs Commission; Liu Chuanhe (刘传和), head of Jiansanjiang Domestic Security Division; Yu Wenbo (于文波), officer of Jiansanjiang Domestic Security Division, Shi Ping (石平), director of Qianjin Police Department 610 Office; Su Yigang (苏怡刚), collaborator, Qianjin Police Department 610 Office; Sheng Shusen (盛树森), director of Qinglongshan Brainwash Center; and Fang Yuechun (房跃春), Fang Xiumei (房秀梅), Jin Yanpeng (金言鹏), and Zhou Jingfeng (周景峰), guards at Qinglongshan Brainwashing Center.
My lawyer and I went to the Jiansanjiang Procuratorate to file a lawsuit on November 14, 2013. A female director with last name of Sun at the prosecutor's division told me I would hear from them in three months.
Officers from Qianjin Farm Police Department took revenge and arrested me again at 6 a.m. on November 19, 2013. They took me to Qinglongshan Brainwashing Center and locked me up there for two months.
While I was there, guard Fang Yuechun and the secretary of Qianjin Political and Legal Affairs Commission Li Junli forced me to write a statement guaranteeing never to file any lawsuits, never to have contact with other practitioners, and never talk to my lawyer. Li Junli threatened my mother and my younger sister and forced them to sign on the same statement before releasing me on January 18, 2014.
Other Practitioners Held in Qinglongshan Brainwashing Center
Mr. Shi Mengchang and Ms. Han Shujuan
Attorney Tang Jitian represents Mr. Shi Mengchang and Ms. Han Shujuan. The couple were released on home detention on March 28. They had been tortured at the brainwashing center for six months and five days. The police demanded that they persuade their son, Mr. Shi Lei, and brother, Mr. Shi Mengwen, to renounce Falun Gong and find information on which practitioners hired an attorney.
Ms. Shi Xiuying
The chief of Qixing Police Department and other officers broke into practitioner Ms. Shi Xiuying's home in Jiansanjiang on December 2, 2011, arrested her, and then detained her in Qinglongshan Brainwashing Center. She was brutally tortured for six weeks. After she was released, she had to have surgery to remove three quarters of her stomach at a cost of 23,000 yuan. The head of Jiansanjiang Brainwashing Center, Fang Yuechun, tried to force her to cooperate with the police and record a video slandering Dafa and giving up Falun Gong at the end of 2012. Ms. Shi Xiuying is the sister of Mr. Shi Mengchang and Mr. Shi Mengwen.
Ms. Shi said, "After I was released, I would have died if not for my family. The Qinglongshan Brainwashing Center persecutes practitioners brutally. The leaders, Fang Yuechun and Tao Hua, broke up many practitioners' happy families and forced many practitioners to become homeless and destitute."
Ms. Jiang Xinbo
Ms. Jiang Xinbo is still detained in the brainwashing center. Her husband's employer and her daughter's school were also harassed by police.
Related article in Chinese language: http://www.minghui.org/mh/articles/2014/4/1/建三江恶警拘打律师-法轮功学员被迫害命危-289416.html