(Minghui.org) One hundred seven (107) death cases have been confirmed during the past 15 years of the persecution of Falun Gong in Beijing alone. The first death case, Zhang Shuqi in the Xicheng District of Beijing, occurred on January 15, 2000. The latest confirmed death was Li Yuejin from the Shijingshan District, on October 1, 2013.
The ages of the deceased range from 20 to 81, with 62.6% female, 31.8% male, and 5.6% unknown. Twenty percent (20%) of the practitioners held bachelor's or higher college degrees, 30% of the total 107 death cases are farmers, and 21% are educational or research professionals.
The death cases occurred in 16 districts or counties in Beijing, with most being from the Chaoyang District (17). Miyun County (16) ranks second.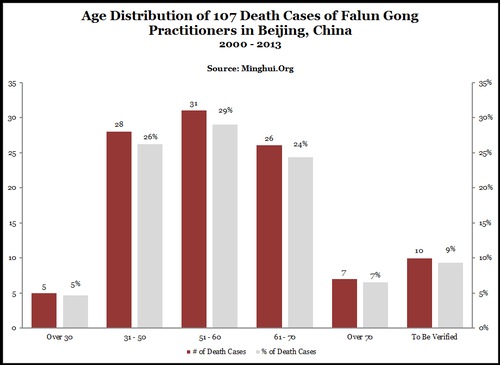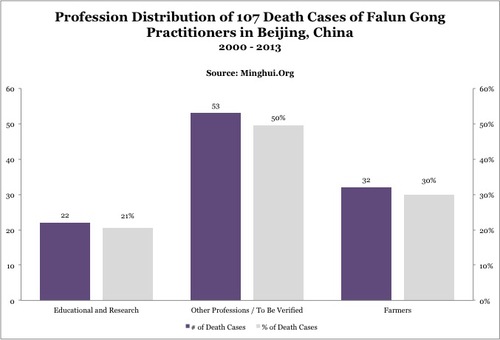 This report categorizes the death cases in the following categories and lists a few selected cases in each category.
• Deaths in Black Jails / Labor Camps / Prisons • Deaths Due to Severe Torture • Deaths Due to Long-Term Stress from Persecution • Deaths After Transfer to Prisons / Labor Camps Outside of Beijing • Deaths Outside of Beijing After Being Forced to Leave Home • Deaths During Escape from Arrests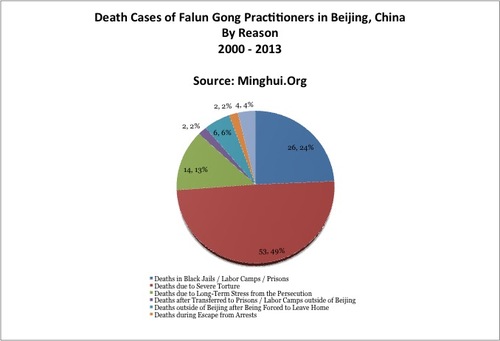 Deaths in Black Jails / Labor Camps / Prisons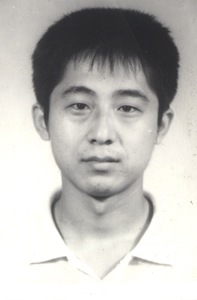 Mr. Deng Huaiying
Mr. Deng Huaiying, 43, graduated from Beijing Electric Power University with a Master's Degree in Finance, and lived in the Haidian District. He died at the Haidian Detention Center on May 15, 2013. Prior to his most recent detention, he suffered a total of 12 years in the notorious Tuanhe Forced Labor Camp, Qianjin Prison, and Jinzhong Prison.
Guards at the Haidian Detention Center secretly cremated his body without consensus from his family.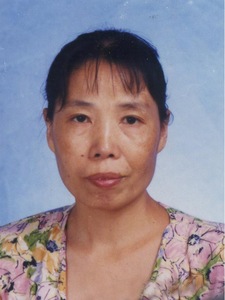 Ms. Du Juan
Ms. Du Juan, 57, was from the Chaoyang District in Beijing. She suffered a total of seven years in prison resulting from two sentences. She suffered tremendously in Beijing Women's Prison, and died at the prison on June 14, 2011.
More details are available in this earlier report: Ms. Du Juan Dies after Being Persecuted in Beijing Women's Prison; Officials Refused to Release Her for Medical Treatment (Photo) .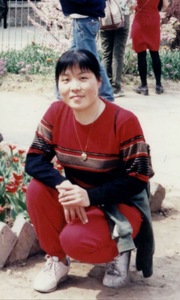 Ms. Dong Cui
Eight days after being transferred to the Daxing Women's Prison in Beijing, Ms. Dong Cui , MD, formerly with the Shunyi District Hospital for Women and Children's Health, died on March 19, 2003. She was only 29 years old.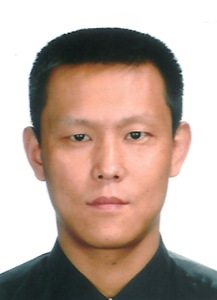 Mr. Yu Zhou
Mr. Yu Zhou , 42, from Haidian District, was arrested on January 26, 2008, and taken to the Tongzhou District Detention Center in Beijing. On February 6, his family received a notice to visit him at the Qinghe Emergency Center.
Mr. Yu had already died when his family members arrived.
Death Due to Severe Torture
The following death cases occurred at home due to severe torture in police custody.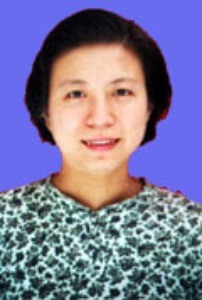 Ms. Zhao Xin
Ms. Zhao Xin , 32, was transferred to the Haidian Detention Center on June 19, 2000. The 32-year-old teacher from Beijing University of Business and Industry suffered a fracture of her neck vertebrae, as a result of severe beatings while in police custody. She was paralyzed after emergency treatment at Haidian Hospital and died on December 11, 2000.
Ms. Ma Jingfang , 59, was sentenced to 2.5 years in prison in July 2001. She became very weak from being tortured. The labor camp wouldn't admit her due to her poor health condition when she was sentenced to another three years in 2003. She was subsequently placed under house arrest, and threatened that she would be sent to a labor camp as soon as she showed signs of recovery. She died on March 8, 2005.
Deaths Due to Long-Term Stress from the Persecution
As a result of the nationwide persecution, and the huge mental pressure from local 610 Offices, community commission offices, police stations, personal finance situations, workplaces, and society, practitioners have suffered from long-lasting harm. Many withered year after year and finally died.
Mr. Gong Jiusheng, 63, was a farmer in the Miyun District. He was repeatedly arrested by the township police station and 610 Office, and subjected to electric shocks. He eventually died in early 2002.
Ms. Feng Nairu, 87, a farmer from Miyun County, was frequently harassed by the local 610 Office. She was beaten and humiliated by police officers when her daughter-in-law was arrested and sent to the county detention center. She died in March 2000.
Ms. Zhao Xiuzhen, a farmer in Miyun County, had to watch while her son and daughter-in-law were tortured by the police. After repeated harassment, extortion, and humiliation, she died in September 1999.
Deaths After Transferred to Prisons / Labor Camps Outside of Beijing
Two people died after they were transferred to detention facilities outside of Beijing.
Ms. Wang Xiuhua, 51, was transferred to Kaiping Forced Labor Camp in Tangshan, Hebei Province in mid-December 2004. On June 22, 2005, her family was notified to take her home. Ms. Wang was already unconscious and immobile. The family took her to a hospital for emergency treatment. She died in the hospital on July 15, 2005.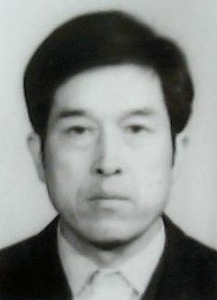 Mr. Chang Guiyou
Mr. Chang Guiyou, 55, was a worker in the Tongzhou District of Beijing. His employment was terminated as a result of his belief in Falun Gong. In June 2004, she was detained at the Tongzhou Detention Center and later sentenced to a three-year prison term.
Mr. Chang was in critical condition in March 2005, after being transferred to Tianjin Qianjin Prison in November 2004. When his wife managed to see him, he was unconscious and bleeding from the mouth and nose. The cited reason for his death was cerebral hemorrhage.
Death Outside of Beijing After Being Forced to Leave Home
Six death cases occurred after practitioners in Beijing were forced to leave home to avoid further persecution.
Mr. Wang Chan , 39, was employed at the central office of the People's Bank of China. He was very skilled at his job, but was dismissed during the persecution. Within a few days of his arrest in Liangshan County, Shandong Province on August 21, 2002, Mr. Wang was tortured to death at the Jining City Detention Center in Shandong.
Mr. Wang Zhiming , former translator for the Import and Export Division of China Garments Group Company, was detained multiple times after the persecution began in 1999.
Mr. Wang returned to his hometown in Shanxi Province in July 2001 to avoid further persecution. He was arrested there and sentenced to a five-year prison term. He died on July 22, 2003.
Deaths During Escape from Arrests
Ms. Ren Hanfen , 73, a researcher from Haidian District, was forced to leave home after being tortured at a brainwashing center. In May 2002, Ms. Ren was surrounded at her rental place. In order to avoid being taken away again, she tethered a rope and tried to slide down from the building. Unfortunately, the rope broke and she fell to her death.
Ms. Ren was a doctoral mentor and a scientist in the Rocket Dynamics Institute of the China Academy of Launching Technology.
These 107 death cases are only a small portion of the cases which have been confirmed. The full picture is yet to be understood and exposed.
(To be continued)