Ukraine Youth Daily Reports on Organ Harvesting in China
April 14, 2014 | By a Minghui correspondent in Ukraine
(Minghui.org) On March 25, 2014, Ukraine Youth Daily , a national daily newspaper with an emphasis on political analysis, reported on the persecution of Falun Gong and organ harvesting from living Falun Gong practitioners in a long commentary about former Ukraine President Viktor Fedorovych Yanukovych's visit to Beijing.
The article starts with a question: With the visit to Beijing, what does the former Ukrainian President intend to learn from Beijing after the recent chaos?
It points out that more people were in despair after the labor camp system was abolished in 2013 because the Chinese regime continued to detain prisoners of conscience in other facilities, such as brainwashing centers known as "legal education centers."
Many cases reveal that Falun Gong practitioners experienced mental breakdowns or became disabled due to torture at brainwashing centers. The exact numbers are not available because a lot of information is still covered up, according to the article.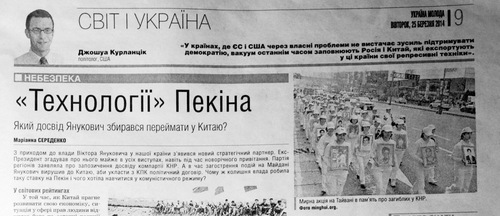 On page nine "Ukraine and the World," a long commentary article on March 25, 2014 covered the issue of the persecution and live organ harvesting of Falun Gong practitioners.
Regarding organ harvesting, the article quoted the independent investigation by former Canadian diplomat David Kilgour and international human rights attorney David Matas, that about 60,000 organ transplants occurred between 2000 and 2006. The number coincided with the persecution of Falun Gong and cannot be explained by death row prisoners.
The article states that the Chinese regime has put millions of practitioners into labor camps during the persecution and turned them into a huge living organ pool. Scores of transplant centers are still profiting from harvesting practitioners' organs.