Why Were Four Human Rights Lawyers Detained and Tortured in Heilongjiang?
April 11, 2014 | By Ouyang Fei
(Minghui.org) Jiansanjiang, a farming area in Fujin City, Heilongjiang Province, recently became the focus of international attention. Not, however, because of its rice production, but because local authorities detained and tortured four prominent human right lawyers who were investigating a local black jail and seeking the release of Falun Gong practitioners detained there.
What core issues has the lawyers' work touched upon that caused the Chinese Communist Party (CCP) to retaliate as it has? What does the CCP want to cover up?
Black Jail: Qinglongshan Brainwashing Center
The black jail in question is Qinglongshan Brainwashing Center, officially known as "Jiansanjiang Farm Legal Education Center."
A 2012 report on the Chinese language Minghui website exposed the crimes being committed in Qinglongshan Brainwashing Center. The center was established by the provincial Political and Legal Affairs Committee, the provincial 610 Office, and the provincial level State Organ Working Committee to carry out Zhou Yongkang's Three-Year Intensive "Transformation" Plan 2010-2012, implemented to try to force steadfast Falun Gong practitioners to give up their belief.
For every Falun Gong practitioner sent to Qinglongshan Brainwashing Center, the farm where the practitioner works has to pay as much as 10,000 yuan. The center also extorts money from practitioners' families to cover the expense, including a force-feeding fee. Close to 100 practitioners have been incarcerated in the center, some for as long as seven months. They were severely tortured when they refused to be "transformed."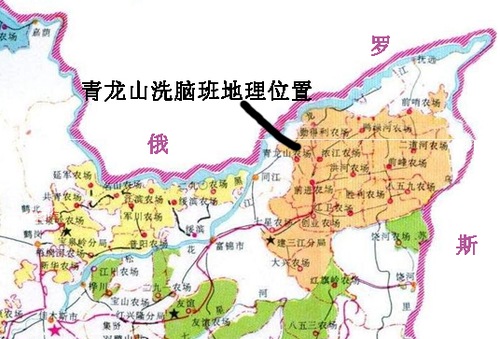 Location of Qinglongshan Brainwashing Center. The center is officially known as "Jiansanjiang Farm Legal Education Center."
Lawyers and Practitioners Arrested and Tortured
On March 20, 2014, four lawyers - Jiang Tianyong (江天勇), Zhang Junjie (张俊杰), Wang Cheng (王成) and Tang Jitian (唐吉田) - and relatives of the detained practitioners went to Qinglongshan Brainwashing Center to request the release of the practitioners. The next morning, all four lawyers and seven practitioners were arrested at the Green Tree Inn, where the lawyers were staying.
They were all tortured when they were interrogated. Mr. Zhang Junjie sustained three fractures to his lower back as a result of severe beatings. When they were released on April 6, the other three lawyers made public the torture they were subjected to. Of the seven practitioners, Ms. Wu Dongsheng (吴东升), Ding Huijun (丁惠君), and Meng Fanli (孟繁荔) were sent to the emergency room at the Tongjiang City Chinese Medical Hospital on March 30.
Since then, dozens of lawyers and citizens have converged on Jiansanjiang to show their solidarity with those arrested.
On March 31, the Agricultural Reclamation Public Security Bureau made an announcement on its blog that four lawyers and 38 Falun Gong practitioners and relatives had "gathered in front of a legal education base and called out slogans of an evil cult."
However, the announcement didn't mention what, exactly, they were saying.
What Was Said Was Key
The four lawyers, along with dozens of Falun Gong practitioners and their relatives, called out for hours in front of Qinglongshan Brainwashing Center on March 20, 2014: "Fang Yuechun (房跃春, head of the brainwashing center), you are committing crimes! Fang Yuechun, release them [detained Falun Gong practitioners]! Your boss Li Dongsheng (former head of the 610 Office) and Zhou Yongkang (former CCP security chief) have been arrested..."
What they called out was mainly public knowledge and a reiteration of Fang's crimes. It had nothing to do with any "evil cult."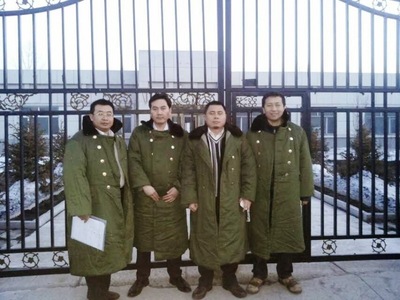 From left to right: Lawyers Jiang Tianyong, Zhang Junjie, Wang Cheng, and Tang Jitian
The main characteristics of an evil cult are limitation of personal freedom and forceful brainwashing. This is exactly what is done in Qinglongshan Brainwashing Center. Falun Gong practitioners are taken there and pressured to "transform." Even their lawyers are detained and beaten. It is the CCP that is behaving like an evil cult.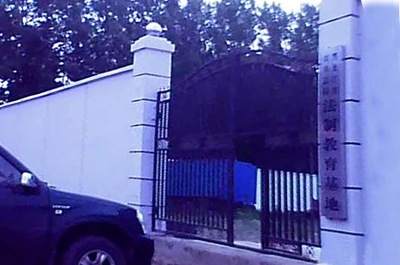 Qinglongshan "Legal Education Base" (Brainwashing Center)
Black Jails Gaining More Attention after Shutdown of the Labor Camp System
Ever since the forced labor system was abolished in 2013, black jails masquerading as "legal training" centers and "legal education" facilities have been used as illegal detention center to imprison citizens for their belief or political opinion and are becoming the focus of increased attention on the part of human rights' advocates.
Such black jails have been in existence to facilitate the persecution of Falun Gong since July 1999. They are administered by the 610 Office and operate above the law.
This "legal education facility" in Jiansanjiang is located in the backyard of Qinglongshan Farm Police Station and is under the auspices of Heilongjiang Agricultural Reclamation Department. It is dedicated to incarcerating and "transforming" Falun Gong practitioners. However, "Jiansanjiang Farm Legal Education Center" cannot be found on the organizational chart of Heilongjiang Agricultural Reclamation Department.
A search for "Jiansanjiang Brainwashing Center" on the Chinese language Minghui website (www.minghui.org) returned more than one thousand reports of persecution.
The local authorities in Jiansanjiang have actively carried out the persecution policy for years. A search for keyword "Jiansanjiang" on the Chinese language Minghui website returns 2,380 results related to persecution.