(Minghui.org) Chinese black jails have become an international focus again this week. These unofficial, illegal detention centers came to light once again after four prominent human rights lawyers claimed that they were tortured by police while in detention in Heilongjiang Province. They had been arrested for attempting to help clients imprisoned in black jails.
Human rights attorneys Jiang Tianyong (江天勇), Zhang Junjie (张俊杰), Wang Cheng (王成) and Tang Jitian (唐吉田) were arrested on March 21 in Jiansanjiang, Heilongjiang Province while seeking the release of Falun Gong practitioners detained in the Qinglongshan Brainwashing Center, a black jail officially known as the "Heilongjiang Land Reclamation Bureau Legal Education Center."
On April 7, Human Rights Watch called upon the Chinese communist regime to acknowledge and shut down black jails and investigate the lawyers' claims of abuse and torture in detention. "The Chinese government should admit to the existence of black jails, and then move swiftly to close them," said Sophie Richardson, the organization's China director.
Mr. Zhang Junjie was diagnosed with three fractures to his lower back as a result of severe beatings in detention. The other three lawyers made public the torture they had experienced when they were released on April 6. According to the Human Rights Watch report, they were hung up, with wrists bound with a rope, arms twisted backwards and feet barely touching the ground. The police beat and kicked their chests, heads, backs, and legs.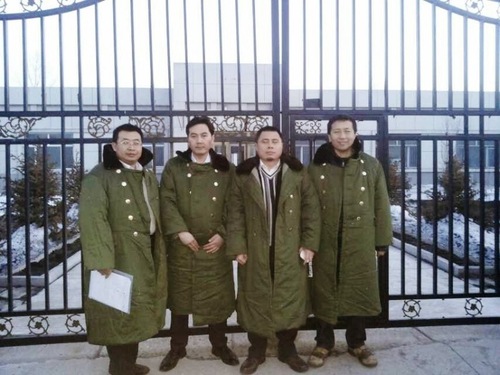 Left to right: Lawyers Jiang Tianyong (江天勇), Zhang Junjie (张俊杰), Wang Cheng (王成) and Tang Jitian (唐吉田)
Chinese Regime's Retaliation against Falun Gong Practitioners
The Jiansanjiang law enforcement's violation of human rights did not stop at the arrest and torture of the lawyers.
Seven Falun Gong practitioners were arrested along with the four attorneys on March 21 at the Green Tree Inn where they were staying. Among them, Ms. Wu Dongsheng (吴东升), Ding Huijun (丁惠君) and Meng Fanli (孟繁荔) were sent to the emergency room at the Tongjiang City Chinese Medical Hospital on March 30.
Concerned over the international exposure of the human rights lawyers' case, officials from Beijing and Heilongjiang Province went to the area to orchestrate and oversee the persecution of the victims and to carry out any damage control related to adverse publicity.
On April 3, the Heilongjiang Ministry of Public Security and authorities in Jiansanjiang falsely claimed that Falun Gong practitioners in Jiamusi City caused all the trouble in Jiansanjiang, where the lawyers were attempting to meet with practitioners imprisoned in the Qinglongshan Brainwashing Center. They then ordered Internet surveillance and phone tapping in order to arrest more practitioners. Chinese national security personnel have entered Jianmusi City ready to carry out further surveillance and arrests.
In the afternoon of April 3, police broke into Falun Gong practitioner Ms. Liu Lijie's apartment, claiming that Liu was involved in the case. The police ransacked her apartment and confiscated her Falun Dafa materials, her computer, computer accessories, and cash. She is currently held at the Jiamusi Detention Center.
Black Jails in Spotlight Again
This is not the first time that black jails have been a focus of international concern. In 2009, Human Rights Watch published a report titled "An Alleyway in Hell, China's Abusive 'Black Jails'."
This 53-page report documents how government officials, security forces, and other government agents routinely abduct people off the streets of Beijing and other Chinese cities, strip them of their possessions, and imprison them. These black jails are often located in state-owned hotels, nursing homes, and psychiatric hospitals. Falun Gong practitioners are especially targeted and abused in black jails.
Minghui.org has published several summary reports on brainwashing centers and mental hospitals detailing the abuses in these facilities.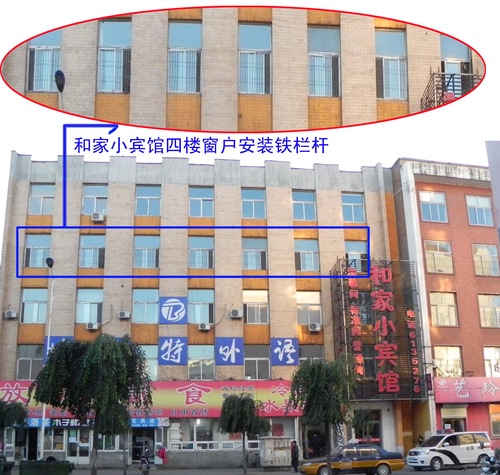 From 2010 to 2013, the fourth floor of the Hejia Hostel in Tonghua City, Jilin Province was used as a brainwashing center. The fourth floor windows have iron bars. This is a typical example of a black jail.
Through the arrest and torture of the lawyers in Heilongjiang Province, Chinese legal professionals and the general public were once again reminded of the dark secrets of these black jails.
Human rights lawyer Li Jinxing (also known by his pen name, Wu Lei) pointed out that this case exposed the human rights violations in the black jails, set up under the name of "legal eduction center" all over the country. "It also induces public reflection and criticism of the large scale persecution of the [Falun Gong] spiritual group," Li Jinxing said.
In response to the recent arrest and abuse of the human rights lawyers, a group of Chinese lawyers has called for the shutdown of the black jails and for holding the perpetrators accountable under the law.