Brussels, Belgium: Rave Reviews for Shen Yun Performing Arts from EU Leaders, Pressure from Chinese Regime Backfires
(Minghui.org) Shen Yun Performing Arts completed its six-show run at the National Theatre in Brussels, Belgium on April 6. Many officials from the European Union, NATO, and other governmental agencies attended the event and gave Shen Yun rave reviews. The interference from the Chinese Communist Party (CCP) didn't deter them from attending. On the contrary, quite a few them remarked that they made up their mind to see the show because of the CCP's deliberate efforts to suppress Shen Yun.
As CCP head Xi Jinping was in town at the same time, the Chinese embassy pressured the local government of Brussels to cancel the performance. Failing to make that happen, they instigated local Chinese students and Chinese residents to cover up the Shen Yun posters with Chinese and Belgian flags.
Some of the affected Shen Yun advertisements were near the hotel where Xi was staying, the American embassy, the European Union Commission, and the EU Council of Ministers.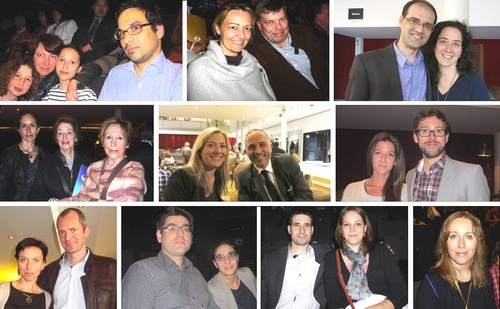 Shen Yun performed six shows at the National Theatre in Brussels from April 2 to April 6. Many EU officials experienced this visual feast and walked away with amazement and appreciation.
These censorship efforts were reported by many media in Brussels, raising people's interest in Shen Yun. Many people who were not familiar with the show bought tickets to find out what Shen Yun actually presents.
Following similar events in Berlin, where locals went to the show in order to support Shen Yun after witnessing the attempted sabotage by the Chinese Communist Party, the regime's interference in Belgium again helped promote the performance.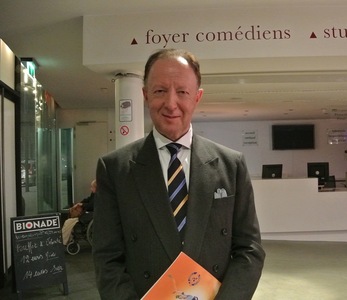 Belgian diplomat Frank Van de Craen thought Shen Yun was a "great success."
Frank Van de Craen, a Belgian diplomat, attended Shen Yun's Thursday performance on April 3.
"I think it's a great success," said Mr. Van de Craen, director of the Latin America and Caribbean desk at Belgium's Federal Public Service (FPS) Foreign Affairs. Like many others in Brussels, Mr. Van de Craen had learned about Shen Yun from local media leading up to the start of the show, as there had been a lot of press about the CCP's attempts to interfere with Shen Yun's performance in Brussels.
Mr. Van de Craen said the performance presents the authentic Chinese culture and traditions very well. "I feel it's very good, very diverse," he added.
Connection Between Heaven and Earth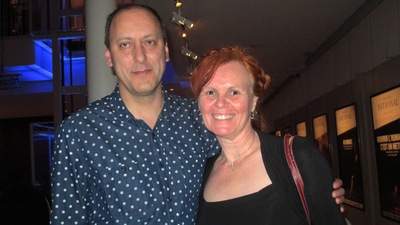 Military officer for NATO, Vedran Vejic, and wife Julia Vejic were touched by Shen Yun.
Military officer for NATO, Vedran Vejic, attended the performance in Brussels with his wife, Julia Vejic. Mr. Vejic said, "I liked it very much. I'd never experienced Chinese culture like this before."
Regarding the heavenly scenes in Shen Yun, Mr. Vejic said, "Our culture also believes in heaven, but it's very nice to see people coming from heaven to earth, and then back to heaven."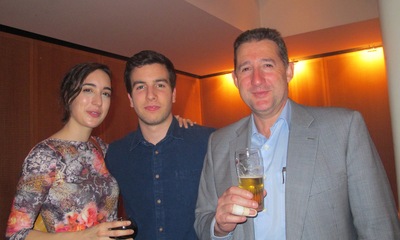 Mr. Antonio Garcia, who works for NATO, attended Shen Yun in Brussels with his daughter on Saturday, April 5.
Antonio Garcia, who works for NATO, attended the show in Brussels with his daughter on Saturday, April 5. He said, "For me the interesting thing is the way they tell a story. It's a way for the story to come alive for the people. It's an all-encompassing way with which the dance incorporated. I was very impressed."
Emitting Positive Energy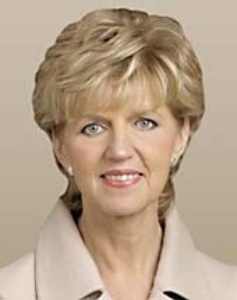 Member of the European Parliament, Inese Vaidere, appreciated the authentic Chinese culture presented by Shen Yun.
Inese Vaidere, member of the European Parliament, was charmed by Shen Yun after seeing it on April 3. She said, "I'm really fascinated by this performance. There's this positive energy that emits from the stage. I also found interesting, this combination of dance with the digital backdrop. It is something absolutely unique that I've never seen before. "
She was also impressed by the authentic Chinese culture presented by Shen Yun. She said, "I think the main thing is that you feel a real culture, which is really more than 5,000 years old, and the Chinese people. This is a nation, one of the most culturally and historically rich nations we know in this world, and you feel it. You just feel it. "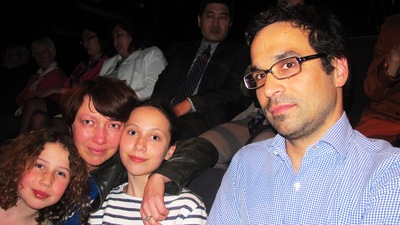 European commissioners Fedja Zlobec and Lilia Colombi were deeply touched by Shen Yun.
European commissioner for external economic relations, Fedja Zlobec and his wife Lilia Colombi, who also works for the European Commission, attended the performance on the afternoon of April 5. Mr. Zlobec was especially amazed by "the combination of history and spirituality."
Mrs. Colombi had tears in her eyes when being interviewed. She said that the message she received from the show was "freedom of choice."
Official of the European Commission, Balazs Nyul-Donka, attended the show on April 5 with wife, Juolit Nyul-Donka. He said, "I think that this show is a very good way to express an essential message to the world using the language of music and dance because everyone understands it, not only intellectually, but also emotionally. I think it was quite effective."
He also felt strongly about spiritual messages of the songs. He explained, "The lyrics try to deliver the message to the audience that this life on earth is only one aspect of life. The eternal and divine level of life is not here on Earth. Maybe only some symbolic elements can make us understand this on a deeper level. The show explains that we should concentrate not only on everyday things, but on higher and more divine aspects of existence."
Common Goal for the Future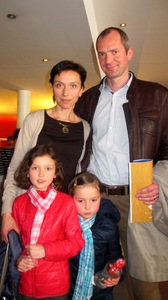 Land and Development Manager Michal Ptaszynska and wife Eva Ptaszynska enjoyed the show with their two children on April 5.
Land and Development Manager in Zlote Tarasy, Michal Ptaszynska, and wife Eva Ptaszynska, who is a policy officer for Land Transport and Directorate-General for Mobility and Transport at the European Commission, Brussels, saw the show on the afternoon of April 5 with their two children.
Mrs. Ptaszynska believed that the show is good for children as well. She said, "We all really enjoyed it."
Mrs. Ptaszynska was impressed by the commitment of the performers. She said, "It was touching in the end when you realize, first, how much effort is required of each performer to have achieved all of this, and second, their strong love for this civilization and this culture, that they stay committed to show to people all over the world the essence of the Chinese civilization. So it is all so moving."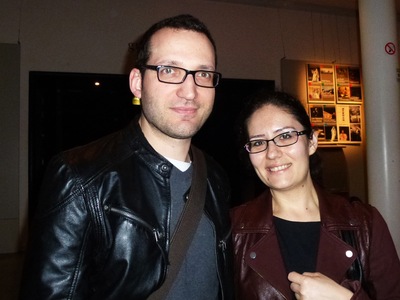 Bulgarian Diplomat Mariya Yaneva and Greek engineer Theodoros Koolas felt connected to the messages of Shen Yun.
Bulgarian Diplomat Mariya Yaneva and Greek engineer Theodoros Koolas saw the fifth performance in Brussels on April 5. Ms. Yaneva exclaimed, "Beautiful, I loved the music and history combined into one." She thought the show was "wonderful" and "fascinating."
Speaking of the contemporary stories in the show, Ms. Yaneva shared, "What I understood in the end is, we have to combine our efforts and to build our common future together. It was very interesting, the part about Shanghai [referring to a dance piece depicting the persecution of Falun Gong]. I know that the situation over there is not so nice, but it was nice that it was included in the show.
"It was very optimistic in the end. The message is that we're all the same all over the world. This is the message we get," she added.
Shen Yun Performing Arts will continue its tour in Newark, NJ, April 11 and 12, and Philadelphia, PA, April 25 and 27 in the United States and Barcelona, Spain, April 9-12. For more information on tickets and dates, please visit ShenYunPerformingArts.org.