Appeal Blocked after Elderly Couple Sentenced to Nine Years in Prison
March 30, 2014 | By a Minghui correspondent in Hebei Province, China
(Minghui.org) Falun Gong practitioners Mr. Chen Deguang, 67, and his wife, Ms. Sheng Chunmei, were each sentenced to nine years in prison in September 2013. An appeal of their sentences was denied. They are being held in prison despite Ms. Sheng's poor health.
Arrested for Distributing Shen Yun DVDs
Mr. Chen and Ms. Sheng were arrested by officer Mou Yan from Huazhuang Town Police Station in July 2011 for distributing Shen Yun DVDs in Huazhuang Town in the Honggu District, Lanzhou City, Gansu Province. Mou slapped on Mr. Chen's face before pushing him inside the police vehicle. At station, officer Zhang Guomin violently beat Mr. Chen for 40 minutes.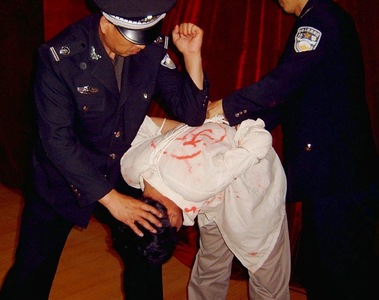 Torture re-enactment: Brutal beating
Mr. Chen was taken to the Honggu District Detention Center the following day. His wife was taken to the Lanzhou City First Detention Center twice but was not admitted due to her heart problem. She was released that evening. However, the police arrested her again the next day and took her to the same detention center twice, where she was rejected again. They tried a total of six times in two days and finally gave up. They confiscated 5,000 yuan from her and claimed it was "bail."
Illegal Lawsuit Initially Dropped
The police submitted Mr. Chen and Ms. Sheng's case to the Lanzhou Procuratorate in October 2011, charging them with the crime of "attempting to overthrow the government." Their family hired lawyers.
Judge Bing Jianfeng from Lanzhou City Intermediate Court called Mr. Chen and Ms. Sheng's daughter, Ms. Chen Shenghua, on June 11, 2012, the day before the hearing, to ask her how many people would come to observe the hearing. She replied that as many people as were allowed would come. Later that day she got a call that the hearing was canceled due to the intervention of the local 610 Office.
Police arrested Ms. Sheng Chunmei on July 25, 2012, despite her having a myocardial infarction, diabetes, and high blood pressure. They forced the doctors at the Lanzhou City Second People's Hospital to sign that her physical exam was normal. She was taken to the Lanzhou City First Detention Center.
After the defense lawyers presented evidence that the lawsuit against the couple was in violation of Chinese law, Judge Bing returned the case to the Lanzhou Procuratorate, which then dropped the case in November 2012.
610 Office Sentenced the Couple to Nine Years in Prison
However, the Honggu District Procuratorate immediately filed an new lawsuit against Mr. Chen and Ms. Sheng. Honggu District Court held the first hearing in April 2013. Because Judge Zhang Xuelin did not follow legal procedures, the two defense lawyers were unable to be present at the hearing.
Judge Zhang ordered the couple's daughter, Ms. Chen Shenghua, to fire the defense lawyers. She refused and instead asked to delay the hearing. In the meantime, the official from the Honggu District 610 Office tried to get Mr. Chen and Ms. Sheng fire their defense lawyers and use free public defense lawyers. They rejected such an offer. Judge Zhang had no choice but to delay the hearing.
Honggu District Court held the hearing in May 2013. Chief judge Lu Changlai refused to allow Mr. Chen or Ms. Sheng to talk about how they benefitted from practicing Falun Gong, claiming that it had no bearing on the case. The defense lawyers were repeatedly interrupted. Prosecutor Suo Jian was unable to answer most of the questions from the defense lawyers.
When Ms. Sheng's attorney called the court about the verdict in August 2013, he was told that the case had been handed over to the 610 Office, which would make the decision. The verdict, a nine-year prison term for each practitioner, was announced one month later.
Appeal Denied
Mr. Chen and Ms. Sheng decided to appeal. Their lawyers handed in the appeal documents to the Lanzhou City Intermediate Court in mid-September 2013. Ms. Chen Shenghua asked to defend her mother, which Judge Shao Junmei approved. He told her to submit her appointment letter and a copy of her identification card. Shao also said that most likely there would be no hearing.
Shao refused to accept the appointment letter from Ms. Chen on September 27, 2013, claiming that the format of the documents was unacceptable. Ms. Sheng's lawyer prepared a new appointment letter, which Ms. Chen handed in the following day. Ms. Sheng's lawyer applied to bail out Ms. Sheng. Shao used all kinds of excuses to block the application but failed after the lawyer presented all the legal provisions.
Mr. Chen and Ms. Sheng's two children asked for the appeal to be heard in October 2013, but Shao refused. He told the defense lawyers to hand in their defense statements.
Mr. Chen and Ms. Sheng's son, Mr. Chen Jianru, handed in the appointment letter from Mr. Chen on November 3, 2013, and applied to see Mr. Chen, but the request was denied. In the end, they were only allowed to review the documents but not meet with Mr. Chen.
The intermediate court announced that the verdict was upheld on November 6, 2013. Mr. Chen was transferred to Lanzhou Prison and Ms. Sheng to Lanzhou Women's Prison in January 2014.
Mr. Chen's family went to visit him on January 28, 2014, but was not allowed to see him.
Persecuted Since 1999
After the persecution of Falun Gong began in July 1999, Mr. Chen went to Beijing to appeal for the right to practice Falun Gong. He was detained for 15 days. The director of the detention center ordered an inmate to beat him, and one of his ribs was broken. Later, he was detained again simply to prevent him from going to Beijing to appeal.
Local police arrested him at his home and illegally sentenced him to one and a half years of forced labor on February 8, 2001. He was detained in the Ping'an Forced Labor Camp. He was beaten in the labor camp and his recovered broken rib was broken again.
Ms. Sheng Chunmei and her daughter, Ms. Chen Shenghua, were arrested at the beginning of 2001 for distributing Falun Gong truth-clarification materials. Both were sentenced to forced labor. Their son, Mr. Chen Jianru, only 14 at that time, was forced to leave home after police attempted to break into the house.
He lived with another practitioner and was arrested with that practitioner and taken to the Qilihe District Police Department in Lanzhou. He was put in shackles during detention. When he was released, he found out that the police had broken into the family home. Police spread rumors in his school that they broke into his home to prevent him from committing suicide.
In 2002, Ms. Chen was released in February, Ms. Sheng was released in April, and Mr. Chen was released in July. However, three days after Mr. Chen's release, all three of them were taken to the Gongjiawan Brainwashing Center in Lanzhou. The young boy was left on his own again until January 2003.