Shen Yun Ends Its 2014 Asia Tour with Sold-Out Performances in Taiwan
March 29, 2014 | By Minghui correspondents in Taiwan
(Minghui.org) Shen Yun Performing Arts completed its Asia tour with 37 sold-out performances in 7 cities in Taiwan. The Asia leg of the Shen Yun global tour, from February 21 to March 24, created again the "Shen Yun Miracle" in Taiwan.
Many audience members came to see Shen Yun through word of mouth and considered Shen Yun's reputation well deserved. The authentic Chinese culture presented by Shen Yun was much appreciated.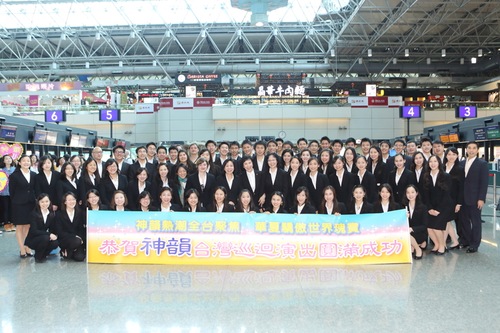 Shen Yun International Company ended its Asia tour with 37 sold-out shows in 7 cities of Taiwan on March 24, 2014.
Shen Yun Connects Chinese to Their Cultural Roots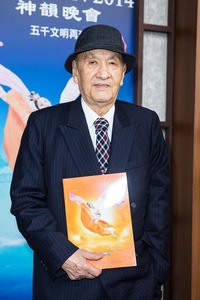 Dr. Peng Ming-Min, former senior advisor to the president and well-known political leader in Taiwan, was moved by Shen Yun's exquisite performances.
Dr. Peng Ming-Min, former senior adviser to the president and well-known political leader in Taiwan, attended the the performance at the National Dr. Sun Yat-sen Memorial Hall for the first time. He was amazed by the Shen Yun artists' exquisite performances and said with excitement, "It's really very touching. I was moved by their high professional standard. It demonstrates that they have gone through strenuous training. I really admire them."
Dr. Peng expressed that he was very grateful to Shen Yun. He said, "[Shen Yun] is promoting Chinese culture and purifying people's souls." He stressed, "The performance was indeed perfect. Though it's my first time seeing the show, I was truly touched."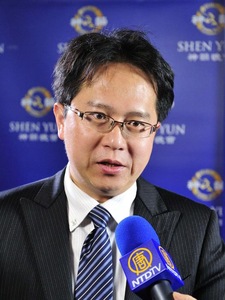 Legislator Chiu Chih-Wei praised Shen Yun as the most touching show he has seen in over a decade.
Legislator Chiu Chih-Wei saw the performance on March 3 and expressed that it was the most touching show he has seen in over a decade. To him, Shen Yun presents the essence of traditional Chinese culture.
Mr. Chiu said, "Every piece, every dance, and every song leaves a deep impression. [Shen Yun] shows the beauty of traditional culture. They convey the spirit of Truthfulness-Compassion-Tolerance. I also hope that this spirit can be spread to every generation and every corner of the world through such performances, so that the world is filled with peace."
He continued, "The inner meaning that Shen Yun portrayed will have a very positive effect on Taiwan's education. Young people shouldn't forget their roots. The culture is being inherited, so we must have the idea of looking for the root. We should learn the virtue and conduct through being in touch with the essence of culture, as well as appreciate the preciousness of authentic culture in life and harmonize with it."
Violinist Impressed by All New Programs Each Year
Zeng Zhenan, international violinist and Taiwan audition professor for the Manhattan School of Music, attended Shen Yun in Kaohsiung on March 3. He exclaimed, "The director of the show is magnificent. There is a surprise each year. It is top shelf."
Mr. Zeng admired the production team of Shen Yun, "It is very hard to produce such a magnificent show with all new programs each year. Usually it takes a few years for such a good show to run new programs."
He said, "The director of Shen Yun is magnificent. He is committed to promoting traditional Chinese culture. His artistic level is profound and at a pinnacle."
Regarding the dance portraying Falun Dafa, he thought, "It is not a religion or an advertisement. It is letting the audience know that this magnificent production comes from Falun Dafa cultivation."
As a violin educator who taught many international violinists, instrument makers, and viola performers, Mr. Zeng said, "What is special about Shen Yun's music is that no matter it's allegro or adagio, Shen Yun has handled it very well, and their performance conveyed a sense of peace and calmness."
"The Source of Innovation"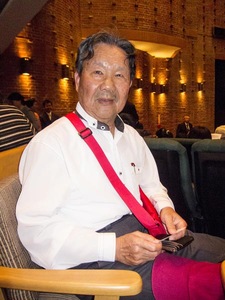 Yingchieh Hsieh, choir director and musician, felt as if he was transported to a heavenly world.
On the afternoon of March 19, Mr. Yingchieh Hsieh, a choir director and musician returning to Taiwan from Vienna, Austria, attended the Shen Yun performance in Chiayi for the third time. He regarded Shen Yun's perfection and beauty as a future source of human innovation.
Mr. Hsieh said, "Judging from the aesthetics I have learned, beauty like this is really hard to achieve. Aesthetics presented in the show will leave me awe-struck for a long time! I will think of it for a long time. It will linger long in my mind!"
"The stories depicted in the performance are flawless; also the color tones are well blended with the costumes; in particular, the level of the orchestra, whether musical harmony, balance or musical styles, techniques, or the director's skills, are very good!" he added.
As a musician, Mr. Hsieh paid particular attention to the orchestral performance. He said, "The staccato played by the erhu (two stringed bowed fiddle) involves great difficulty—extremely beautiful! Also the trumpet perfectly integrates itself into the performance, each of her staccato notes being clear, very beautiful! Besides, the director did such a good job. It's never easy."
Mr. Hsieh said, Shen Yun woke up the muse inside him, and that Shen Yun is a source of human innovation. "It's like rubbing two stones against each other to produce sparks. After watching Shen Yun today, I come to have a flint in my hand, which has already lit the flame. The flint is for lighting the flame, 'the source of innovation!'"
Conductor: Shen Yun's Reputation Well-Deserved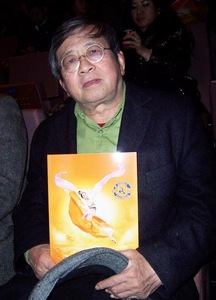 Felix Chiu-sen Chen, renowned Taiwanese conductor and music director of Taipei Symphony Orchestra, found inspiration from the performance.
Felix Chiu-sen Chen, renowned Taiwanese conductor and musical director of Taipei Symphony Orchestra, was impressed by the performance in Taoyuan on March 21. He praised, "The whole stage effect really impressed me. Shen Yun's great reputation is well deserved. It is stunning!"
He believed that he gained some inspiration. "Actually, I think that [the directors of] many kinds of opera, such as opera, Peking opera, and Taiwanese opera should all come to see this performance. Because it is really well done! Shen Yun has achieved the stage effects that I could not in my nearly 20 years of work in opera," he said.
"I will recommend Shen Yun to other musicians. [Shen Yun's] stage design may inspire many people," he added.
Mainland Chinese Touched by Shen Yun's Purity and Positivity
Mainland Chinese audience treasured the opportunity to see Shen Yun at theaters in Taiwan and other Asian countries.
Ms. Liu from Beijing saw the Shen Yun performance on March 21. She lauded, "Shen Yun touches our heart. It is displaying the essence of Chinese culture. It is great!"
"Such a live performance combining Chinese and Western instruments in perfect precision, along with so many dances, is rare," she added.
Ms. Liu admired the profound cultural meanings of divinely inspired Chinese culture. She thought that modern society is very chaotic, such that many people do not value traditional virtue. She was refreshed by the positive and bright content presented by Shen Yun, which can civilize people and guide society to a brighter and kinder side. She felt lucky to be able to see Shen Yun in Taiwan.
Ms. Qin from Dalian kept wiping away her tears during the performance on March 23. Speaking of her feelings, she said, "I have been wrapped by peace. I hope one day all mainland Chinese can experience this as well."
She continued, "The spirit seemed to have been cleaned. All of the cells have been cleansed! It makes you feel a kind of special comfort. It is to say that no matter how much you lose, what kind of environment you are in, and how much unfairness you experience, you can be soothed."
Speaking of the beauty of Shen Yun, Ms. Qin said, "Every program was good. I kept clapping. The energy field of the stage was very very good, which is different from the performances I saw in mainland China. It is not impetuous or impulsive, but very calm and peaceful."
"The entire performance was very peaceful. There was no overt showing off. Every movement and every display was the kind of beauty that comes from the heart. Just that kind of feeling. They were not showing the techniques. No they were not. The content was sincere and came from the heart."
Ms. Qin said that when she goes back to China, she will definitely share this Taiwan "freedom trip" and the magical experience of Shen Yun with more people.
The next stop of Shen Yun's global tour is Australia. For more information on tickets and dates, please visit Shenyunperformingarts.org.