Close to Fifty Falun Gong Practitioners Sent to Shenyang City Detention Center Over the Past Six Months
March 19, 2014 | By a Minghui correspondent from Liaoning Province, China
(Minghui.org) Over the past six months, authorities in Shenyang City have detained around 50 Falun Gong practitioners and locked them in the Shenyang City Detention Center. The illegal arrest of some of these practitioners are described below.
Ms. Li Dongxu was arrested at her workplace, the China Petroleum Pipeline Engineering Corporation Northeast Division. The arrest took place on the afternoon of November 11, 2013, by officers from the Shenyang Domestic Security Division and the Minglian Police Station. Ms. Li was tortured and interrogated at the Minglian Police Station. The police stripped her and threatened to use electric batons to shock her private parts. Ms. Li's mother, who is in her 80s, had to intervene to rescue her.
Officers from Hunhewan Police Station in Shenyang arrested Ms. Zhu Lanying, 61, on the afternoon of October 14, 2013. On November 4, practitioner Ms. Li Fangfang went to the police station with Ms. Zhu's family and asked for her release. The police arrested and beat them.
Mr. Yu Ming, 42, owns a successful clothing company with over 100 employees. Mr. Yu was taken into custody on September 24, 2013. On November 27, Mr. Yu's arrest was officially announced by the police. On December 9, his attorney went to the First Detention Center of Shenyang City to visit him and was not allowed to see him for the eighth time. Mr. Yu is currently forced to wear handcuffs and shackles and is locked in an iron cage. He is not given any food. The authorities torture him by stabbing wooden sticks underneath his fingernails.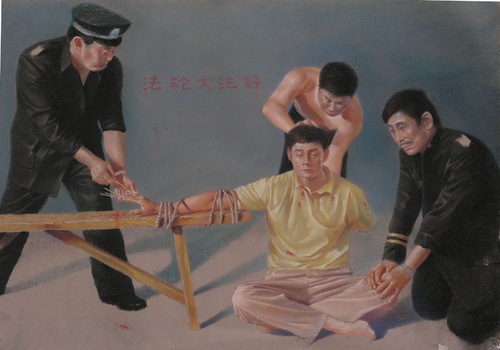 Torture illustration: Piercing fingernails with wooden sticks
Several faculty and relatives of students at Xiongshi Modern Art Design School in Shenyang City were detained for their belief in Falun Gong. Ms. Yi Xiaoqin, parent of a student, and Ms. Yi's mother Ms. Zhang Yabin, are detained in the Shenyang City Detention Center. The teachers who are also detained in the detention center include Mr. Guo Baoshi, Mr. Xu Juntao, Ms. Kang Fu, Mr. Chen Xiu, Mr. Dong Zhiyu, and Mr. Wang Yiyong.
Ms. Liu Yukun, 63, lives on Da'nan Street in the Shenhe District. Huigong Police Station officers in the Shenhe District arrested her at her home on November 19, 2013, for giving out calendars with Falun Gong-related content.
There are 13 practitioners from Harbin who have been detained in the Shenyang City Detention Center for a year. They are Mr. Liu Zhanhai, Ms. Zhao Shuyun, Ms. Li Yuping, Ms. Fu Hui, Ms. Liu Jinxia, Ms. Zang Yuzhen, Ms. Xu Xiaoyan, Ms. Ren Xiuying, Ms. Gao Xiufen, Ms. Liu Yarong, Mr. Wang Honglin, Mr. Zhao Hongxing, and Ms. Wu Qiuyan.
Mr. Zhang Baiwan from the Hunnan District in Shenyang, was arrested. His wife, who was also a Falun Gong practitioner, was also taken into custody at the Hunan Flower Market.
Ms. Wu Yun and Ms. Zhao Sumei from Liaozhong County in Shenyang, were also taken into custody, as well as Ms. Wang Guilan from Shenyang.
Ms. Tian Shuchun from Shenyang is in her 50s. On February 10, 2014, officers from the Huanggu District Domestic Security Division arrested her. Her whereabouts are unknown.
Ms. Zhao Jingzhen from Shenyang was speaking to people about the facts of Falun Gong on February 8, 2014, in a market near the Fifth Barn in the Dadong District. She was taken into custody by the Jinqiao Street Office in Dadong District. On February 11, Dadong Police Department officers informed Ms. Zhao's family that she was detained in the Shenyang City Detention Center.
Officers from the Huanggu Police Department arrested Ms. Tang Shi and her mother.
Officers from Shenyang City Police Department arrested twelve Falun Gong practitioners including Ms. Luo Fengying, before the Twelth National Games took place in Liaoning on August 31, 2013. They were released on September 30, 2013, after their families paid 5000 yuan each. On December 11, officers from the Shenhe District Domestic Security Division arrested the same twelve practitioners again in the morning. In the afternoon, four practitioners Ms. Xu Shuhua, Ms. Zheng Shuping, Ms. Li Yingqin, and Ms. Li Yihong were detained in the Shenyang First Detention Center.
Ms. Chen Rong is from Guangxi Province and lived in Shenyang. In December 2013, police in Shenyang arrested her.
Ms. Wang Jinghuan from Shenyang was distributing informational booklets near the Chang'an Police Station on November 6, 2013. Officers from the Chang'an Police Station arrested her.
Parties involved in the persecution: Shenyang Detention Center: +86-24-89241894 ext 8084; +86-24-89248084 Zheng Gang (鄭罡), police chief Guo Bao'an (郭寶安), deputy police chief Shenyang City Police Department: Xu Wenyou (許文友), chief Sun Jianjun (孫建軍), deputy chief, 47 years old: +86-13609810669(Cell) Ma Lixin (馬立新), captain of the Domestic Security Division: +86-15904065273; +86-24-23106005(Office) Shenyang City 610 Office: Ma Zhanliang (馬占良), head: +86-24-23106006