A Hidden Gem in Manhattan: Tianti Bookstore and Its Nine-Day Seminars
March 14, 2014 | By Shanguo, a Minghui correspondent in New York
(Minghui.org) There is a hidden gem on West 30 th Street between Seventh and Eighth Avenues in Manhattan: a bookstore filled with peaceful and harmonious energy. As soon as one enters, you get the feeling of comfort and calm and the urge to linger a little longer. This is the Tianti Bookstore, which opened last October.
"Tianti" means "ladder to the heavens." The bookstore is a not-for-profit organization and specializes in selling books, audios, and videos relating to Falun Gong. It also hosts complimentary nine-day lecture seminars to introduce the practice.
Two such seminars have been held since the beginning of 2014. The reviews were great. The latest seminar just ended on March 12.
Some of the students from the latest seminar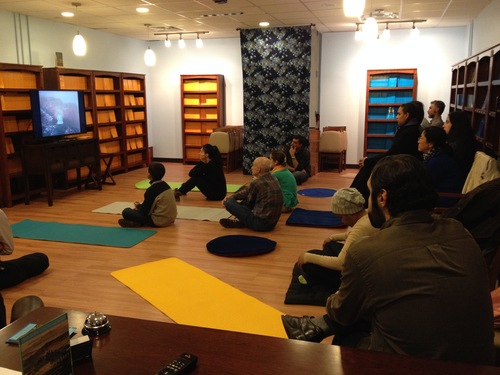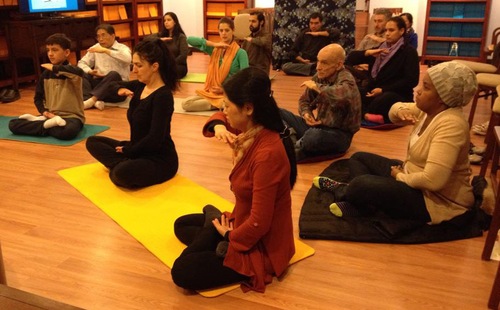 Students Re-arrange Their Schedules to Attend
Stacey visited the bookstore on the eighth day of the last nine-day seminar. She decided to make herself available for the next seminar by freeing up nine nights in her schedule ahead of time.
Edward works nearby. He stopped by the bookstore during his lunch break and saw the advertisement about the nine-day seminar and went upstairs to inquire about it. He visited again to confirm his registration and changed his work schedule to make himself available for the nine nights.
David, a 12-year-old student, had been wanting to learn about Falun Dafa for a while. This time his dream came true. He came with his sister Talliana and brother-in-law Naim, who was in the last nine-day seminar hosted by Tianti Books. He liked the seminar at Tianti Books so much that he registered his wife and brother-in-law before his own nine-day session was over.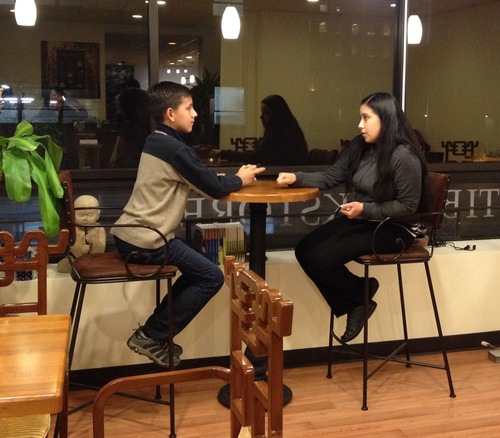 David and Talliana
Talliana picked David up every night at her mother's house to take him to the seminar. The first night, her mother wasn't happy about it and didn't want them to go. David didn't give up, and Talliana didn't argue with her mother. She calmly told her mother why they wanted to go and finally convinced her.
It was a surprise when their mother urged them to go early the second night. On the fourth night, their mother and grandmother came to the Tianti Bookstore to pick David up. She took a look around and was pleased at what she saw. She learned more about the nine-day seminars. Talliana and David were happy to have their mother's support. On the last night, the mother picked up David again and enjoyed listening to the students' sharing.
Soroush, a friend of Naim, works at a museum. He was not able to attend the last nine-day seminar because of work. This time, he was making efforts to get three days off in order to attend all nine days.
It seemed impossible, but Soroush kept his mind focused and in a good place and didn't give up. Two days before the seminar began, he got a "yes" from his boss! One could tell from his expression how happy he was when he showed up the first day of the seminar.
Mind-Heart Nature Improvement Is Important
Many students have tasted the joy of improving their xinxing during the nine-day seminar.
Don attended the group practice on Saturday, March 8. He is 70 years old. He said his shoulder and back had been stiff all his life. But he stuck with the 30-minute second exercise and continued with the third. By the end of the third exercise, Don's back and shoulders had become a lot more flexible. He was able to raise his arms next to his ears! "Cultivation depends on one's own efforts, while the transformation of gong is done by one's master." (Zhuan Falun)
David managed to finish his homework every day before going to the seminar. He arrived on time every night and paid close attention to learning the exercises and following the lectures.
One day during the nine days, he tripped and fell and landed on his hands. He stood up and was surprised to see that his hands were all right and he didn't hurt anywhere. He immediately thought, "Master is compassionate and is protecting me all the time."
The fifth exercise is a meditation with the legs in the double-lotus position. David took his legs down when they started to hurt, but he quickly put them back up again. He later asked staff members of the bookstore, "Is karma transformed into virtue during the pain?" Staff members pointed out relevant passages to him in Zhuan Falun . He was happy and encouraged.
Support Is Appreciated
According to the Tianti Bookstore, the nine-day seminars will continue. The store is thankful for the support of Falun Gong practitioners and would appreciate more patronage at its online and physical store to maintain this wonderful non-profit effort they have undertaken in Manhattan.
Address of the Manhattan Tianti Bookstore: Second floor, 220 West 30 th Street, New York, NY Between 7 th and 8 th Avenues