After Being Brutally Tortured at Masanjia Forced Labor Camp, Ms. Huang Guiying Illegally Arrested Again
(Minghui.org) Practitioner Ms. Huang Guiying, 50, from Dalian City, Liaoning Province, was illegally arrested by Taoyuan Police Station officers on the evening of September 29, 2013. The next morning they returned to ransack her home.
Since the police have blocked all information channels, no one knows Ms. Huang's current situation, except that she is still being held in the Dalian Detention Center.
Arrested and Sent to Masanjia Forced Labor Camp
Ms. Huang and another practitioner Mr. Yuan Xiaojie were clarifying the truth in a market on August 15, 2010. They were arrested by Ronghuashan Police Station officers. That night, they were taken to the Yaojia Detention Center in Dalian City. After being held there for nearly a month, they were sent to the Masanjia Forced Labor Camp in Shenyang City for a year.
Tortured on the 'Stretching Bed'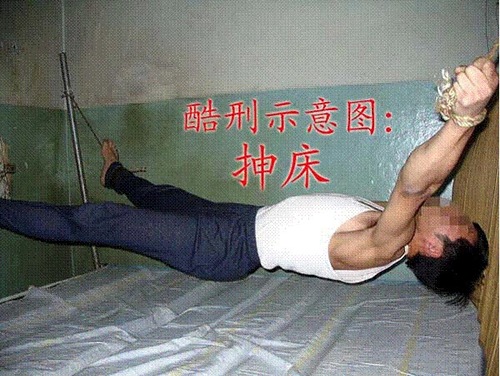 Torture Demonstration: Stretching Bed
Masanjia Forced Labor Camp forces all Falun Gong practitioners to recite the "thirty rules." It forces everyone detained there to admit that they are guilty, that they are prisoners, and are willing to accept being reformed and persecuted. Through this brainwashing method, they try to make practitioners lose their ability to identify truth from lies, and to give up their practice of Falun Gong.
After she refused to recite the "thirty rules," Ms. Huang was beaten. She was put on a 'stretching bed' for an entire day. Her hands became swollen and she could barely move them.
After each meal, all practitioners must recite the "thirty rules," and the camp head came to check the recitation frequently. If someone could not recite the rules, the practitioner would get penalized. She would be forced to hand write the "thirty rules" on paper repeatedly, and her sentence would be extended.
Forging Letters to Deceive Practitioners
Although Masanjia Labor Camp allows practitioners to write and mail letters to their family and friends, most letters are held in the office and never mailed. Almost all the mail from practitioners' families and relatives are also held and never delivered to the practitioners. Only letters with approved content can be given to the person it's intended for, otherwise, it's held in the office. Sometimes, in order to transform them, forged mail may be created by the office to trick practitioners.
Between March and April, 2011, Ms. Huang's relatives sent her a letter and a newspaper. At that time, Ms. Huang was forced to do heavy labor. After she asked the guards for her letter, she realized that it had been opened and read by the team members.
Ms. Huang went to the camp guard's office and asked why. The guards did not answer but instead beat her. Guard Yu Xiaochuan shoved the newspaper which had been shredded, into Ms. Huang's mouth causing her mouth to bleed. The next day, they took her to a torture chamber for persecution.
The letter was three pages long, but Ms. Huang only received one page. The letter she was given was typed and printed, but the original letter was handwritten. It was a completely fake letter produced by the guards to deceive practitioners.