An 80-Year-Old Mother Pleads, "Release My Son and Daughter-in-law"
(Minghui.org) Ms. Wang Qingrong, 80, has only one humble wish—to be with her children and grandchildren as much as she can. Yet this has not been possible since the Chinese Communist Party launched its attack on Falun Gong in July 1999.
The past 14 years have seen Ms. Wang's eldest son, Mr. Shi Mengchang, and his wife, Ms. Han Shujuan, repeatedly arrested, sentenced, or sent to labor camps simply for their belief in Falun Gong.
Each time the couple was taken away, Ms. Wang appealed tirelessly to many government agencies for their release. Her son and daughter-in-law were illegally detained for a total of eight years, with many, many days of worry and tears.
Most recently, on September 23, 2013, Mr. Shi and Ms. Han were arrested again and sent to Qinglongshan Brainwashing Center. Their mother, Ms. Wang, hired a lawyer to fight for their release. The brainwashing center, the local police department, and the procuratorate denied her request for her children to be released unconditionally.
In addition, the brainwashing center twice turned down Ms. Wang's request to visit her son and daughter-in-law. When she was finally allowed to see them on January 26, 2014, she couldn't believe what the center officials told her: "You know what? Had you heeded our advice and not hired a lawyer, your son and daughter-in-law would have been released long ago!"
Outraged by the local judicial system's total disregard for the law, Ms. Wang called on the public to help her rescue her son and daughter-in-law.
In her appeal letter written on January 14, 2014, Ms. Wang asked, "Is there anything wrong with believing in Truthfulness-Compassion-Forbearance and striving to be a good person? What kind of people is the brainwashing center trying to turn my son and daughter-in-law into?"
She urges her fellow citizens and the international community to pay close attention to her children's plight and to pressure the brainwashing center officials to release the couple immediately.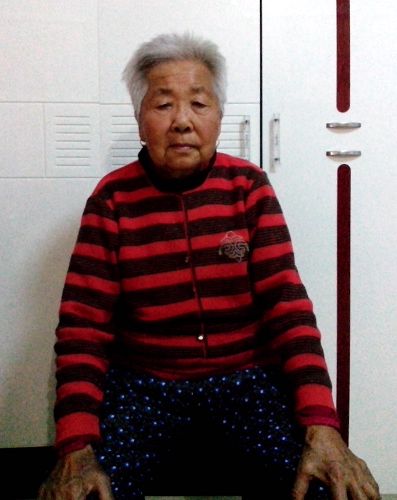 Ms. Wang Qingrong
Recent Arrest of Mr. Shi and Ms. Han
More than ten police officers, including Li Xudong, Guo Tingjun, and Liu Yan, broke into Mr. Shi and Ms. Han's home at 9 p.m. on September 23, 2013. Without showing any warrants, they began to remove the couple from the house.
When Ms. Han struggled to get away, the officers knocked her down, yanked her hair, and grabbed her arms and legs before throwing her into the police car. Mr. Shi was also carried to the car by force.
The couple was later sent to Qinglongshan Brainwashing Center to undergo two months of intense brainwashing, but their family was never given any paperwork confirming this illegal detention.
During a visit to the brainwashing center, Ms. Wang became very worried after seeing that her once-healthy son was so emaciated and frail. She was also sad to see that her daughter-in-law didn't look so good either.
Ms. Wang knew she had to do whatever it took to get her son and daughter-in-law out of detention. However, when she, her husband, and other relatives went to Qixing Police Department to request her children's release, they were taunted by Chief Guo Yuzhong, who said, "Yes, we arrested them, but so what? Sue us if you want."
The family next appealed to Qixing Farm Administration Office, but their request was turned down once again by secretary Feng Zhigang, who predicted Mr. Shi would be sentenced to prison for having a Falun Gong material production site in his home.
Ms. Wang then hired a lawyer, Mr. Tang Jitian, to defend her son and daughter-in-law. Both the family and the lawyer, however, were not allowed to visit when they went to the brainwashing center on November 14, 2013.
The group called out to the brainwashing center from outside for two hours in the cold and asked that the couple be released immediately. The brainwashing center officials turned a blind eye and kept the gate closed and lights off the entire time.
Outraged by the brainwashing center's blatant violation of the law, Mr. Tang filed a lawsuit on behalf of the family against the center officials for "illegal detention" at the Jiansanjiang Procuratorate the very next day. Officer Ma promised to report the family's complaints to his superiors.
When the family returned to the brainwashing center on December 5, they were again denied their right to visit.
To the family's dismay, Jiansanjiang Procuratorate never addressed their complaints. In response, Mr. Tang filed a "dereliction-of-duty" complaint with its supervising agency, Heilongjiang Province People's Procuratorate Land Reclamation Region Branch Office, on January 2, 2014.
Procurator Hu promised to report the complaint to his superiors.
When Ms. Wang and her family were finally allowed to see Mr. Shi and Ms. Han over three week later, the brainwashing center officials told them that if they hadn't hired a lawyer, the couple would have long been released.
As of now, the couple is still in the brainwashing center.
More about Qinglongshan Brainwashing Center
This is the second time that Mr. Shi and Ms. Han have been detained in Qinglongshan Brainwashing Center.
Mr. Shi went on a hunger strike to protest the illegal detention at one point after his arrival. He has also been regularly threatened and subjected to different kinds of torture, including the "stretching torture," where his four limbs were separated and secured to two bunk beds in a spread-eagle position and his entire body was suspended.
When forced labor camps were purportedly abolished in China last year, Ms. Wang was relieved that her children would never have to suffer there again. Ms. Han, Mr. Shi, and his brother were once tortured and forced to do slave labor at the camps.
What she did not realize is that the brainwashing center system has replaced forced labor camps and become more prominent in the persecution of Falun Gong. With fewer procedural requirements than forced labor camps or detention centers, this system is a more effective tool in attacking practitioners' minds and souls.
Qinglongshan Brainwashing Center is affiliated with Heilongjiang Province Land Reclamation Bureau. It was set up in 2010 inside the Jiansanjiang Administration Bureau Qinglongshan Farm by officials from the 610 Office of the Heilongjiang Provincial Political and Legal Affairs Committee (PLAC) and the Heilongjiang General Bureau of Reclamation PLAC.
Initially, only practitioners inside the Land Reclamation Bureau system were detained at the center. Now practitioners from outside of the system are also held there.
In the name of "legal education," director Fang Yuechun and his team of officials and staff illegally detain practitioners without filing any paperwork. Nothing is considered too excessive in their attempts to make practitioners renounce their belief in Falun Gong. They employ physical torture, mental manipulation and financial pressure to try to break the practitioners' willpower.
"Where do you think you are? This is hell on earth." This was what 44-year-old Ms. Chen Dongmei heard on her arrival at the brainwashing center.
According to available statistics, the brainwashing center has conducted brainwashing on at least 53 practitioners, who were detained there from a few days up to 7 months.
Some practitioners were taken straight to the brainwashing center on the day of their release from prison. Many who went through hell at the center are still struggling to recover from the mental and physical abuse that they suffered.
Ms. Wang wrote in her letter of appeal, "I heard that everybody detained at the [Qinglongshan] brainwashing center is severely tortured. How can I not worry? Ever since I found out my son and daughter-in-law were sent there, I haven't been able to eat or sleep. I really can't imagine the suffering they have to go through there."
Ms. Wang's Support and Love for Her Family
Originally from Shandong Province, Ms. Wang and her husband moved to Jiansanjiang Farm in Heilongjiang Province as a young couple. In their adopted province, they started a family and worked hard to build a happy life.
A loving mother, Ms. Wang wants the best for her children. In her own words, "As long as they are healthy and happy, I am happy."
However, she was troubled by the constant conflicts between her son Mr. Shi and her daughter-in-law Ms. Han in the early years of their marriage. To her surprise, the couple's conflicts disappeared after they both began to practice Falun Gong.
Inspired by Ms. Han's recovery from an annoying health problem (frequent dislocation of the lower jaw bone), Ms. Wang also started practicing Falun Gong and soon saw her own stomach problem go away.
Her happy family life was shattered when the Communist regime banned Falun Gong and launched the persecution in 1999. Mr. Shi, Ms. Han, and Ms. Wang's younger son, Mr. Shi Mengwen, were all repeatedly arrested and detained.
Having benefited from the practice herself, Ms. Wang never doubted her children. She has been very supportive of their appeals for the right to practice and their efforts to clarify the facts about Falun Gong.
Every time her children were illegally detained, Ms. Wang visited public security agencies at different levels to appeal for their release. At one point, both her sons and one daughter-in-law were sent to forced labor camps, and she took care of her young grandchildren without complaint. She paid their tuition and expenses out of her pension.
She sighed, "I just don't get it. Why is such a wonderful practice banned? It is great in healing illnesses, and it teaches people to become better. Where can you find good things like this?"
An Elderly Mother's Plea
Despite the menace of the persecution and the tremendous pressure, Ms. Wang adheres to her belief in what is right and what is wrong. She is committed to rescuing her loved ones and remains positive and hopeful.
She wrote in her letter of appeal, "Falun Dafa is a practice of the Buddha School. It is practiced by people from over 100 countries and regions in the world, including Hong Kong and Taiwan, who share our culture. It is legal to practice Falun Gong elsewhere, and I am sure one day it will be like that in China as well."
Though her local judicial system refuses to release her son and daughter-in-law, Ms. Wang presses on. She urges her fellow citizens and the international community to pay close attention to her children's plight and to pressure the brainwashing center officials to immediately release the couple.
Partial List of Perpetrators
Liu Bo (刘博), male, deputy Party secretary of the Political and Legal Affairs Committee, Jiansanjiang Management Department: +86-454-5791187 86-454-5710817, +86-13512600001 (Cell)
Tian Yingmin (田英民), male, deputy Party secretary of the Political and Legal Affairs Committee, Jiansanjiang Management Department: +86-454-5807799, +86-454-5710537, +86-13796366665 (Cell)
Li Chunyao (李春耀), male, deputy director of the 610 office of the Jiansanjiang Management Department: +86-454-5790507, +86-13803674529 (Cell)
Yang Chenzhi (杨臣志), director of the Qinglongshan Police Department: +86-454-5830700, +86-13836630006 (Cell)
Bi Jianli (毕建利), deputy director of the Qinglongshan Police Department: +86-454-5830702, +86-454-5747059, +86-13091629033 (Cell)
Fang Yuechun(房跃春), deputy director of the Qinglongshan Police Department, head of the Qinglongshan Brainwashing Center: +86-454-5830705, +86-454-5716771, +86-13846125557 (Cell)
Related Articles
Practitioners and Attorneys File Complaints against Government Agencies for Dereliction of Duty
A System Designed to Destroy a Person Mind and Soul - A Case Study – Xinjin Brainwashing Center